When the Seahawks' first-team nickel defense took the field during Monday's practice, the starting safeties were Ronald Martin Jr. and Dion Bailey, and the corners were Cary Williams, Marcus Burley and Tye Smith. Now, Williams is an accomplished pro, Burley was an important contributor last year, and there is plenty of upside in those young players, but even so, that was a strange look for a defense that has made a habit of producing multiple Pro Bowl defensive backs every season.
On Tuesday, however, things started to look a bit more normal, which brings us to today's observations from Day 14 of Seahawks training camp presented by Bing.   
1. Earl Thomas looks good in red.
Earl Thomas suited up for practice for the first time since the Super Bowl, and while the All Pro free safety had to wear a red jersey signifying he was off limits to contact, it was a big day for him and the Seahawks. Thomas opened camp on the Physically Unable to Perform list because of offseason shoulder surgery, then after coming off the PUP list, he was limited to afternoon walk-through practices up until now, so red jersey or not, Tuesday's practice marked an important step in Thomas' road back. Besides, red wasn't so bad, Thomas said, because "I look good in it, so I'm good."
Thomas appeared to have his work load limited some, but he did take part in 11-on-11 drills with the first team defense, and he was his usual, animated self. Early in practice, Thomas just missed an interception and hopped around looking as fired up as he would in a playoff game.  
"I felt like a little a little kid again just running around out there," he said. "It felt good."
Thomas isn't hitting just yet, but was still encouraged just to be able to run around and also go up and make plays on the ball, something he did on a couple of occasions on his first day back.
"I'm just happy I can raise my arms and catch the ball at the highest point now," he said. "My arms shrunk on me; this is my first major injury, and I had a hard time dealing with it at first."
And it wasn't just Thomas back in action. Richard Sherman was back in pads and participating, though on a limited basis, for the first time since last week. Sherman has a hip flexor injury, though Carroll described his absence from Friday's game as precautionary, so it's no surprise he was back quickly from that injury.
Thomas is unlikely to play in Friday's game, but if Tuesday's practice is any indication, the Legion of Boom is a little closer to being whole again.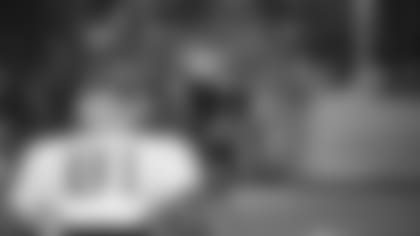 2. Jake Waters is healthy and eager to show what he can do.
While most NFL hopefuls spent last winter showing what they could do either at the NFL Scouting Combine or in Pro Day workouts, Kansas State's Jake Waters was instead rehabbing from shoulder surgery. After going undrafted, he landed in Jacksonville, though even at that point he wasn't fully cleared for contact. Waters didn't stick with the Jaguars, then he recently worked out with Seattle and signed with the Seahawks Tuesday, and finally 100 percent healthy and on an NFL roster, he's looking forward to showing what he can do.
"All you can ask for is a chance, and what better organization than here in Seattle," Waters said. "So I'm very grateful for it."   
Waters still has work to do to catch up and learn the playbook, and as such he was limited in his reps Tuesday, but he does have one advantage having spent two seasons working with fellow rookie Tyler Lockett.
"It's awesome," he said. "It didn't seem like we'd missed a beat since K-State. He looked great out here, of course, so it's awesome to be here with him."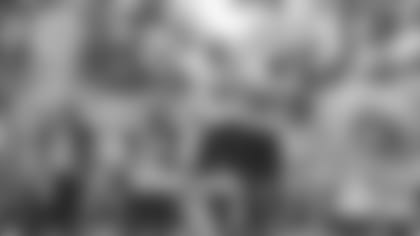 3. Anthony McCoy is bouncing back well from a tough game.
After missing two straight seasons with Achilles injuries, tight end Anthony McCoy finally was back on the field for a game Friday night, but his return was marred by two dropped passes. McCoy, however, is showing this week that he won't let a single tough outing get him down, coming up with a number of catches over the past two days. McCoy looked particularly sharp in Tuesday's practice, snaring a couple of difficult catches, including an impressive diving effort in traffic.
A couple of drops notwithstanding, McCoy has enjoyed a nice camp after a long absence.
"He's feeling good, it's been a long haul for him," Seahawks coach Pete Carroll said last week. "He's overcome a tremendous amount of setback to get to this point. I'm really excited that he gets a chance to play football again. He's had a great camp. He looks good. He's really solid. He's big and blocking well and catching the ball well."
Emptying out the notebook:
Yes, this happens a lot, but occasionally it's worth a mention: Doug Baldwin had a very nice day, catching a couple of deep balls, turning around defensive backs with precise footwork, and just overall looking like, well, what he is—the team's No. 1 receiver.
Undrafted rookie Rod Smith had a couple of long runs, and along with fellow UDFA Thomas Rawls, continues to look like a player who could push for a roster spot. As was the case in Friday's game, Smith has looked particularly good in practice as a pass-catcher out of the back field.
For the second straight day, Justin Britt worked at left guard, while Garry Gilliam was the first-team right tackle. Drew Nowak continues to work with the first-team offense at center this week, as offensive line coach Tom Cable said would be the case as Nowak and Lemuel Jeanpierre continue to split time at center.
Marshawn Lynch is always entertaining to watch, even without the ball in his hand. As is often the case, he chose to take part in drills with positions other than his own, today doing a couple of blocking drills with offensive linemen. Lynch has been seen in the past working with the D-line early in practice. Lynch also spent a brief moment at the D.J. table with Michael Bennett.
Utah Jazz coach and Mercer Island native Quinn Snyder was a guest at practice Tuesday. That could be good news for the Jazz, as Golden State coach Steve Kerr was a guest at Seahawks practice last summer before leading the Warriors to an NBA title.
Just-signed cornerback Keelan Johnson made a nice play in the end zone, breaking on the ball to knock away a pass intended for B.J. Daniels.