The Seahawks have won three games in a row and moved into first place in the NFC West for several reasons, including outstanding play from quarterback Geno Smith and his weapons in the passing game; an explosive running game featuring running back Kenneth Walker III; a rookie class, including Walker, that has contributed in big ways; and in recent weeks, a much improved defense that has been one of the best in the NFL over the past three weeks.
But another less-obvious reason the Seahawks have been playing so well of late was prominently on display in Sunday's win over the Giants. Players are, in all three phases of the game, doing the little things that don't always show up on the highlight reel, but that help win games.
In the second quarter of Sunday's win, the Seattle's punt team helped turn momentum back in their favor when starting tight end Will Dissly charged down the field on punt coverage, slamming into Richie James to force a fumble.
"Sometimes the starters have got to jump in there and do something and come through, and Will did exactly that," Seahawks coach Pete Carroll said. "He's everything. He's a total team guy. That defensive background comes out of him when he's covering kicks, he's got that defensive tackle mentality looking for a hit, and he found one and contributed. Hopefully our guys will always be ready—they have to be ready to step forward when the opportunity arises. That was a great illustration, it's cool to see that."
Added defensive end Shelby Harris, "That's the epitome of this team, the selflessness of this team. Your starting tight end being like, 'I'm going to go out there and run down on punt, I can go help, I can make plays.' That's this team."
Dissly, who later recovered a fumble on coverage after Travis Homer knocked the ball loose, always plays on special teams, but he had a bigger role on Sunday with Nick Bellore sidelined by a concussion. Dissly won NFC Special Teams Player of the Week for that performance, but downplayed any extra effort he might have had to put in with Bellore out.
"I think the easiest answer is I just love playing ball, and I love helping our team win," he said. "So if they need me to go and fill in for Cap, who's down, I'm ready.
And Dissly doesn't see his contributions as particularly unique either.
"Guys are just starting to see that the job needs to done, and our team has the mentality that if it needs to be done, why not me do it?" he said. "I think that's really cool when you have a bunch of guys who are willing to go compete and do the little things to get wins, and it's showing; we're playing really good ball right now."
Late in the third quarter, the Giants tried to exploit what on paper should be a mismatch—standout running back Saquon Barkley on 251-pound outside linebacker Uchenna Nwosu—but when Daniel Jones threw deep down the left sideline to Barkley, Nwosu was there, running stride for stride with the former Pro Bowler as the pass fell harmlessly to the turf.
"That's selling out, doing something that isn't necessarily his forte, but going out there, giving full effort and getting the job done," said Harris. "That's Seahawks football, baby."
With the Seahawks protecting a one-touchdown lead in the fourth quarter, Giants quarterback Daniel Jones took off running, but before he could get to the first-down marker, Harris chased the quarterback down, dove and swatted at Jones' foot to trip him up, leading to a Giants punt.
"It was a fantastic, incredible effort for him to make—on a guy who runs well—to trip up Daniel Jones short of the sticks last week," Seahawks coach Pete Carroll said of Harris' tackle. "That's a heralded play around here. When you see big guys running like that, we go nuts. We've probably shown that highlight a dozen times already, and will continue to show it for a long time, because it is what we expect and hope guys will play like, and to see Shel come through like that, it's a big deal."
Said Harris, "It's just selling out for the man next to you. Just a willing-to-do-anything-that's-asked-of-you attitude. That's the opinion of this whole team—everyone's willing to sell out for the person next to them, to buy in and do what's needed to come home with a win."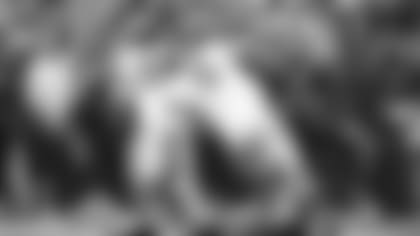 Asked if he knew he could catch Jones on the play, Harris reminded the media that he once chased down Tyreek Hill in a Sunday night game between the Broncos and Chiefs.
"I've got speed, baby," he said.
Finally, with the Seahawks looking to close out another win, Walker bounced a run to his left that was initially designed to go right, and after breaking a couple of tackles, he waltzed into the end zone for a 16-yard touchdown. What you might not have noticed on the play, however, is that Giants cornerback Adoree' Jackson was nowhere near the play to potentially make a tackle because he was too busy covering DK Metcalf, who, upon seeing Walker reverse fields, faked Jackson out by running a route, even feigning a catch that had Jackson swatting his arms to break up a non-existent pass.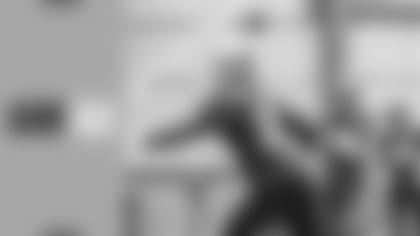 Listen To The Hawk Talk Podcast
Every week, Michael Bumpus and Nasser Kyobe release two podcasts analyzing the Seahawks previous game and previewing the next Seahawks opponent. Available on Spotify, Apple Podcasts, and wherever else you get your podcasts.
"The receivers have a big part in this running game, and it isn't always the block," Carroll said. "They have to recognize what the situation is and how they can get their guy and eliminate him from the play. Shane has been talking about how it takes all 11 to run the football and everyone has to be part of it. That's a good illustration, we lave seeing that and pointing it out. We make a big deal about it."
Being new to the team having arrived in the trade that sent Russell Wilson to Denver, it didn't take long for Harris to realize that things are a little different in Seattle, and that Carroll builds the type of culture that encourages the type of selfless play that contributed to Sunday win. Harris said he really began to understand that when Jamal Adams went down with a season-ending injury because of how Adam's injury affected everyone on the team. 
"We all felt that," Harris said. "There's a heartbeat to this. There's real feelings in this. It's special, man. You've got to give credit to Pete. He makes it a real positive reinforcement, loving atmosphere where it's like, he'll have you ready to run through a wall. He'll have you believing you can be anybody. That's Seattle. Everything you've heard about Seattle, I swear to you it's true."
When the Seahawks signed Harris' former Denver teammate Alexander Johnson to the practice squad last week, Harris kept telling his new teammate "just wait until the team meeting," or "just wait until the special teams meeting before the game" as his new teammate began to experience for himself what makes the Seahawks different. 
"They do things differently here," Harris said. "It's fun. Look, you have a basketball hoop in the team meeting room. It's just different here. It keeps it fun, it keeps you wanting to come to work every day." 
And while he's not new to all of this, Metcalf has seen this year's team come together in a way that is special even by a Carroll-coached team's standards. 
"You can see us maturing as a team in how we continue to get closer as a team, and our trust in each other," Metcalf said. "Because right now, I'll put our defense up against any offense in the league, and I'm not betting against them at all, and I'm pretty sure the defensive players would say the same thing for our offense, and add special teams in there. It's just like a young swagger that we have. It's a lot of young hungry dudes loving the game of football who are ready to kick somebody's ass. That's it."