Curious who plays in each game and how much they play, as well as what the distribution of playing time might mean? Throughout the season, we'll post the snap counts for the Seahawks the day after each game and take a look at what stood out.
Here's a few notes from the Seahawks' 17-14 Week 9 loss to Washington:
Offense
Russell Wilson and all five linemen played all 83 offensive snaps, including left tackle Duane Brown, who just joined the team in a trade with the Houston Texans. "He played really well," Seahawks coach Pete Carroll said on 710 ESPN Seattle Monday. "He was really good. He and Ethan (Pocic) and (Justin) Britt, the left side really played good. Solid as a rock, probably as good as we've seen. So that's a great first statement, we're in good shape there… I think you're going to see a lot from him as we move forward. We'll be able to utilize his strengths even more—this was one week. He's going to be a really good addition."
Doug Baldwin had 107 yards and a touchdown while leading receivers with 84 percent playing time. Paul Richardson was next at 82 percent, followed by Tyler Lockett (66 percent), Tanner McEvoy (20 percent) and Amara Darboh (17 percent).
At tight end, Jimmy Graham played 69 percent of the snaps while Luke Willson played 29 percent and Nick Vannett played 18 percent.
Eddie Lacy got the start at running back, but a groin injury limited him to just 11 snaps. Thomas Rawls took over the bulk of the workload from there, playing 51 percent of the snaps, and J.D. McKissic played 36 percent. Fullback Tre Madden played eight snaps before leaving the game with a calf injury.
Defense
Bradley McDougald, who starting for an injured Earl Thomas, played all 63 defensive snaps and "played well," Carroll said on 710 ESPN Seattle. "He did a good job." Safety Kam Chancellor and linebacker Bobby Wagner also played 100 percent of the snaps, with Wagner finishing with a team-high 12 tackles, three for a loss, a pass defensed and a sack for a safety.
Cornerbacks Richard Sherman and Shaquill Griffin, usually every-down players, were off the field for three plays when the Seahawks had their goal-line package on the field, while K.J. Wright came off for just two snaps. Wright was replaced by rookie safety Delano Hill on those plays with the Seahawks using a three-safety look. Normally McDougald is the third safety in those situations, but he was starting at free safety in place of Thomas.
Justin Coleman was on the field for 84 percent of the snaps, while strongside linebacker Michael Wilhoite played just 16 percent, showing how much nickel defense the Seahawks played against Washington.
Frank Clark and Michael Bennett each played 92 percent of the snaps, an unusually high number for a Seahawks defensive lineman. Next were Jarran Reed (73 percent), Nazair Jones (49 percent), Dwight Freeney (40 percent), Marcus Smith (17 percent), Branden Jackson (16 percent), Garrison Smith (14 percent) and Quinton Jefferson (11 percent).
Special Teams
Neiko Thorpe, who had another impressive tackle in punt coverage and deflected another punt, played 89 percent of the special teams snaps, as did Terence Garvin. Delano Hill was next in special teams playing time at 79 percent, followed by Nick Vannett (71 percent), Justin Coleman (61 percent), Michael Wilhoite (61 percent), Tedric Thompson (57 percent) and Tanner McEvoy (54 percent).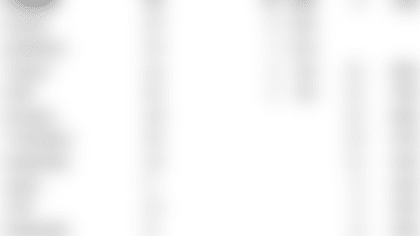 The Seahawks fall short 17-14 against the Redskins in Week 9 at CenturyLink Field.