Curious who plays in each game and how much they play, as well as what the distribution of playing time might mean? Throughout the season, we'll post the snap counts for the Seahawks the day after each game and take a look at what stood out.
Offense
All five linemen and quarterback Russell Wilson played all 68 offensive snaps. That's particularly impressive for Rees Odhiambo, who finished the game despite a chest injury that caused him to be hospitalized overnight.
"He got hit in the chest on the interception return, and it wasn't a violent hit, but the guy must have caught him just right with his shoulder," Seahawks coach Pete Carroll said Monday morning on 710 ESPN Seattle. "It knocked the wind out of him, that's what happened on the field. He had trouble breathing through the game, but he made it and was OK, then in the locker room it just exacerbated, so they took all the precautions and made sure they looked after him. They took him to the hospital last night. He doesn't have anything wrong with his sternum, but there's some stuff they're looking at, so we've got to wait and see. We don't have the results of that yet."
Doug Baldwin played despite a groin injury that had him listed as questionable, but might have been on a pitch count, so to speak. Usually the leader in receiving playing time, Baldwin played 68 percent of the snaps Sunday, fewer than Tyler Lockett and Paul Richardson, who both played 74 percent of the snaps. Rookie Amara Darboh was on the field a bit more with Baldwin limited, playing 24 percent of the snaps, while Tanner McEvoy played 19 percent.
Chris Carson was again the leader at running back despite leaving the game early with a leg/ankle injury, playing 51 percent of the snaps. Eddie Lacy saw his most significant work of the season, playing 34 percent of the snaps and rushing for a team-high 52 yards on 11 carries. J.D. McKissic, meanwhile, made the most of his 10 snaps, scoring two long touchdowns.
As for Carson's injury, Carroll provided a bit more info on 710 ESPN Seattle: "He's got a fracture that's way up, just below his knee. It's not a displaced one and all of that, but because of the torque and the way it happened, it was not in the area they were focusing on. So I had told the team he didn't have a broken leg, and everyone was excited about that for him, but he does.
Carroll added Carson, "likely has a legit high-ankle sprain, which is as legit as a break sometimes if it's a really bad one. We don't know that yet, so we'll find out."
Jimmy Graham led the tight ends with 68 percent playing time, while Luke Willson scored his second touchdown in as many weeks playing 32 percent of the snaps, and Nick Vannett played 26 percent.
Defense
Richard Sherman led the way at 97 percent playing time, followed by Kam Chancellor, K.J. Wright, Bobby Wagner and Earl Thomas, who all played 93 percent of the snaps. Usually every-down players, those players all got a little break late in the game with Seattle enjoying a big lead.
"Justin Coleman played really well last night," Carroll said on 710 ESPN Seattle. "He's a really good cover guy, so that was great he got the chance to jump up and make something happen. Of course the touchdown was perfect, but there were other plays too."
Michael Bennett led the defensive line rotation at 85 percent playing time, followed by Frank Clark (67 percent), Sheldon Richardson (63 percent), Jarran Reed (53 percent), Marcus Smith (45 percent), Nazair Jones (37 percent), Garrison Smith (33 percent) and Cliff Avril (18 percent). Avril's limited playing time was the result of a neck injury sustained while diving in an attempt to tackle Colts quarterback Jacoby Brissett.
Carroll said Avril got kicked in the chin by Brissett's heel as the quarterback ran towards the sideline, and added, "Something happened, a spinal injury that caused him a little bit of loss of control for a second in his hands. He came back fine and felt OK, but something happened there, so we're going to really be careful here and make sure we know exactly what's going on and take our time. It'll take us a while to figure out."
Avril's injury meant more playing time for Smith, who took advantage with 1.5 sacks, including one that forced a fumble that Bobby Wagner returned for a touchdown.
"Marcus Smith got a chance to get a lot of rushes last night, and showed up," Carroll said. "He's a very good athlete and he's really trying his tail off to get out there and do something. This was his best showing, and it was his biggest numbers too, so he had a chance."
Special Teams
Bradley McDougald led the way with 70 percent playing time, followed by Terence Garvin at 67 percent, then D.J. Alexander and Tre Madden at 63 percent. In addition to his big day on defense, Coleman also played 50 percent of the special teams snaps, as did McEvoy, while Delano Hill and Michael Wilhoite played 47 percent.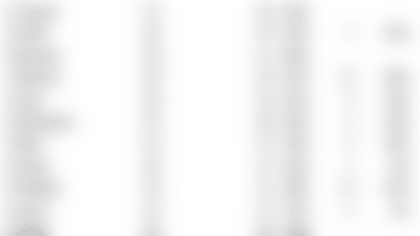 The Seahawks come out victorious at CenturyLink Field 46-18 against the Colts.