With a week of practice under their belts, and their preseason opener approaching fast, the Seahawks held a modified scrimmage during Monday's practice, giving the 2,547 fans in attendance a close-up look at something at least resembling game action.
Lineups rotated a bit, but for the most part the mock game consisted of the starting offense taking on the backup defense and the starting defense playing against the backup offense, and as one might expect, the starting units on both sides of the ball faired pretty well. The Russell Wilson-led No. 1 offense put up 17 points on six drives, including touchdown passes to Jermaine Kearse and J.D. McKissic, while the starting defense gave up just a lone field goal on six possessions.
"Pretty good all-around play," Seahawks coach Pete Carroll said. "Guys played good and hard. This is the first chance to really get closer to a game-type situation. We've been working on situations and segments, and now we've put them together and we really were able to see a lot of stuff. The film should be a great film for us to see in preparation for next week."
Here are six things that stood out from the game and from Carroll's thoughts on what he saw:
1. Russell Wilson is benefiting from extra reps.
Seahawks quarterback Russell Wilson had arguably his best practice of camp on Sunday, and he backed that up Monday by completing 15 of 18 passes with a pair of touchdowns. Of Wilson's three incompletions, one was a drop and another was a throwaway out of bounds to avoid a sack. Carroll said one difference of late has been that the Seahawks have changed things a bit to get their starter more reps in practice.
"He has had a few days back to back to back where he's really on it," Carroll said. "We changed his reps a little bit, we wanted to get him more reps to make sure he's getting enough turns, and since we've done that he's really picked up. He's doing great, he's in good shape, and he's whipping the ball around really well."
Perhaps the best throw Wilson made all day didn't count because it was wiped out by a penalty, but while rolling left to avoid pressure, Wilson dropped a perfect pass over a leaping Dewey McDonald for a long gain to McKissic.
2. Wilson also has a lot of weapons at his disposal.
As good as Wilson has been the past few days, a quarterback needs someone on the receiving end of those passes, and again on Monday it was again clear he has a pretty deep and diverse group of pass catchers to target, led by Pro Bowlers Doug Baldwin and Jimmy Graham.
On the first scoring drive of the day, Wilson hit Baldwin for a couple of long gains, turning a first-and-20 situation into a pair of first downs that took the offense past midfield. After a nice catch and run by Graham got the Seahawks into the red zone, Wilson went to Kearse, who made a nice adjustment to snag a pass that was thrown slightly behind him.
"There's a real diversity here," Carroll said. "You go across the board and start with Doug, Doug can do everything—exceptional playmaking receiver for us in all the phases. We've got really good speed, (Tyler Lockett) can run, Paul (Richardson) can run, new kid (Cyril Grayson Jr.) can run. Everybody is fast, Kearse can do everything, you see that (Amara) Darboh is a guy who looks to be kind of in that mold, big, strong kid that can do everything. He runs really fast, he has caught everything we've thrown at him. He's really smart, and we think he's going to be a physical guy on special teams as well. Tanner (McEvoy) is a big guy at 235 pounds playing wide receiver. For Tanner, this really his second full year, he's just starting his second year, and he looks very comfortable at the position, and he's unique. So as he gets back into, we're going to see how it fits. It's going to be a really interesting group to put together. McKissic is an interesting kid for us too, because he's got a lot of versatility and he's a returner as well. The return of Tyler Lockett really makes us really special, because Tyler can do everything. It's a fun group."
Carroll's answer focused on receivers, but obviously tight ends like Graham, Luke Willson and Nick Vannett are a big part of the passing game as well, and Carroll can't help but gush about Graham every time his name is brought up.
"Jimmy is the best he has looked," Carroll said. "He's really in great shape, he's very confident, he feels good, can work every day. He's on it, and he's blocking really well. He's really becoming the Y blocker for us when we want him, he can run right at 'em, we expect him to be a dominant guy at the line of scrimmage. That's a change, he has just worked at it and developed it. He didn't really see himself as a blocker in the past; he does now and he's really good."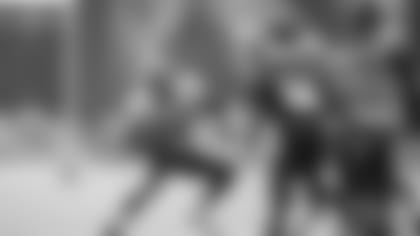 3. A lot of veteran defensive players are in midseason form.
Seven of Seattle's defensive starters have played in at least one Pro Bowl, so it's hardly a surprise that the No. 2s and 3s struggled to move the ball against that defense. And while game action is a ways away, some of Seattle's top defensive players look like they're ready. Cliff Avril was constantly in the backfield, often times getting annoyed with officials who weren't blowing the play dead when he could have hit the quarterback; K.J. Wright sniffed out a screen to make a tackle for a loss; Earl Thomas had a diving interception on a ball tipped by Pierre Desir; and Michael Bennett jumped offside. OK, he also dominated blockers, but if Bennett can joke about his propensity for being offside, then hopefully we can too.
4. C.J. Prosise is "in full tempo now."
Second-year running back C.J. Prosise missed the start of camp due to illness, then was eased back into things for the first couple of days, but he's a full-go now, and is back to looking like the big-play threat he was when healthy during his rookie season.
Most notably, Prosise took advantage of a matchup with a linebacker to get open down the sideline and haul in a 44-yard catch from Wilson that set up an eventual field goal.
"I thought he did well today," Carroll said. "He looks great, he's in full tempo now. We kind of just let him blend in a little bit to make sure he's out here for the long haul, he is, he's in good shape right now, he looked great. Unfortunately he was sick to start out camp, but other than that, he has done everything, and he had a couple really good plays today."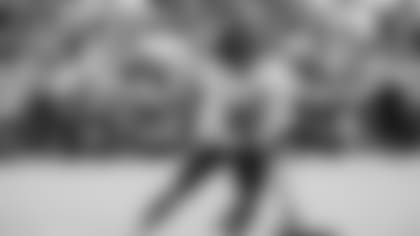 5. Bradley McDougald "fits in beautifully."
While Earl Thomas and Kam Chancellor were the starters at safety, as expected, McDougald rotated in with the No. 1 defense at both free and strong safety, and he very much looks like a player who can contribute. A former starter in Tampa Bay, McDougald looks comfortable in both positions and seems to always be in position to make a play.
"Really natural player, he fits in beautifully," Carroll said. "He has really rotated with Kam and Earl, so we feel like we've got three starting safeties there, so that's a great bonus for us. It's the best we've been with that kind of experience and playmaking ability. I think you guys are going to really like him, he does all kinds of stuff, really natural football player, and he'll look even better when we're talking and running and hitting, because he's really aggressive on the back end."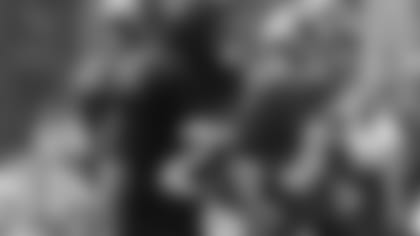 6. Eddie Lacy is "perfectly on track."
There weren't a ton of highlights in the running game Monday, and until the Seahawks get to preseason games, backs can't fully show what they can do against live tackling, but Carroll remains very encouraged by what he has seen from free-agent addition Eddie Lacy.
"Eddie's doing great," Carroll said. "He hasn't missed anything, he's been very attentive to everything that we're doing. He can catch the football. He can run thick and heavy, you don't get to see all of that right now. He's in good shape. He has done everything we've asked of him, he has done a great job. We've got to get to these games, it's going to take us a while, but as we get to these games, everybody's going to get the football, and we'll just see how it feels with different guys running it, because we have a lot of diversity in the running back spot."
Asked about Lacy's much discussed weight, Carroll said, "He's perfectly on track."
Photos from the seventh day of 2017 Seahawks training camp practice at Renton's Virginia Mason Athletic Center.