With Day 2 of Seahawks training camp in the books, here are six things that stood out from Sunday's practice, the first three from team reporter John Boyle and the final three from digital media content manager Tony Drovetto.
1. You can't read too much into one practice when it comes to competition for starting jobs.
When the Seahawks opened training camp Saturday, DeShawn Shead was lined at right cornerback with the first-team defense, while Mike Morgan was the starting strongside linebacker. So clearly those two have the inside track on starting jobs, right? Not so fast. While it's entirely possible those two could win starting jobs, it's worth remembering that the Seahawks will rotate players in those starting spots when there's a competition to sort out, which is why a day later Jeremy Lane got the first crack at right cornerback with the No. 1 offense, while Eric Pinkins was the first-team strongside linebacker. On Monday, things could change again, so stay patient with the positions battles, some of which won't be settled for several weeks. That's especially true at strongside linebacker, where Pinkins, Morgan, Cassius Marsh, Kevin Pierre-Louis, and perhaps even a rookie or two are battling for the job.
"Everybody at some point and time is going to have an opportunity to be out there with the first group, because that's the right that they've earned," defensive coordinator Kris Richard said. "They've been here, they've busted their butts, they've been doing everything we've asked of them, and they deserve that opportunity to be out there with the first group."
2. DeShawn Shead's interception was the play of the day.
While Lane was first up with the starters today, it was Shead who turned in what might have been the best play of camp thus far. Early in the team portion of drills, Russell Wilson tried to hit rookie Kenny Lawler with a short pass, but Shead timed his arrival perfectly to knock the ball loose as Lawler attempted to secure the catch. And if that pass breakup had been the end of things, it would have been a pretty nice play in its own right, but what happened next made it spectacular. After Shead knocked the ball loose, it hung up in the air for a moment, and Shead was able to quickly spin around and snag the interception just before the ball hit the ground, causing Shead to be mobbed by his defensive teammates.
3. Michael Bennett's versatility does not extend to catching kicks.
Seahawks defensive end Michael Bennett does a lot of things well on the football field, and he does them from multiple positions along the defensive line. That versatility as a pass rusher is what helped Bennett become one of the top defensive linemen in the league and earn his first trip to the Pro Bowl last year, where he was robbed of a long touchdown run by a quick whistle from an official.
Bennett is also funny, thoughtful, a team leader and so much more. What he is not, however, is a kick returner. And yes, that should be an obvious statement when we're talking about a 274-pound defensive end, but apparently Bennett didn't get the memo, because early in practice, he decided to sneak into the line of kick returners fielding kicks. How did it go? Well, let's just say Tyler Lockett's job is safe.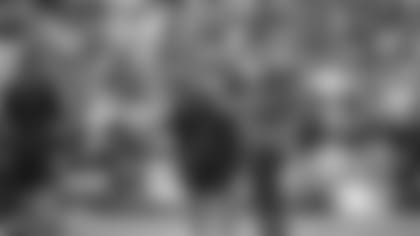 4. Wide Receivers Coach Dave Canales Has Some Wheels
Entering his second season as the team's wide receiver coach, Dave Canales is still keeping it true to what helped him land in the League in the first place.
Canales, in his sixth season with Seattle, spent his first four years on Pete Carroll's staff as an offensive quality control coach. In that role, part of his job was to keep players moving, motivated, and organized on the field in between and during different drills.
During Sunday's practice, after the Seahawks had wrapped up a session, Canales was seen sprinting stride-for-stride with second-year receiver Kevin Smith, as the two raced toward the end zone on the opposite side of the field. It's a competitive exercise Canales said he's employed since his days under Carroll at USC.
"Coach [Carroll] has always looked to me as one of the young guys who brings the energy, brings speed from drill to drill," Canales said. "That's the reason I'm here, that's the reason I've got these opportunities. What you see is they run along with me because they like competition. They're obviously all faster than me. If they weren't, they wouldn't be here."
For Seattle's sake, it's good to know that every receiver on the roster can outrace the position coach. That said, Canales came out a step ahead of Smith during one of their competitive sprints on Sunday.
"Here's what I say," said Canales. "I'm going to win 100 percent of the ones they don't feel like running. Because I'm going to run as fast as I can every time. Kevin and I, it's a really fun thing for us. Then every once in a while somebody else will hop in. I think it just serves as a reminder that we're here to work, we're focused, and we're ready for the next drill.
"It totally comes from coach [Carroll]," he added. "Coach trained me that way and I just haven't let it go. I'll keep doing it until my legs fall off."
5. Brandon Cottom Will Get A Shot At Fullback
He's listed as a tight end on the roster, but Brandon Cottom was playing a bit of fullback on Sunday. The 6-foot-2, 262-pound second-year pro played running back at Purdue before signing in Seattle after taking part in the team's rookie minicamp on a tryout basis last season. The Seahawks listed him as a fullback back then, and with the team not bringing back Will Tukuafu and Derrick Coleman in 2016 and swapping rookie Taniela Tupou from fullback to defensive tackle, it appears Cottom will get another shot at a spot that's currently open in Seattle.
"He's really a good athlete and he's a smart player," offensive coordinator Darrell Bevell said of Cottom. "He has the ability to do a lot of different things. We kind of have a stable there at tight end, so we wanted to give him an opportunity and fullback is kind of the spot that he can do it. He's got the size, he's got the quickness, he's got the things that we're looking for. So we're going to give him an opportunity to take that spot and see how he does." * *
6. Garry Gilliam Saw More Reps With The No. 1 Unit
Garry Gilliam, the expected starter at left tackle for the Seahawks this season, received more work with the No. 1 offensive line during team drills on Sunday. Gilliam practiced in what Carroll called "limited" fashion on Saturday as he continues to work his way back to full-go after having a cyst removed from his knee earlier this offseason.
Gilliam is part of a position group featuring several new faces in new places, with Gilliam moving from right to left tackle, Mark Glowinski from right to left guard, Justin Britt from right guard to center, first-round pick Germain Ifedi being inserted at right guard and free-agent pickup J'Marcus Webb at right tackle. Changes at every starting spot make O-line one of the team's more unsettled positions to start camp, but that thought process doesn't necessarily motivate the group, Gilliam said.
"No, because a great team, in my opinion, is based off your offensive line," Gilliam said Saturday. "You can't do anything without an offensive line. So for us the last couple years to still be a really good team and apparently not have a really good offensive line goes to show the offensive line isn't as bad as some people think. So as long as we get out here, do our job, handle our business, stay tight and firm in the pass game, and run our feet in the run game, our skill players are just as good if not better than they have been."
RELATED
Action photos from the Seahawks' second day of training camp practice at Virginia Mason Athletic Center.