The Seahawks were back at it Friday for their second practice of training camp, then players will get a day off Saturday before resuming work Sunday. Here are six observations from Day 2 of Seahawks camp:
1. The receiver competition is already heating up.
Ever since the Seahawks parted ways with Doug Baldwin in May, it has been obvious that receiver would be one of the more interesting position groups to watch in training camp. While Tyler Lockett is safe to pencil into one starting role, the competition is pretty wide open beyond that with more experienced returning players like Jaron Brown and David Moore battling with rookies and other young players such as DK Metcalf, Gary Jennings, John Ursua, Keenan Reynolds and Malik Turner.
And while it will be a long time before anything is determined in terms of starting jobs or roster spots, what is evident early is that a lot of different receivers are going to make strong cases for themselves.
On Thursday, Metcalf was one of the standouts, getting fans excited with a deep reception and a few other nice catches, and a day later a handful of players all had strong practices. Moore had one of the better catches of the day, dragging his toes to make a sideline catch, and that came just a few plays after he and Russell Wilson hooked up for a deep completion down the sideline. Jaron Brown, a veteran who coaches have admitted was a bit underutilized last season, had another impressive practice, including a touchdown late in the day on a deep post route from Wilson. Even undrafted rookie Terry Wright got in on the act with a couple of nice catches, one on the sideline and one deep down the middle, both coming from Wilson.
"I'm always going to start with Tyler," offensive coordinator Brian Schottenheimer said. "He does everything that we expect him to do. If there's a smarter, more instinctive football player then I don't know who it is at that position. That's why he produces the way he produces, that's why he gets open the way he gets open. He's just a special talent, certainly ready to take over that number one role. I think Jaron Brown year two, we probably underutilized him last year, I probably did, we as a staff did. He does everything right, you see him doing all the dirty work in the running game, he's physical, all the details that he does, he hit the big play out there today. David Moore, talked about him in the spring, we're moving him around, he's playing different spots. If there's a more athletic, powerful guy off the ground, hard to find those guys. Malik Turner, Malik came back yesterday, had a great day. I'd say three or four plays that he was running a crossing route, linebacker got up underneath him, he slammed on the brakes, and you can see he and Russ (Wilson) picked right up where they left off, which without working in the spring, that's hard to see. I think getting into the young guys, DK (Metcalf), we love what we see, tremendous worker, the speed and the power off the line of scrimmage is really impressive. Gary Jennings is growing as a player, he's understanding his roles, he's doing things right, he's thinking. I think he had a hot adjustment today off one of our empty protections that you don't see a young player make. Terry Wright and (John) Ursua again, they're all showing up, and that's what's making it a fun competition to watch."
2. Rashaad Penny had a good day.
Penny, a first-round pick in 2018, talked this offseason about the challenges of his rookie season and about what he has learned when it comes to being a pro and applying that to this year. He also returned to work having slimmed down a bit from what he played at as a rookie. And while it has only been two days, his work in camp thus far, and on Friday in particular, has reflected those changes.
"Today was his best day, by far his best day," Schottenheimer said. "He's learning how to practice, I think I talked a little bit in the spring about him maturing, he's doing that. There's a way to practice and the veteran guys know that and there's guys that model that for him. Not just Russ, J.D. McKissic, a guy that's been around this program for a long time. The sky is the limit, really talented young man. But today was his best day because he pushed himself, and I told him it was fun to see him come back and breathing heavy, which means he's finishing runs. There was a screen play late in the practice that he hit the landmark exactly where he was supposed to be and that's awesome."
And Penny isn't the only running back turning heads. As detailed yesterday, Chris Carson is back after missing offseason workouts, and looks as good as ever, and rookie Travis Homer has looked very explosive the past two days.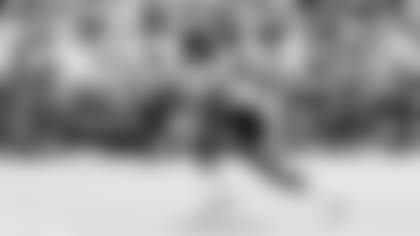 3. Tedric Thompson made one of the best defensive plays of the day.
When the Seahawks drafted Thompson out of Colorado in 2017, one of the traits head coach Pete Carroll and general manager John Schneider mentioned about the safety was his knack for the ball, citing his interception and pass breakup numbers in college. Once the Seahawks are fully healthy at safety, Thompson, who started 10 games at free safety last year, will have to compete for a starting job, but he helped himself early on by showing that nose for the ball on Friday, reacting quickly to a high deflected pass, lunging to make the interception before the ball hit the ground.
4. The Seahawks might not have a clear No. 1 tight end.
As well as Will Dissly played last season prior to sustaining a season-ending knee injury in Week 4, it could be tempting to assume he'll be the starter once he's fully healthy, but the Seahawks have enough talented tight ends, all of whom bring different things to the table, that they might not have one tight end dominate the playing time when the season begins. Two days into camp, we've already seen some big catches from the likes of Nick Vannett, Jacob Hollister and Ed Dickson, Dissly is a classic "Y" tight end who excels as a blocker but who can also make plays in the passing game, and George Fant is a hybrid blocking tight end/tackle who will have a big role in the running game.
"There's a lot of really good pieces there," Schottenheimer said. "I don't know if it's going to be one guy, I think it could be a little more by committee. You got George Fant there, you got Diss coming back, Nick Vannett scored a lot of touchdowns for us, Ed Dickson, that veteran leadership that he brings is awesome. It's a really good group, so again, we think that's its very flexible. Jacob Hollister, we're really thrilled with what he's done, both in the passing game and in the running game, coming in and learning the system year one with us. So again, we're not ready to name a guy yet, and it might not be a guy, it could be really by committee, which is terrific for me."
5. Play it again, Russ.
Russell Wilson throws one of the best deep balls in the NFL, so he doesn't miss his target often, but every so often he might slightly overthrow a target, or the receiver might drop a ball or not run the route exactly the right way, and occasionally those deep passes do hit the ground. And throughout offseason workouts and now in training camp, it has become the norm to see Wilson grab another ball when deep passes do go incomplete, wave to the receiver to tell him to stay down field, then throw another pass for the receiver to catch. The idea behind this practice is similar to a basketball player wanting to end a practice session on a made shot.
"I think it does two things," Wilson said. "First of all, I think it clears your mind, because when you're running back, you're going onto the next play, you're thinking about it, the first thing you want to do is 'OK I caught it—I missed it, but I caught it.' So it's confidence, it's also a feeling thing—I caught the football and down the field. You try to put a similar throw there for the guy so he can catch it in that same position. You never want to leave the gym on a miss, that's just kind of the mentality. I've kind of always done that. I think my dad instilled that in me when I was really young, just that process of, if I miss a throw, I'm going to hit it again—take 10 seconds let's get it going and move on. I think that ability to have that amnesia and move on to the next play, but also feel confident that you can move on—'I did this, I accomplished that,' so that way, you know if it happens in a game, that same ball comes, you're not think 'ah shoot I missed this during the week.' So here it goes. So I think that's important. I remember my dad and I when I was young when I was seven years old, he would hit me ground balls, and if I missed one, hey we're going to do it again, boom. So that was a big thing."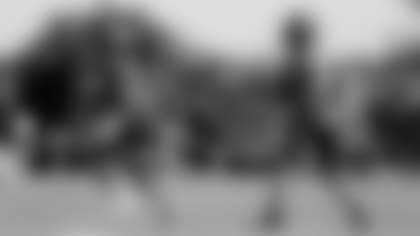 6. Geno Smith throws a nice deep ball.
While Wilson has obviously been the best quarterback in camp, Smith might have made the best single throw of the day, an absolutely perfect deep ball that hit newly-signed receiver Daniel Williams in stride for a touchdown down the left sideline. Smith will battle Paxton Lynch throughout camp and the preseason for the backup quarterback job, and it's far too early to suggest one player is leading, but throws like that one that Smith made Friday certainly won't hurt his cause.
"Fun competition, both guys have made plays," Schottenheimer said. "Paxton was really good today. Geno hit a nice go ball down the boundary, it's been fun. We're pushing them hard, it's been fun, we do a little competition in the quarterback room, where we have them kind of draw up the plays, it was fun today to watch them compete. Geno won a couple of them, which made Russ a little bit pissed off, which was good, it's always good when you make him angry. But they're really competing, they understand it's going to be a tough competition, that goes a long way. Ultimately, it's going to come down to who can move the team and who can score points for us in the preseason."
Photos from the second day of Seahawks 2019 training camp, presented by Safeway held on Friday, July 26 at Renton's Virginia Mason Athletic Center.