The Seahawks opened training camp Thursday, and players "came out flying today," head coach Pete Carroll said following practice.
"I was really excited just to get them back going," Carroll said. "It's a really good group and we are looking forward to making a bunch of growth and see how far we can take this."
Asked about his optimism about this particular team, Carroll pointed to everything from the leadership of veterans like Russell Wilson, Bobby Wagner, K.J. Wright and Duane Brown, to special teams to young players expected to contribute right away.
"When you put it all together and you look at the D, and the O, and the special teams, I see us having a chance to be a really complete football team with attitude, with energy, with speed," Carroll said. "We are really big, and we are really fast. That's a good place to start. It's not just the leadership, but it is the guys. Bobby, K.J., Russ, Duane. Those are guys who have just been there and they've done it. They are great players that will affect other guys in a really positive way. All of that adds together and gives us a chance to have a really good group. I'm hoping we can be a very complete team. In years past, we've been able to be good at a lot of areas and it's hard to find a way to get at us. I want to make sure we close all of those windows up and we've got everything just the way we want it. We have a chance. That's what is so obvious. We have a really great opportunity to do that."
With Day 1 in the books, here are eight observations from Thursday's practice: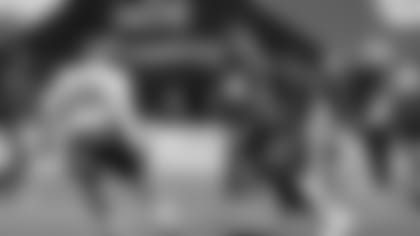 1. Chris Carson is back and looks like, well, Chris Carson.
When the Seahawks offense took the field for the first time during the 11-on-11 portion of practice, Chris Carson was in as the starting running back. That's an encouraging sign on day one for the back who had 1,151 yards last year, but who missed offseason workouts following knee surgery.
Carson looked like his usual fast, powerful and elusive self, including on one long run late in practice that fired up the crowd at the Virginia Mason Athletic Center.
"It was great to see him," Carroll said. "We have always recognized that Chris is such a well-conditioned guy. He works so hard, he's in great shape again, and he had a very, very prosperous offseason coming and dealing with his issue. It was a minor issue, but he's ready to go."
2. Mychal Kendricks and K.J. Wright will play at the same time.
While Bobby Wagner wasn't on the field—more on that below—Thursday provided more evidence that the Seahawks have every intention of using Wagner, K.J. Wright and Mychal Kendricks together in 2019, something Carroll first mentioned in March after Kendricks and Wright both re-signed. Last season, Wright and Kendricks never played together, with each starting games at weakside linebacker while the other was out. Kendricks has played multiple linebacker spots throughout his career, however, and lined up at strongside linebacker on Thursday while Wright played his usual weakside spot and Austin Calitro filled in at Wagner's middle linebacker spot.
"He's got terrific versatility," Carroll said of Kendricks. "Mychal can play all three spots if we need him to. We really like him on the edge, and we can use his pursuit as coverage, as pressure off the edge. The bits that we saw of him with us, he looked very active and really distinctive. I can't wait to put him in the spot and let him sit there and let him figure it all out the way we want him to and really see him cut loose. We really expect him to be active. He'll be involved in the nickel package as well and it gives us a nice rotation there with experience. I think our group, we get all three guys out there at the same time, it's going to be a fine-looking group. We are really counting on leadership from those guys."
Asked about sharing a field with Kendricks for the first time, Wright said, "It's really good, it's really good getting out there with Kendricks. Just building, because I never played with him, and so just out there communicating, explaining what I see to him and vice versa. I believe that this group can be outstanding. And so, it's day one we have a long ways to go, put on the pads here soon and really start building."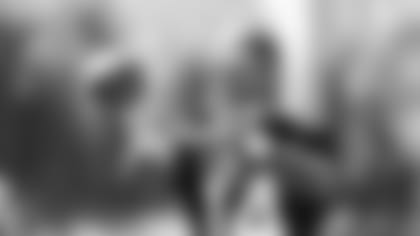 3. Everybody's excited about DK Metcalf.
When rookie receiver DK Metcalf got open deep and caught a pass from Russell Wilson down the right sideline, the play might have elicited the biggest cheer of the day from a crowd that already included fans in No. 14 jerseys. Metcalf's size, speed and big-play ability have made him a standout in offseason workouts, and his first practice in front of Seahawks fans showed that he is already becoming a fan-favorite.
"He's good, he's worthy of it," Carroll said. "He's an extraordinary athlete and what a tremendous addition to our club. You know, just the first day out here and here we go, getting it started. He's had the opportunity to make really good impressions in the offseason with us and I know working with Russ and the fellas through the summertime, he was just on point. We are really excited about him and how he has the chance to contribute. But this receiving group is a really good group, it's very competitive. It's nice to have different dimension guys, different sizes and shapes. He certainly is a very unique one to add to the mix."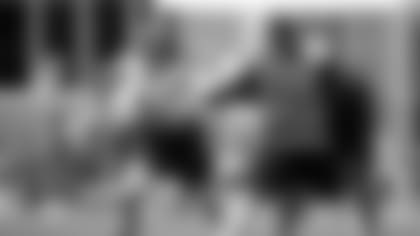 4. Cassius Marsh will play an important role in 2019.
Granted, the Seahawks aren't at full strength just yet with Ziggy Ansah working his way back, but it was telling that Cassius Marsh was one of the two starting defensive ends, along with Quinton Jefferson, the first time the defense took the field. Marsh, who rejoined the Seahawks this offseason after spending the past two seasons in New England and San Francisco, has a good shot to contribute both in the defensive line rotation and on special teams.
"All around ballplayer," Carroll said. "He's just a really good football player. He can do a lot of stuff, versatility, really good special teams player. He's really grown in that area. He's a leader in that area. I hope, with the moves that we've made and the people we brought in here, our special teams should really be bolstered in the core area. He's one of those guys. He can do everything. He's a good pass rusher, he's always been a good effort player. He's got a good motor in him. He's just the kind of guy we like. When we parted, we knew there would probably be a chance we get him back someday and it did come about."
5. Defensive players are looking forward to getting more aggressive.
In the name of player safety, defensive players aren't allowed to contest passes during offseason workouts, and that policy continues into the first couple days of camp. Starting this weekend, however, the defense can resume playing real defense.
"We've got to get ready to play football," Carroll said. "Really, we have to stay away from the contested balls as much as we possibly can. Every now and then it happens. Our guys are doing a really good job. It's hard on the defense because they have to let the guy catch the ball. Tomorrow is the last day of that."
Wright joked that the defense is looking forward to quieting the Metcalf hype when the playing field is leveled a bit.
"We're going to let him have tomorrow, and then after that that's over with," Wright said with a grin. "We're going to step-kick with him, lock him out, if he comes across the middle, we'll give him a nice little love tap."
6. Cody Barton has "made a lot of positive impressions."
While Calitro got the nod with the No. 1 defense, it's hard not to notice rookie linebacker Cody Barton making plays at middle linebacker when he's on the field. A third-round pick out of Utah, Barton has been very impressive early on both with his ability to learn the defense and with his athleticism.
"Wow, he's made a lot of positive impressions," Carroll said. "He's accepted that the opportunity, he's had a lot of good play ops. In the offseason, he was the number one Mike for a good while out there, making the calls and all that. From day one, he just jumped to the front. He's athletic, he's smart. He's been tough in the past, he's versatile. There's just not anything we don't like about him."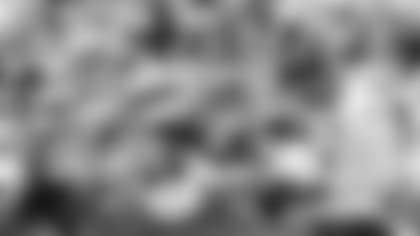 7. Safety will take time to figure out.
While Bradley McDougald was on the field after missing offseason workouts, the Seahawks still aren't at full strength at safety, meaning it'll take some time to determine how things look at that position. The Seahawks opened camp with Tedric Thompson at free safety and McDougald at strong safety, the duo they used for most of last season after Earl Thomas' season-ending injury. But considering how well Lano Hill played at strong safety in Weeks 16 and 17 with Thompson out—McDougald moved to free safety in those games—and the fact that Seattle used a second round pick on Utah safety Marquise Blair, it's fair to assume there will be some serious competition for spots once everyone is healthy. Carroll said Blair (hamstring) will be back any day, while Hill (hip) could be a week to 10 days, so it could take some time for that position to take shape, but when everyone is available, it should be a very competitive group.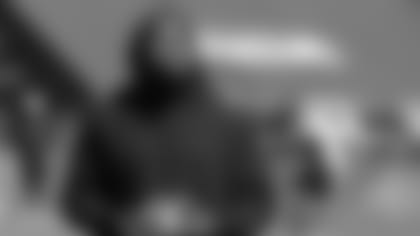 8. Bobby Wagner is present but not yet practicing.
As was the case during offseason workouts, All-Pro middle linebacker Bobby Wagner was not practicing when camp opened, but was there interacting with teammates and helping coach Seattle's linebackers. Wagner, who is heading into the final year of the contract extension he signed in 2015, is looking for a new contract and the hope from both sides is that a deal can get done soon.
"We've been working with Bobby for some time and there's been a lot of conversations and a lot of stuff going on and really, at this time, there's a little issue about getting down at the practice field," Carroll said. "At this time, I did not talk to him about today and we will visit on that. We'll work with him hopefully to make a really good decision; both ends of it. We love him, he's been a really great player, great guy in the program, and we respect the heck out of him."
Asked about Wagner's decision to still attend practice rather than hold out while seeking a new deal, Carroll said, "He's never done anything that doesn't represent class and character and leadership. I'm not even talking about his performance, just the person that he has always been, and he will continue to be that for us. That's just the guy that we know, and we love, and we are happy to have on our club."
RELATED
Photos from Day 1 of 2019 Seahawks Training Camp, presented by Safeway held on Thursday, July 25 at Renton's Virginia Mason Athletic Center.