The Seahawks feel good about how they used their 2021 first-round pick, sending it to the Jets last summer as part of the trade to acquire All-Pro safety Jamal Adams.
But regardless of how happy the Seahawks are with Adams, that trade still left them without much to do on Day 1 of the draft, so rather than just sit around and watch Adams highlights all evening, the Seahawks front office had a little fun with their day off.
To liven things up a bit, the Seahawks had full-sized cardboard cutouts made up of head coach Pete Carroll, general manager John Schneider and just about everyone else who's involved in the draft. Charlie, the Schneiders' family dog who made several appearances during last year's virtual draft, even got his own cutout, as did, for some reason, Wilson and his fence from "Home Improvement." Scott Fitterer is no longer with the Seahawks having left to become the general manager of the Carolina Panthers, but a cardboard version of Fitterer got to spend one more draft with the Seahawks after two decades with the organization.
And on such a beautiful day, cardboard Carroll and Schneider couldn't be cooped up in the draft room all evening, so they enjoyed a little time in the boat docked on Lake Washington just outside the VMAC.
Before the draft, Carroll dusted of some classic Seahawks Draft Clues, encouraging fans to guess which former pick that clue was referencing.
And the draft TV coverage wasn't completely lacking Seahawks representation. A couple of Seahawks fans were on-hand in Cleveland despite the Seahawks not having a pick, and showed up on the broadcast a few times.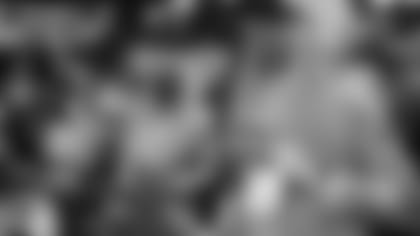 And on a more important note, quarterback Russell Wilson, the 2020 winner of the Walter Payton NFL Man of the Year Award, made an appearance during the draft coverage encouraging fans to get involved with the pandemic relief Draft-A-Thon.
The Seahawks will get back to work on Friday, with the second round beginning at 4 p.m. PT. Unless they make a trade, the Seahawks will be picking at No. 56 overall.