The Seahawks saw their 2019 season come to an end in Green Bay Sunday, falling 28-23 to the Packers in the divisional round of the playoffs. A day later, Seahawks coach Pete Carroll met with the media for his season-ending press conference, sharing his thoughts on Sunday's game, the entire season, and giving some health updates on players who will be recovering from injuries in the offseason. In addition to some of Carroll's big-picture thoughts on the season that just ended, here are seven takeaways from Monday's press conference:
1. The Seahawks hope to re-sign Jadeveon Clowney, who will be having surgery soon.
Defensive end Jadeveon Clowney came to Seattle in a trade just before the start of the season, and after having Clowney on his team for one season, Carroll really hopes to make it a longer-term relationship. Clowney is set to become a free agent when the new league year begins, so his return to Seattle is far from guaranteed, but Carroll said the Seahawks will try to keep him around.
"He's a terrific football player and he had a big impact on us," Carroll said. "We would love to have him back."
Clowney made an impression on his new team not just because of how well he played, but because of how he was able to fight through a core injury that he has been dealing with since Week 10, one that will require him to have surgery.
"He has had surgery on the other side, and he said he wishes he had done it on both sides," Carroll said. "He's got to get it done in the next few days or whatever. Next week, or something like that. It's for a core injury."
Carroll said the surgery will come with a five or six-week recovery time, so it shouldn't be an issue at all heading into the 2020 season.
Carroll hopes that Clowney's positive experience in Seattle helps the Seahawks' chances of re-signing him.
"He loves it here and he wants to be here," Carroll said. "He dropped up to see (general manager John Schneider) just to let him know how important it was to him. He had a great time. Everybody in here, they had a ball competing together. It's interesting to see the new guys that come in because they're more surprised by the environment. They were very upbeat about it and Clowney was as much as anybody."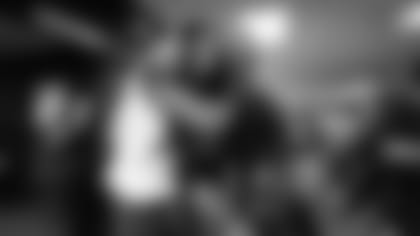 2. The status of Will Dissly, Chris Carson, Justin Britt and other injured players heading into the offseason.
The Seahawks lost several key players to season-ending injuries, and Carroll gave updates on some of them and the rehab processes they're going through.
Tight end Will Dissly, whose rookie season was cut short by a knee injury, saw his 2019 season end early as well due to an Achilles injury.
"He's killing the rehab," Carroll said. "Will is doing great. He's spending some time down in LA to get right, and he's really fired up about the people that he's working with and the progress he's making. He's been around a lot. He'll get it done. Will will get it done. There's no question he will. But, it's a long process, it's going to be some tough work for him."
Chris Carson, who landed on injured reserve with a hip injury in Week 16, does not need surgery, which puts him ahead of fellow running back Rashaad Penny, who tore his ACL early last month.
Asked about both of those backs, Carroll said, "We're optimistic, more-so about Chris because Chris doesn't have to do any rehab right now. He's not having surgery and all that. He's just got to get through it and stay off it for a while. He's a fantastic workout warrior. He'll come roaring back. I think Rashaad is challenged more because he's got the full rehab that he's got to go through. He's doing great. He's ahead of schedule already. They're really excited about the progress that he's making. That's a much longer prognosis there. He's got six or seven months ahead of him that are going to be really challenging. We'll have to wait and see. He's really determined, his attitude is great about it. He's planning on making it back and getting ready to play, so we'll see how that goes. We'll be on the mend but it's still a pretty good position right for us. (Travis) Homer really helped us out with the playing time he got. A classic example, what does a guy have to do when he doesn't need to play? Homer did. He showed us what he could do. I think it should be a strong group. We are really counting on Chris to come roaring back."
Center Justin Britt is also recovering from an ACL injury, but his happened earlier in the season than Penny's.
"I saw him the other day, he said he is making really good progress," Carroll said. "He's been around a lot. He's very active in here, so we know that he's working hard at it. He should be able to get back on normal schedule. After you get about five or six months into it, you have to kind of figure out what's going on, so I don't know how that's going to turn for him."
Defensive end Quinton Jefferson fractured his foot in Sunday's game, Carroll said, and will need surgery.
3. The Seahawks were too inconsistent on defense.
The Seahawks had some very good defensive performances this season, including a wild card win in which they didn't allow a touchdown against the Eagles, but overall this season wasn't up to Seattle's standards on that side of the ball.
"We were not consistent," Carroll said. "Too many explosive plays of various natures. For the most part, we had problems on the edge. We had containment issues. We found that the offenses really put the ball on the perimeter against us a lot. That does challenge us in some ways. You'll see some things be adjusted in the course of the offseason for that. Just the style of offense that we were up against was a little bit different than it's been."
Asked what kind of defensive adjustments could be coming, Carroll said, "There'll be some of everything. A little bit of everything. We're going to work hard at it. Some of it will be going back to things we've done, some of the things will be moving forward. I'm really excited to go about it. It's difficult to adjust some things in the middle of the year."
One recent issue was Seattle's inability to force turnovers, with the Seahawks having no takeaways in their final four games following a stretch of five straight games forcing multiple turnovers.
"That makes all the difference in the world," Carroll said. "We went the last three weeks or something without getting one. Offense did a really good job not turning the ball over. Thankfully, it kept us in the games. Generally (turnovers) happen because of the pressure on the quarterback. It wasn't so in Philadelphia because we got after them pretty good and we didn't get the ball out. Usually, that's what you count on. We had an excellent year turnover ratio wise, and all that. We didn't get the ball out like we needed to in the stretch, in particularly the playoff games."
4. K.J. Wright "had a terrific season."
K.J. Wright played in just six games last season, postseason included, and thought his Seahawks career might be done when he hit free agency coming off a down year. The Seahawks brought Wright back, however, and he rewarded them with a great season, recording career highs in tackles (132), passes defensed (11) and interceptions (3). And most notably for a 30-year old veteran coming off of an injury-shortened season, Wright started all 18 games, and got better as the season went along.
"I thought he had a terrific season," Carroll said. "I thought he had a terrific finish to the season. The last two months of the season were his best play of the year. We really worked hard to make sure—coming off his stuff from last year—to keep him healthy and keep him strong through the year. He got stronger as the year went on. It just became more impacting, and he made a ton of plays. Really great leadership, and good toughness, it really showed up a lot. I was really fired up for him."
5. Marshawn Lynch hasn't made up his mind about next year.
Marshawn Lynch has taken long breaks from the NFL twice, but has never officially retired, and Carroll said he doesn't know for sure what the veteran running back is planning for his future.
"He's going to go home and think about it," Carroll said of Lynch, who signed with Seattle in Week 17. "We were all very fortunate to have a chance to see Marshawn come back and play again. To score four touchdowns in the last three weeks, it was pretty cool. Just being Marshawn down inside the 5-yard line, he was nails. I don't know, I don't know what he's going to do. I don't think he knows yet."
6. Carroll's assessment of the rookie class.
Asked his overall thoughts of the rookie class, Carroll said, "I thought they were really positive. It's a really positive assessment. All of them found a way to contribute it at some time. L.J. (Collier) probably needs more opportunities to get him involved. Look at what DK did, I just think that Cody and BBK (Ben Burr-Kirven), they just helped us throughout the season. We counted on them early, and they factored in. Philip Haynes, now that he has shown that he is going to be a factor too, I think Philip is going to compete to play. If we make the progress with L.J., I think it's a fantastic group. I'm really going to be excited about what Johnny (Ursua) can bring playing in the slot for us next year. He looked terrific during the second half of the season in all of the work that we did and the more time he got with us. I think he'll come back really competing for stuff. A pretty exciting group."
7. The benefits of coaching the Pro Bowl.
The Seahawks coaching staff will coach the NFC Pro Bowl team when that game is held in Orlando on January 26, the result of being the divisional round losing team with the best record—the sixth-seeded Vikings were the other losing team in the divisional round.
While coaching the Pro Bowl might cut into the free time of Seattle's coaches, Carroll sees a benefit of being around some of the NFL's top players for a week.
"Really to see the caliber of the other players," Carroll said when asked what he's looking forward to about coaching the game. "I mean, we've been with our guys for six months. To have a chance to compare what these guys are capable of looking like. It's not going to be the most intense preparation that we'll ever go through. We'll be around them. I'm looking forward to the game as much as anything. For comparison purposes, it'll be good."