The Seahawks were back on the field Friday, then will hold a "mock game" Saturday to help get ready for next week's preseason opener. Here are seven things that stood out on Day 7 of training camp:
1. Tyler Lockett is all the way back.
Tyler Lockett estimates he played last season at "about 75, 80 percent," the result of the broken leg he sustained late in the 2016 season. Lockett still had a productive 2017, but it has been clear throughout the offseason and now in camp that he is playing at a different speed than he did a year ago.
On Thursday, Lockett showed off some nifty footwork to make defenders miss while cutting across the field, then on Friday he demonstrated his straight-line speed, getting open deep down the sideline to haul in a long reception from Russell Wilson. It was one of several nice plays for Lockett, who also had another long catch as well as a diving touchdown catch in the corner of the end zone during a red-zone drill.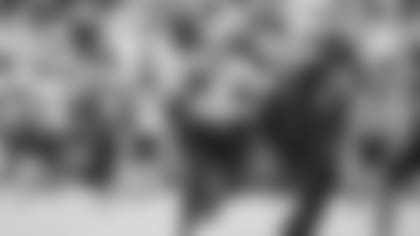 2. The rookies "look like they've got a chance to do something for us now."
Whether it's Rashaad Penny making big plays, Shaquem Griffin forcing turnovers, Rasheem Green looking impressive at defensive end, Tre Flowers continuing his growth at cornerback, or even Michael Dickson showing off a huge leg, Seattle's 2018 draft class has made a strong impression through the first week of training camp. It's early still, but Seahawks coach Pete Carroll sees in that class a group capable of helping the team right away.
"The young guys are making a mark, the draft class in particular," Carroll said. "Guys are showing up, and they look like they've got a chance to do something for us now. That's a thrill for us, we're really excited to see… I'm already saying that and we haven't even played a game yet; we haven't even done our tackling yet. You can just tell their sense of urgency, their ability to pick up the information and make it look right on the field, as well as the quickness of this whole group—the whole group moves really well and runs really well. Rasheem has done a terrific job making an impression on the defensive side; Tre Flowers has really flashed in a big way; we talked about (Shaquem Griffin); there's no question about Rashaad Penny and the expanse of things that he can do, from the short yardage running to being split out using him out of the backfield. It just goes through the whole group—Michael Dickson is making noise with the variety and the versatility he brings in the (punter) competition, so it's just a really fun group to be working with right now, so I'm excited about it."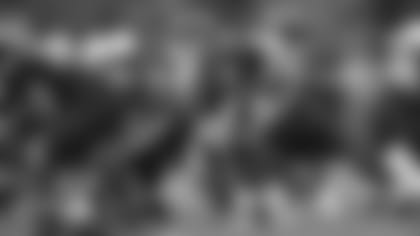 3. Austin Davis is leading the backup QB competition.
Rookie quarterback Alex McGough has made some impressive throws in camp, particularly when he's on the move using his athletic ability, but overall Austin Davis has been the more steady performer, something Carroll outlined when asked about the two Friday.
"Austin has been really solid," Carroll said. "I think it has been really hard for Alex to get going. He has been struggling, it's been hard for him. There's a lot of offense, we have a very high-tech offense, there's a lot going on, and he hasn't been able to get back to where he was in the offseason. We're giving him a lot of work, and it's going to come. We've seen a lot of very good stuff from him, but right now it's hard on him."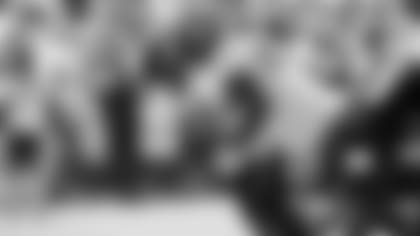 4. Practice isn't fair for pass-rushers.
Because quarterbacks are off limits to contact, pass rushers can do their jobs in terms of trying to win their battle with a blocker, but they don't ever get to actually finish the job, which has to be frustrating for defensive players. For example, Barkevious Mingo showed a strong pass rush to force Austin Davis to climb the pocket, then used his speed to chase Davis down again, setting up what in game action would have been a potentially big hit, but instead all he could do was run by the quarterback. Later, Nazair Jones and Jacob Martin both shot into the backfield, but again both had to pull up and avoid making an actual tackle.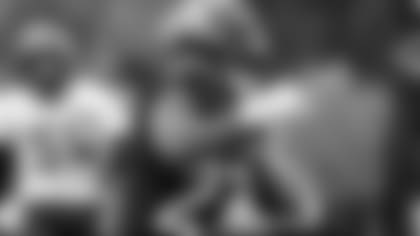 5. Mike Davis has moves.
Anyone who watched Davis finish the season as Seattle's starting running back, this item is hardly news, but Davis had a particularly strong stretch of practice Friday, showing the cutback skills that helped spring him on a few long runs last season, while also hauling in a touchdown pass from Russell Wilson in red-zone drills. Chris Carson and Rashaad Penny appear to be the top two options at running back right now, but Davis, just like C.J. Prosise and J.D. McKissic, is making a strong case to have a role in this offense.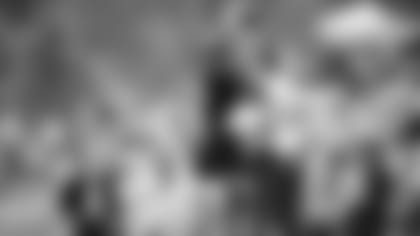 6. Nick Vannett showed off his hands.
Third-year tight end Nick Vannett turned in what might have been the play of the day late in practice, leaping up near the goal line to haul in a contested catch with Bobby Wagner all over him. One play later, Vannett finished the drive with a touchdown catch.
7. Level Up… twice.
When you're a Grammy Award-winning musician and happen to be married to the starting quarterback, it's only reasonable that you might get your songs played more than once during practice. DJ Supa Sam agreed, playing Ciara's latest single, "Level Up" once early in practice and then again towards the end, all while Ciara watched practice from the sideline while also wrangling her energetic two young children—stars, they're just like us!