This year to commemorate the 50th anniversary of the Super Bowl, the NFL will recognize high schools across the country, and around the globe, with a Wilson Golden Football for every player or head coach who graduated from the school and was on an active Super Bowl roster. More than 2,000 high schools and roughly 3,000 players and coaches will be recognized this season.
The highest number of golden footballs a state will receive is California with 432. Following California on the list is Texas (326), Florida (218), Ohio (155) and Pennsylvania (148). California also has the mark for most high schools receiving golden footballs with 296. Texas is second with 223 and followed by Florida (141), Pennsylvania (124) and Ohio (119).
Memorial High School in Port Arthur, Texas, will be honored as the school to receive the most Golden Footballs with eight.
The Seattle Seahawks have 108 Golden Footballs to give 105 high schools and secondary schools for their appearances in Super Bowl XL, XLVIII, and XLIX.
The NFL Foundation, which gave $1 million for the campaign, will also provide schools with the opportunity to apply for grants of up to $5,000 to support their football programs, along with a new character education curriculum.
Players and coaches were encouraged to deliver the commemorative footballs personally and several Seahawks used the Week 9 bye week to do just that.
Tarvaris Jackson returned home to Montgomery, Alabama where he presented the Golden Football to his former teammate and wide receiver Clayton Harris who now is head coach at Sidney Lanier High, their alma mater. It is Lanier High's first and only Golden Football representing two Seahawks' Super Bowls with Jackson.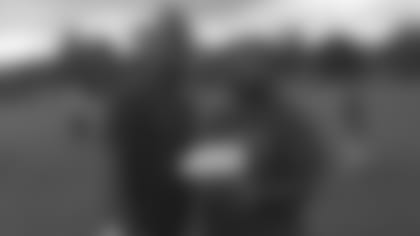 The bye week also saw Luke Willson making his way to the Great White North and the province of Ontario where he was greeted with much media and fanfare. He returned to his secondary school of St. Thomas of Villanova Catholic in Windsor, Canada and presented the Wildcats with the school's only Golden Football representing Willson's two Seahawks' Super Bowl appearances.
Canada will receive 14 Golden Footballs this season representing 15 Super Bowls including Jon Ryan's Sheldon-Williams Collegiate (Regina, Saskatchewan).
Redwood High School (Larkspur, Calif.) has two Golden Footballs heading its way representing three Super Bowl appearances between head coach Pete Carroll and Cooper Helfet.
Steven Terrell represented Allen High School (Allen, Texas) in last season's Super Bowl XLIX. In a state rich in football history and with 326 Golden Footballs, Terrell's Super Bowl puts Allen on the golden map.
Alvin Bailey brought a Golden Football to Broken Arrow High School in Broken Arrow, Okla., on Friday for his Super Bowl XLVIII and XLIX appearances.
Doug Baldwin from Gulf Breeze High School (Gulf Breeze, Fla.) and K.J. Wright from Olive Branch High School (Olive Branch, Miss.) could not make it home during the bye but each sent their schools Golden Footballs this week. Wright joins Seahawks Legend Floyd Womack as Olive Branch's two Super Bowls alumni.
Redwood and Olive Branch are not the only high schools with multiple players having Super Bowl appearances. Manuel Dominguez High School in Compton, Calif., will receive two Golden Balls this commemorative season from Richard Sherman and Jeron Johnson.
Super Bowl High School Honor Roll is an initiative developed by the NFL to recognize schools and communities that contributed to Super Bowl history and positively impacted the game of football.