This was the kind of night where dreams were realized or shattered for a slew of Seattle Seahawks.
It was in the eyes of Justin Forsett.
It was in the body language of Logan Payne.
And there were plenty more faces of uncertainty in the Seahawks locker room after their 23-16 win over the Oakland Raiders Friday night to end the preseason. Specifically, the roster sat at 75 Friday night.
It will be 53 by 3 p.m. (PT) Saturday, with the release from the Seahawks coming shortly thereafter.
Forsett muffed a punt on his first opportunity to make a play Friday night, then settled down to have 62 yards offense combining rushing and receiving.
"I tried to bounce back from it and I went out there and gave it my all the rest of the game," Forsett said. "And I feel like I did. I tried to go out every day and give it my best. I did great some times. Sometimes, I made some mistakes. But I think my good were better than my bads. So hopefully it all works out."
"People kind of look down on me because of my size (5-8", 195), so I've got to do extra. That's the way I've always been. I always try to work harder than the bigger guys just to show myself."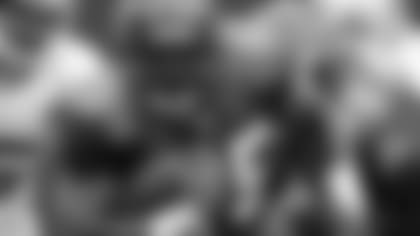 He ended up leading all Seahawks with 239 yards on 42 carries in the four games, but the numbers are tight at running back. T.J. Duckett was superb again, with 71 yards on just 11 carries and two touchdowns - showing the kind of dependable power rushing they've been seeking with a team-high three touchdowns in the four games.
"It felt good to have those two scores," Duckett said. "We all had a lot on the line tonight and we all played hard. The credit goes to the guys up front. They opened up running lanes and I was able to make things happen."
Payne looked particularly fast, had three receptions, ran 6 yards on an end around, and dropped another ball that initially was a fourth catch and a fumbled that he recovered. It was challenged and declared an incompletion.
Nonetheless, with Ben Obomanu suffering a fractured clavicle in the game, it greatly enhanced the possibility of Payne, Courtney Taylor, Jordan Kent and possibly Michael Bumpus making the team. The mystery of it all lingers because injured Deion Branch and Doug Baldwin will count on the roster despite them being out indefinitely with injuries. In other words, one of the young guys may still be left out in the cold even if Obomanu is put on injured reserve for the season.
The numbers shake down in a variety of ways, often times predicated by special teams play, or putting Obomanu on injured reserve.
"It's a possibility," Holmgren conceded. "We'll try not to make emotional decisions tonight, but come in tomorrow morning fresh and decide how we are going to do all that. I don't think that makes our decision easier. I don't because you still have four young guys because Bumpus is in that mix too. Hopefully, Branch is starting to practice next week. It is an unusual situation with numbers at wide receiver right now with the injuries we've had. We have to just see how it is going to work."
Or as Payne, who also had a special teams tackle, put it: "I think we have a great group. If you think too much, you will go crazy. From top to bottom, we know the plays and we want to go out there and execute. We are trying to take advantage of the opportunity we have."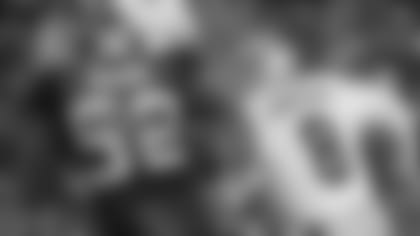 The opportunities were there Saturday night for Jason Babin, David Hawthorne and Baraka Atkins to ice their spots on the team Saturday night too - with special teams perhaps being the ultimate decision-maker.
"I'm still learning it, so I don't know how they felt about how I did on special teams," Babin said. "They didn't get to really see what I could do last year. I hope I did enough to get a chance to prove it all season."
Babin was tied for second in tackles Friday night with five, with a sack and a couple of quarterback hurries as well. He was acquired in a trade from Houston for Michael Boulware the last weekend before the 2007 regular season, and was changed back to defensive end after playing linebacker for two years with the Texans. He was inactive virtually the entire 2007 season, but has been an impact player throughout camp and the preseason.
He also knows with All-Pro Patrick Kerney, top draft choice Lawrence Jackson and incumbent starting right end Darryl Tapp, both he and Atkins have to prove their worth on special teams as much as on the line. Atkins made four tackles on the night, but like Babin, not on special teams.
"We're loaded on the line so to make this team, you have to be able to do other things," Babin said. "I just hope I showed them enough."
Linebacker Lance Laury led all Seahawks with six tackles, plus a special teams tackle, as the second team group of linebackers - including D.D. Lewis and rookie David Hawthorne - combined for 15 tackles. Safety C.J. Wallace again proved what a superb special teams player he is, not only making 4 tackles at safety, but also intercepting a pass on a flubbed extra point hold and returning it 41 yards.  Ironically, kicker Brandon Coutu led everybody with two special teams tackles.
Ryan Plackemeier again showed his ability to make that brilliant end-over-end punt on the short field - pinning the Raiders back on their own 6-yard line in the final 71 seconds of the first half. ... The most exciting 3-yard play of the game came late in the first half when 6-2, 247-pound rookie fullback Owen Schmitt took a check down pass from Seneca Wallace in the right flat and hurdled linebacker Jon Alston for the short gain - much to the delight of the partisan Qwest Field crowd of 67,163. … Third-year wide receiver Ben Obomanu mildly dinged his knee trying to make a catch in the left corner of the end zone on a Wallace pass. He returned for the next series and made a great play on a perfect Wallace throw up the seam for 33 yards. But as he landed, Obomanu fractured his clavicle.
As it was the final preseason game, there were wholesale changes for both teams.  On offense for the Seahawks, Obomanu started for Nate Burleson at split end; Floyd Womack for Walter Jones at left tackle; Pat Murray for Mike Wahle at left guard; John Carlson for Will Heller at tight end; Seneca Wallace started at quarterback for Matt Hasselbeck; and T.J. Duckett for Maurice Morris at halfback. Defensively, rookie Lawrence Jackson at right defensive end was the only starter to stay in the game; Darryl Tapp started for Patrick Kerney at left defensive end; Howard Green for Brandon Mebane at left defensive tackle; Craig Terrill for Rocky Bernard at right defensive tackle; Lance Laury for Leroy Hill and D.D. Lewis for Julian Peterson at the outside linebackers; rookie David Hawthorne started for Bobby Wagner at middle linebacker, with Kevin Hobbs, Josh Wilson, Jordan Babineaux and C.J. Wallace starting for Richard Sherman, Kelly Jennings, Deon Grant and Brian Russell in the secondary.