GREEN BAY—At one point in the first half of an eventual loss to the Packers, Russell Wilson threw a quick pass to Tyler Lockett, one that for most of his career has been a simple completion, the ball sailed over Lockett's head, well out of reach.
Later in the game, with the Seahawks in the red looking to tie the score or take a lead down 3-0, Wilson tried to hit DK Metcalf in the end zone, but the ball was intercepted, one of two interceptions in the game for a quarterback who normally is one of the best in the league at taking care of the football.
In other words, Russell Wilson didn't look entirely like Russell Wilson in his first game back from the finger injury that caused him to miss three games. But while Wilson was quick to shoulder the blame for Sunday's 17-0 loss to the Packers, Seattle's first shoutout loss since Week 2 of the 2011 season, what neither he nor Seahawks coach Pete Carroll was willing to do was place the blame on Wilson's surgically repaired finger.
"My finger felt fine," Wilson said. "The problem with tonight was I just had two bad plays. That's what it really was. I felt like we were moving the ball pretty well; we had that really good drive down there. It was third down and (10), and I tried to make a throw to DK (Metcalf) and (Packers cornerback Kevin King) made a good play. His back was turned; I was trying to get it to (Metcalf). (King) did a good job turning around and catching it. I think that, on the other (interception), I was just trying to take a shot to Tyler). But I felt confident. I didn't feel anything… I threw one high to Tyler there that maybe I was trying to throw it a little too hard—just smooth throw it. But other than that, I felt confident in every throw."
And in a low-scoring game that saw the Packers leading only 3-0 well into the third quarter thanks to a great performance by the Seahawks defense, two interceptions, including one on Seattle's first trip into the red zone, loomed large, and Wilson repeatedly shouldered the blame for the loss throughout his postgame press conference.
"I've got to play better and that was on me," said Wilson, whose 39.7 passer rating was the fourth worst of his career. "Those two (interceptions), that was really the game. I don't second-guess anything. I have 100 percent confidence in our team and what we can do and what I can do and what we're going to do. That's really what my mindset is."
Wilson was told following his injury, which happened in Seattle's Week 5 loss to the Rams, that he could miss six to eight weeks, but instead he was back on the practice field one month after surgery, and he missed only three games. So naturally the question that came up after he struggled on Sunday what that of, did you come back to soon? Wilson is confident that wasn't the issue.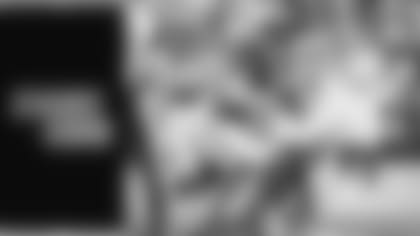 Re-live Each Game With The Seahawks Rewind Podcast
Re-live every Seahawks game this season with game highlights, player and coach postgame interviews, and a whole lot more. Available on Spotify, Apple Podcasts, and wherever else you get your podcasts.
"First of all, I think that I know myself really well," he said. "I know myself really well and I know what I can and can't do and everything else. I felt like I could do everything tonight. I had some runs—the first third down for example, if I was second-guessing my hand, I wouldn't go for that, getting hit like that. I felt confident in my hand. I felt confident in all the hard work. It was just a bad game in those two plays really. That was really the defining moments of the game. When you're playing good football teams, that's usually what it is. They either go your way or they don't. I didn't play timid at all. So that's where I feel confident, that it just didn't go our way, and that's on me. It's really that simple. I take the blame for it. And I'm looking forward to getting on the plane and watching the film, and also to getting up early in the morning and getting back to work."
While Wilson isn't one to often second-guess himself for plays that don't work out, he did point to the red-zone interception King had on a pass intended for DK Metcalf as one he'd like to have back, particularly in a close, low-scoring game. King had good coverage on Metcalf when Wilson threw that direction, but at the time of the throw, Wilson saw King with his back to the play and thought he'd give his Pro-Bowl a receiver a chance to make a one-on-one play, but by the time the ball had arrived, King had turned to find the ball. Instead of the Seahawks scoring the go-ahead touchdown or kicking field goal to tie the game, the Backers got the ball back. 
"In that kind of game where it was back and forth, back and forth, that's where I can eliminate that mistake and allow us to kick the field goal and make it 3-3." Wilson said. "And here we go, now it's 3-3, 0-0 game basically and keep playing. Like I said, 100 percent accountability on myself that that happened. Nobody else's fault."
Carroll was also quick to dismiss the idea that Wilson's finger was a problem, instead giving credit to a very good Packers defense. 
"I know you're wondering, 'Was he ready?' and all that kind of stuff," Carroll said. "He was ready to play. There's no other information leading into this that could tell us any different. He was pumped. Got after it and all that. They (Green Bay) did a nice job tonight. They're a good defense. We couldn't get enough going on to make the points we needed."
Tight end Gerald Everett, who had a team-high 63 receiving yards on eight catches, also felt like the offenses struggles were unrelated to Wilson's finger. 
"I don't think so," Everett said. "I'm not a finger specialist or a quarterback specialist, but from what I saw this week in practice, I didn't see anything different from Russ. He looked his normal stuff from Monday leading up to Sunday in the game."
But even if Wilson's finger wasn't affecting his ability to throw the ball, the Seahawks did make one adjustment to protect his finger, having Wilson play the entire game either in shot gun or pistol formations so he wouldn't have to take snaps from center Ethan Pocic.  
"He was taking snaps under center in pregame and during the week and we could've done more but we just didn't want to," Carroll said. "… We just didn't want to keep pounding away at it (taking snaps under center)."
But While Wilson was quick to shoulder the blame for this loss, he is also confident he and the entire offense will get back on track and turn this season around. 
"The game was back and forth, I've got to give us a chance in that moment," he said. "But what I do know is I'm a fixer of things. That's what I do, that's what I believe in. So I have great confidence in that.
"We have a good football team, and we're not going to get discouraged. There's a lot of football left. It doesn't feel great, of course it doesn't—it shouldn't. But the sun will rise tomorrow, and we'll go back to work with a great mentality. That's the only option."
The Seattle Seahawks take on the Green Bay Packers at Lambeau Field on November 14, 2021. This album will be updated throughout the game. Game Action photos are presented by Washington's Lottery.