Over the course of nine seasons in Seattle, Earl Thomas built a legacy that will secure his status as one of the greatest players in Seahawks history.
On Sunday, he'll return to CenturyLink Field as a member of the Baltimore Ravens, having signed with them as a free agent this offseason. And when Thomas returns to Seattle, it will be Thomas' entire body of work—the big plays, the competitive nature, the intensity that never wavered—that players and coaches remember, and not any awkwardness with how things ended in Seattle. And players hope fans feel the same way when it comes to welcoming Thomas back to Seattle.
"He did so much for this organization, so much for this team," said linebacker Bobby Wagner. "He's a legend here, so I would expect him to be well received. He's a guy whose jersey will probably be retired, so there should be a lot of respect for him."
Players change teams every year in the NFL, even future Hall of Famers, so this won't necessarily feel any different for Pete Carroll than when the Seahawks played against Richard Sherman with the 49ers last year, or against other notable players who have left in free agency or been traded. But even if Carroll has been through similar situations, he is still excited to see Thomas, the second player he and general manager John Schneider drafted in 2010.
"We've been through this a number of times," Carroll said. "I love playing our guys. I always do. I always like playing people that I know. I know that there's an underlying current of somebody wants some other agenda going on or some other storyline. I don't have one. I love playing against our guys. Earl was a great football player in the years that he was with us. We loved what he did, his uniqueness, his style of play. The way he practices and focuses was somewhat unmatchable. We just couldn't stay together forever. We couldn't figure out how to do that. We wish him the best and we look forward to it. I always like playing the guys we know."
Of course that "underlying current" Carroll mentions has to do with Thomas' final season in Seattle and in particular his final game with the Seahawks. After Thomas, who held out in training camp in hopes of getting a new contract, broke his leg in Week 4, he made a now infamous gesture toward Seattle's sideline as he was being carted off the field.
After that game, Carroll was perhaps as emotional as he has ever been in a press conference as Seattle's head coach when discussing Thomas' injury, saying, "I love Earl, I've always loved him, I've loved everything he has ever done for us, everything he has stood for, how he has been a leader and just the guy out in front always with his unbelievable heart and competitiveness and drive to be great. I've admired it the whole time. It wasn't always smooth, but it has always been good. I'm proud of the relationship that we have. My heart breaks for him."
A year later, Carroll's opinion of Thomas has not changed.
"Really from the time we first saw him and watched him play and watched him work out at Texas—running, in the weight room—the way he was competing in that session there, all of the messages started to come through of the kind of character he was," Carroll said. "He was a very, very unique player and a very unique person to have on the club, and I totally embraced that. I loved the way he was and all that. Whatever happens isn't going to change what I think about him. I don't care what's said or what's done; I don't care, he can do what he wants, he's his own man. But I know what the relationship means to me, and I'll always be there for him. If he needs me, I'll be there."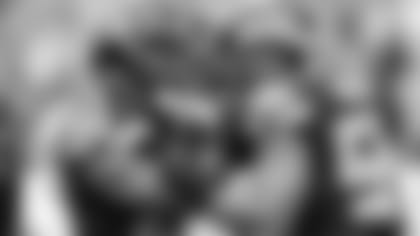 During a press conference in Baltimore Wednesday, Thomas said he isn't sure what his emotions will be playing against the Seahawks.
"Nothing's hit me yet," he said. "I'm just trying to get the game plan down, just taking it one day at a time, trying to get my body right for the game. No emotions yet. Nothing's really hit me yet… If it's any emotion at all, it's always fire, so I love when I feel that fire, because I know what's going to happen. Some games, you just don't feel it, but you still go out there and compete. But you know it's on when you feel it. I'll just try to keep my same routine, build up and simmer right now, and then hopefully once I get out there, I'll be ready to go."
But while he can't predict what emotions he'll feel Sunday, be it fire or something else, Thomas, like his former coach and teammates, has fond memories of his time in Seattle.
"I definitely respect and love the organization," Thomas said. "They gave me my first shot, I won so many games there, I grew up as a young man there, starting when I was 20 years old. So I'm always going to respect that organization, and I'm always going to be a part of it, especially winning a Super Bowl… We left our mark in that time. We left our mark, and that's all you want to do. When you set out to play any sport, you want to leave your mark on that sport, or in sports in general. Everybody's going to know what we did and who we were."
Photos from Wednesday's Seahawks practice at Virginia Mason Athletic Center in preparation for Sunday's Week 7 game against the Baltimore Ravens.