GLENDALE, Ariz. — When Sebastian Janikowski's 52-yard field goal sailed through the uprights to give the Seahawks a 20-17 victory over the Arizona Cardinals, the entire team rushed onto the field to mob the kicker in a celebration that was a bit more emotional than what you would usually see following a regular-season win in September.
"It's great to win on the last play of the game, but I thought that was an extraordinary explosion by the team in response to the win," Seahawks coach Pete Carroll said.
That emotional "explosion," as Carroll called it, came not just because of how the Seahawks won, but because of what they lost on Sunday afternoon.
Free safety Earl Thomas, one of the standout players throughout the Pete Carroll/John Schneider era, sustained a lower leg fracture in the fourth quarter, while rookie Will Dissly suffered a patellar tendon injury to his knee. Both injuries were hard for players to stomach, and particularly the one suffered by Thomas, who is in the final year of his contract.
"It's a bittersweet ballgame because of the guys who got banged up today," Carroll said. 
Added receiver Doug Baldwin, "It has been a battle just to get to this point, and to lose Will and to lose Earl, it's devastating in the moment. It's kind of hard to articulate in words that emotion. But then to win in the fashion in which we did, there's a lot of emotion there."
Thomas had held out during training camp hoping to get a new contract, but reported on the Wednesday prior to the regular-season opener, and through three games he was again one of the league's top defensive players and had three interceptions, including two last week. Carroll would be the first to admit that there was some tension due to Thomas' contract situation following his return to the team, but felt the relationship had taken a positive turn in recent days. 
"That's why it's so bittersweet," Carroll said. "We'd just turned things around and everything was going in a really positive direction, so it breaks my heart that we're talking about this right now."
Asked if Sunday's victory in Arizona could be Thomas' last game with the Seahawks given his contract status, Carroll said, "I hope not."
As Carroll talked about Thomas and his relationship with the 2010 first-round pick, he was as emotional perhaps as he has ever been in a press conference during his tenure in Seattle. 
"I was always counting on that we would be able to figure out where to go with this thing," Carroll said. "I knew it was going to take time, and we didn't have the time when we weren't together. We just have so much background and so much history, I just thought we could make it. We talked our way through it and made sense of what was coming up and the opportunities and all of that. That's what makes it so hard that this is what happened.
"I love Earl, I've always loved him, I've loved everything he has ever done for us, everything he has stood for, how he has been a leader and just the guy out in front always with his unbelievable heart and competitiveness and drive to be great. I've admired it the whole time. It wasn't always smooth, but it has always been good. I'm proud of the relationship that we have. My heart breaks for him."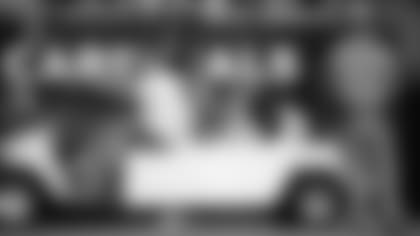 Thomas' teammates were equally heartbroken for their teammate. 
"It just sucks to see a guy go out like that," defensive end Frank Clark said. "… It's hard to go through something like this. Earl, he's going to be all right though. We all know how Earl is, he's very competitive. That's just Earl, we love him as a brother. All we can do right now is continue to go out there and win games for him."
Middle linebacker Bobby Wagner, who has played with Thomas for seven seasons, said the two have talked in the past of wanting "to be like Ray Lewis and Ed Reed," referencing the Baltimore Ravens' legendary linebacker-safety tandem.
"He's one of the best safeties to ever play the game," Wagner continued. "I don't think you're ever going to see a player like him… The way he plays the game, you'll never see it again."
Added safety Bradley McDougald, who has started at safety alongside Thomas in 11 straight games dating back to last season, "It's very difficult. It was a very emotional moment. We personally know the time players put into it, Dissly and Earl included, so to see their season get ended short like that, it's heartbreaking. It's our job to go out and finish the job that they started."
Thomas believes this injury is similar to the leg fracture he sustained in 2016, Carroll said, noting, "He knows how to deal with this, he has gotten through it, and he came back unbelievably."
Quarterback Russell Wilson, teammates with Thomas since 2012, echoed Carroll's sentiment that Thomas will come back strong from this injury.
"He's one of the greatest players to ever play the game, and he always will be," Wilson said. "He'll come back stronger, I definitely believe that. He's a competitor. There's nobody that competes better than him."
Game action photos from the Seattle Seahawks' 20-17 road win over the Arizona Cardinals in Week 4 of the 2018 NFL season.