HONOLULU, Hawaii— Lynold Tuiloma needs a new shirt.
The intensity, like the weather on a July afternoon in Hawaii, is heating up at Michael Bennett's football camp, and during a one-on-one pass rush drill, Tuiloma, a senior to be at Nankuli High School, gets the neck of his new "Michael Bennett Football Camp" t-shirt ripped open.
"Hey!" the Seahawks Pro-Bowl defensive end yells over his shoulder seeing the level of effort being put forth. "Did they sign waivers?"
Make no mistake, plenty of fun was had during The Bennett Foundation's O.C.E.A.N. Sports Camp at the University of Hawaii Sunday, because, well, Michael Bennett was involved, but there was also plenty of serious coaching and learning going on.
Bennett's foundation has put on O.C.E.A.N. (fighting Obesity through Community, Education, Activity and Nutrition) sports camps for the last five years in his hometown of Houston, Honolulu, his offseason home, and Seattle. And the defensive end takes his role as a coach in this camp very seriously. At one point Bennett stopped the defensive line group mid-drill to lecture them for not finishing each rep to his liking. Later, he spent a solid five minutes working with that group on only their stance, serving as a hands-on coach, moving hands and feet a few inches this way and that to make sure everything was perfect.
After having everyone line up to show their stance, Bennett walked down the line to inspect: "Wrong, wrong, wrong, wrong, wrong." There was still work to be done.
"It's always been my dream to work with pros," Tuiloma said, beaming despite the ripped shirt.
Tuiloma, whose older brother Lyle plays defensive tackle for Colorado, has watched players like Bennett and Hawaii native and 49ers standout DeForest Buckner, another coach at this camp, on YouTube videos to try to learn their moves. On Sunday, he was getting one-on-one instruction from some of the league's best defensive linemen, and like so many of the approximately 800 people in attendance, he was in awe of the pros giving their time at a camp that was free to everyone who participated.
"I try to practice and apply what they do every day to my life," Tuiloma said. "This is my passion, I've dreamt of this moment working with pros. When I finally got here, it's like it's all happening for me. Everything I wish for and pray for is coming true. I'm so blessed, I'm thankful for my sister, Chantel Enos, for making this all happen for me. I'm so proud. It's super cool, man. It's an opportunity. For them to do this, I feel like this an opportunity, the doors are opening for me, and they're like my guides. Even with a short amount of time, I'm learning a lot. A lot. I'm thankful for it."
But it's not just the campers who were learning on Sunday. There is so much that goes into Bennett being one of the league's best defensive linemen, but one element of his success that was on display during his camp was the attention to detail that is such a big part of his game. Not only did kids and teenagers learn from this, but so too did his fellow NFL players in attendance like Buckner, Seahawks rookie Nazair Jones and the 49ers' Arik Armstead, Eli Harold and Ronald Blair are able to learn from Bennett.
"He's just a great teacher," Jones said. "He has made me so much better only working with me for a little bit. It's small things, he's super detailed. That's starting to rub off on me. I'm trying to reach the stages he has reached, so if he's looking at stuff that detailed, then I need to look at stuff that detailed. He's a great teacher, I'm just trying to pick his brain and learn everything I can, whether that's on the field or off the field."
Even former NFL center Samson Satele, an eight-year starter with Miami, Oakland and Indianapolis, noted "I'm still learning from Mike. His attention to detail is amazing."
Satele, who is from Hawaii, added, "For him to stop the drill and show kids what to do is awesome. I'm learning from him still and my career's over."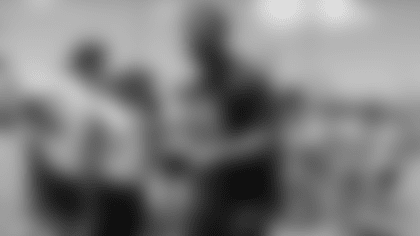 "Everything Is About More Than Football."
But while there was plenty of serious football work going on, this day was about a lot more than helping kids improve as football players. Bennett's foundation, which uses the O.C.E.A.N. programming to tackle childhood obesity, puts on camps like Sunday's that, in addition to football instruction, also include a health expo and family fitness clinic.
During the health expo portion of the day, families could stop at tents representing The Bennett Foundation to pick up a produce bag; Hawaii Optimum Performance to have vertical jumps measured; Project Vision Hawaii for eye screening; the American Heart Association for CPR education; the Learning Disabilities Association of Hawaii, the American Cancer Society and the Hawaiian Public Health Institute.
"I think everything is about more than football," Bennett said. "As an athlete, you want to be able to transcend sports. Not just be relevant in your sport, but be relevant in things that matter outside of sports. To be able to talk to kids about life, school, community, health. I want to empower young athletes to use their platform."
And an important aspect of this and every one of his camps is the cost, or more accurately, lack thereof.
"When I was a kid, I always wanted to go to some of these camps, but they were expensive, my parents couldn't afford them," Bennett said. "So I always said that when I got in a place to be able to have camps, I would make sure they were free.
"When you're a young kid, you want to be able to touch your heroes, and when you're in the position we are in, we've got to be able to be in contact with the youth to inspire them every day… To be able to share our experiences with them and them to be able to share their experiences with us, it means everything to us and it means everything to them."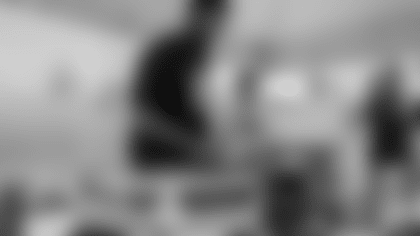 "Don't Make Me Facetime Russell Wilson."
As much as a day like Sunday can be a once-in-a-lifetime opportunity for a young athlete sharing a field with NFL stars, a pretty strong case can be made that nobody has more fun at a Michael Bennett football camp than Michael Bennett.
Between serious life lessons and detailed football instructions, Bennett found plenty of time to show the lighter side of himself that has helped him become of a fan favorite in Seattle, Hawaii, Houston and beyond. Whether it was taking over as D.J. for a few minutes or taking the microphone to hype of the large contingent of Seahawks fans, or engage in some playful trash talk while playing ring toss—"Brick! Come on, Lonzo Ball, you can make it!"—Bennett was in his element, acting a like a big kid while surrounded by actual kids.
When it came time to encourage parents and their kids to take the field for the family fitness clinic, Bennett had no reservations about singling out reluctant parents or kids, a public shaming of sorts to get them to participate. When one child in a Russell Wilson jersey didn't want to take the field, Bennett informed the young boy that Wilson wouldn't stay on the sidelines when given an opportunity to compete.
"Don't make me FaceTime Russell Wilson," Bennett said, pulling out his cell phone.
Yet goofball Michael Bennett can quickly give way to a much more serious version of the same, complex man. When the winner of a raffle, a camper named Nathan became emotional meeting Bennett, Bennett quickly toned down his demeanor and embraced the teenager. Bennett then addressed the other campers and praised Nathan for his vulnerability: "It takes a strong man to be emotional."
Finish And Determination
When the football portion of the camp came to an end, the five NFL players working with Bennett—Jones, Harold, Buckner, Blair and Armstead—all took the mic to say a few words to the campers before the day came to an end. It was, as Bennett described it, "My favorite part of the camp."
"We get a chance to unmask who we really are," Bennett told the campers. "I think a lot times you don't see our journey, you just see our success. You see the first-round picks, you see us on TV, you see us winning Super Bowls, you see us doing all this stuff, but you never really understand our journey, so occasionally I like to have guys come up and tell their story, because so many people are going through so many different things, and sometimes one word or one story could change your whole life, it could inspire you to be different."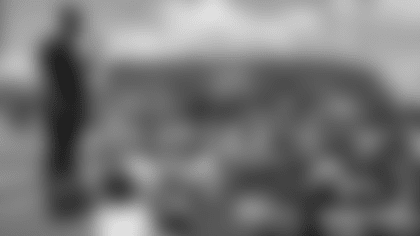 That was the beginning of an impassioned speech that lasted more than nine minutes, covering a number of topics, but often coming back to the themes of finishing and determination, and how those things can be the difference between greatness and being normal.
"You've to learn how to finish, you've got to have determination," Bennett said. "If you don't have those two things, it isn't going to happen for you. If you can't finish, you're normal, that's just the facts… This man (Jones) couldn't walk when he was 16. How many of y'all would have given up? This man (Harold) lost his mom when he was 15, how many people would have given up?
"Greatness is a mindset of never being denied. Never being denied what you want. You've got to obsess about what you want. If you really want to go to college and play football, then every day when you wake up, you've got to think about how you're going to get better as a player. If you're failing math, you've got to get up every day and study. That's the only way you're going to be different."
Bennett pointed out that going after greatness doesn't end when success is attained.
"Even in the position I'm in, I wake up every day and challenge myself," he said. "How much better can I be as a father? How much better can I be as a brother? How much better can I be as a husband? How much better can I be as a teammate? How much more can I give to my community? How unselfish can I be as a human being? How much can I love the people around me? That's the challenge you've got to challenge yourself with every single day. It's not easy to get up here, that's why so few people do it. Is it easy? It's not easy. It's a lifestyle, it's a mindset, it's determination, it's a willingness to finish no matter what the objective."
Michael Bennett and the Bennett Foundation hosted their fifth annual O.C.E.A.N sports and football camp at T.C. Ching field on the campus of the University of Hawaii in Honolulu, Hawaii.