Two players with southern California ties, cornerback Richard Sherman and linebacker Bobby Wagner, spoke with the press on Wednesday at Seahawks headquarters ahead of the team's Week 2 matchup with the Rams in Los Angeles.
Here's what we learned from Sherman, a Compton native, and Wagner, an Ontario product, about facing Seattle's NFC West foe this Sunday at L.A. Memorial Coliseum.
1. The Rams "Can Go Out There And Change Everybody's Mind"
Los Angeles' 28-0 loss in the season-opener against the San Francisco 49ers this past Monday night wasn't the type of performance Seahawks players have come to know, and expect, from the Rams. Sherman said he wouldn't be surprised to see a hungrier group take the field looking to rebound against Seattle.
"It's the NFL, any given Sunday," said Sherman. "They're pros, they can go out there and change everybody's mind. That's the thing about professional sports in anything. That's why you play the game, it's because anything can happen on any given Sunday."
Wagner, meanwhile, was asked about the success Los Angeles has had in recent seasons against the Seahawks, with the Rams winning both games against Seattle last year.
"I think people look at the Seahawks and want to play their best, and they're no exception," said Wagner. "When they see us come to play, they're going to play their best. Even though you watched them last game and they struggled, we don't expect them to do that this time."
2. "It's Really Important" To Stop Todd Gurley
One key to success for the Seahawks against the Rams will be in limiting the amount of damage done by running back Todd Gurley, the NFL's 2015 Offenisve Rookie of the Year. Gurley missed the 2015 regular-season opener against Seattle because of an injury, but he carried 19 times for 83 yards and a touchdown in the Rams' Week 16 win over the Seahawks. His 17 touches racked up just 47 yards (2.8-yard average) in the season-opener earlier this week against the Niners, and Wagner knows if Seattle can find that type of success against Gurley it will go a long way in curbing Los Angeles' offense.
"It's really important," Wagner said of stopping Gurley. "If you watch the last game, you know that once you can slow him down they really couldn't do much. It kind of became predictable as far as passing situations and stuff like that. We understand he's a guy that they want to get the ball, whether it's in a run, screen, stuff like that. We definitely have to know where he's at on the field, but it's a challenge that I think we're looking forward to."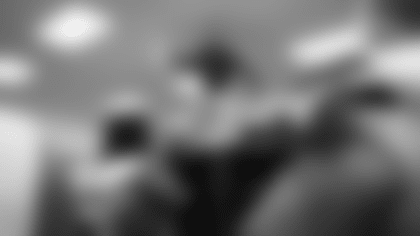 3. Pete Carroll Will "More Than Likely" End Up On Top Of A Locker
One challenge that Sherman and the Seahawks aren't looking forward to, however, is calling the L.A. Coliseum's locker room home for four quarters. Sherman, who played his college ball at Stanford, is all too familiar with the setting from the games he played against the USC Trojans.
"It's a closet," Sherman said. "It's a closet and you can't ever see anybody. It's rows and rows and rows of lockers separated. You can't see the coach from any one spot. They just kind of have to yell throughout the whole locker room. That is a rough locker room. That's one part I didn't think about. I don't look forward to going back in that."
"More than likely," Sherman said. "More than likely he's probably going to end up back on lockers screaming. But that's less about the locker room space and more about how crazy he is."