Arizona Cardinals wide receiver Larry Fitzgerald is enjoying a renaissance season in 2015, his 12th year in the NFL.
Through eight games, his 55 catches for 706 yards and seven touchdowns are highs on one of the League's top offenses in terms of yards (417.4, 3rd NFL) and points (32.9, 2nd NFL) per game. It's a campaign Fitzgerald hopes doesn't come to a screeching halt this Sunday at Seattle's CenturyLink Field, where he'll meet cornerback Richard Sherman and the rest of Seattle's Legion of Boom of defense.
"I haven't had 1,000 yards in three years, I hope he doesn't follow me," Fitzgerald told AZCardinals.com of Sherman potentially shadowing him on Sunday Night Football. "Old, grizzly, washed-up veteran. He can follow [Michael Floyd] or something, [John Brown]."
Whether or not Sherman will stick to Fitzgerald on the field this weekend remains to be seen, but it's a tactic the Seahawks have used against some of the other top wideouts on their schedule, namely San Francisco's Torrey Smith (zero catches) in a Week 7 win at Levi's Stadium and Dallas' Dez Bryant (two catches, 12 yards) in a Week 8 win at AT&T Stadium. But Fitzgerald's comment speaks to the appreciation the Pro Bowlers have developed for one another since Sherman entered the NFL in 2011, with the two players annually competing in each other's charity softball games.
"It's always been respect," Sherman said of his relationship with Fitzgerald. "We've always had respect for one another since I was a rookie. We've obviously grown in our knowledge of one another. In the offseason we got to hang out a few times going to one another's charity events and other people's charity events. So I guess it's grown in some ways, just furthering getting to know him."
The Seahawks won both matchups against the division-rival Cardinals last year, but each time Arizona was starting a backup quarterback. Starting signal caller Carson Palmer, healthy now after an ACL injury kept him from facing the Seahawks last year, leads Arizona into the Pacific Northwest in the midst of what Seattle coach Pete Carroll has labeled Palmer's "very best" season yet, and one that Fitzgerald has been benefitting from.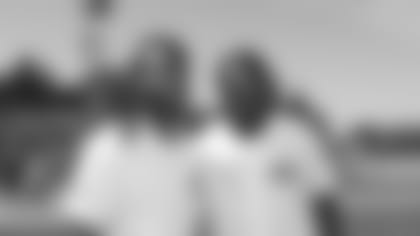 Seattle lost the last time it played against Palmer, a 17-10 game in Week 16 of 2013. Palmer led a game-winning touchdown drive that day, but also tossed four picks, two of which went Sherman's way. The Seahawks cornerback doesn't have a single takeaway this season, but that's something that could change this weekend given the amount of shots Arizona's offense likes to take at players like Fitzgerald downfield.
"He's as good as they come, just in terms of his skill level and ability, and then you couple that with his intelligence, he's really, really special," Fitzgerald said of Sherman. "Got great ball skills. He's not afraid to tackle in the run game, he's very active in the run game, will come up and hit anybody.
"You really don't see any holes in his game, you just try not to make many mistakes around him."
Sherman's review of what has made Fitzgerald such a great player for so long was equally as complimentary.
"He's consistent," Sherman said. "He catches the football, and hands are a receiver's greatest asset. He's durable. He's been playing a lot of games, you don't miss a lot of games. He's reliable, big plays in big games and clutch situations, he's been in all of them. And he's crafty, he knows what he does well and knows what he doesn't do well and he stays away from what he doesn't do well, and he stays where he's comfortable.
"That's what the makeup of a good football player is, is knowing your strengths and weaknesses, and staying away from your weaknesses, or correcting them."
Sherman, though, let it be known that his ties to Fitzgerald wouldn't influence what happens on the field this Sunday night.
"Not really," Sherman said. "In this league, you see everybody and know everybody by your fifth or sixth year if you're blessed to play this long. But you go out there and you've got a job to do. You're a dog, no matter who you play. It's not, 'I'm going to get up for Larry and not get up for a guy I don't know.' So it's the same.
"He's a Hall-of-Famer, so you've obviously got to be on your toes when you play him."