Russell Wilson's 2018 season was in a lot of ways one of the best of his career. Wilson broke his own franchise record for touchdowns in a season with 35 while matching his career low for interceptions with seven, he averaged 8.1 yards per attempt, the third highest mark of his career, and he posted a career-best 110.9 passer rating.
But as good as Wilson's season was, Seahawks coach Pete Carroll thinks his quarterback will be even better in 2019. For starters, quarterbacks can continue to improve and evolve even in their eighth season just because of how complex that position is, but in this particular case, the room for growth also involved the adjustment to a new offensive coordinator. By all accounts, Brian Schottenheimer helped Wilson improve his game last year, but there was still an adjustment period for Wilson and the rest of the offense as they got used to a new coordinator as well as a new offensive line coach, Mike Solari.
This year, however, the Seahawks will kick off offseason workouts in the spring having already spent a full season working with Schottenheimer, meaning they hope they can pick up where they left off last year when they averaged 30.0 points per game during the second half of the season, making them the third-highest scoring team in the league over that span.
"I've always told you guys that he continues to grow and get better," Carroll said Tuesday at the NFL annual meetings in Phoenix. "Russ made a big jump last year in terms of his awareness—it was due to Schotty and the way he was coached and expected to handle the front, what was going on in the running game and all the different change-ups that we like doing. Russ was really in command of all of that. He'll just continue to get better. I think the biggest jump will be between he and Schotty and their growth together. I think that will show up. He had a terrific season. He did a great job with us, he was healthy throughout, and we'll bring that back again with the guys we have up front coming back and the ability we have to run the football like we'll be committed to again. It just all adds to I think he's going to have a very dynamic year. We're really excited about coming back out."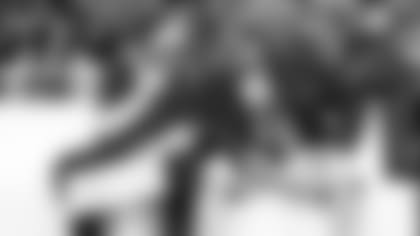 Of course Carroll will still want his offense to be able to move the ball on the ground and through the air—"balance, always," he said—but don't overlook Wilson's role in the running-game success. Not only does Wilson help the running game, both through the yards he gains and by occupying defenders on zone-read handoffs because he's a threat to run, but he also has started to take on more in terms of making calls at the line of scrimmage, including checking to successful running plays.
"We called on him to control the running game more so," Carroll said. "Even more than ever, he's just so adept at pass protection stuff that that combination—we never asked him to do as much before, and he just totally embraced it and did really well. So that just expands his understanding and his sense for the game. He knows where everybody is. That's what happens, eventually these guys, the quarterbacks get so good that they can see everybody, they know what everybody is doing. He can tell you everybody's alignment and everything just by walking to the line of scrimmage.
And again, Wilson also can be even better because it's just the nature of a position where some of the league's best quarterbacks are thriving in their late 30s and early 40s.
"It's an incredible amount that they can take in after years of being around it," Carroll said. "That's why it takes so long. You guys always would compare Russell to Peyton (Manning) and Aaron (Rodgers) back when he'd played four or five years and they'd been at 10 and 11 and 12. Those years, they are a benefit to those guys and so now he's getting into the realm where he's going to be able to take full advantage of every aspect of the game better than ever. He's already done it well, but better than ever."
While age is a detriment for NFL players at a lot of positions, it can help quarterbacks so long as their bodies hold up, and Wilson has been remarkably durable throughout his career, having not missed a single game through seven seasons.
"That's a great benefit for them," Carroll said. "They've seen everything. And you could say 'Oh they've seen everything in three or four years.' That's not the truth. It takes longer than that. It doesn't mean they can't perform really well. But their awareness and their aptitude continues to expand well into it, and it takes that long to get it there, so we'll hopefully reap the benefits of that again."
Take a look back at some of team photographer Rod Mar's best behind-the-scenes moments from the 2018 season.