Russell Wilson grew up in a household where education was held in the highest esteem.
Yes, it was evident from a pretty early age that Wilson had substantial athletic gifts, ones that would eventually lead to him becoming a Pro-Bowl quarterback who was also good enough at baseball to get drafted out out of high school and in college, but he also grew up in a house where both of his parents held graduate degrees from prestigious universities, and with a grandfather who spent 22 years serving as the president of Norfolk State University and a grandmother who was both a doctor and a teacher.
So it's only fitting that, even in the midst of all of his continued success in athletics, Wilson would find his way back to academics, doing so with the Why Not You Academy, a charter high school he and his wife, Ciara, co-founded last year through their Why Not You Foundation.
The Why Not You Academy, which opened this fall in Des Moines, aims to "serve systemically underserved students just south of Seattle by providing innovative and tailored learning experiences, all while inspiring tomorrow's leaders to lead with a why not you attitude."
And when the Seahawks host the 49ers on Sunday with players showing their support for various causes as part of the NFL's annual My Cause My Cleats campaign, Wilson will represent the Why Not You Academy and Why Not You Foundation with a pair of custom Nike cleats designed by local artist and muralist Stevie Shao, a design that includes the likeness of five Why Not You Academy students.
"They're pretty awesome," Wilson said while displaying the cleats at his weekly press conference. "The artist, Stevie Shao helped me with these. We have some pretty awesome cleats for our foundation, the Why Not You Foundation. I love what the NFL does with, 'My Cause My Cleats,' I've had some cool shoes along the way. For these, you can see the 'Why Not You' on the side, the idea of these cleats is for our foundation, but also for the Why Not You Academy… It's been a joy just to be able to work with Stevie and work with the kids, to be able to collaborate with the kids from the school, the Why Not You Academy, and the Why Not You Foundation."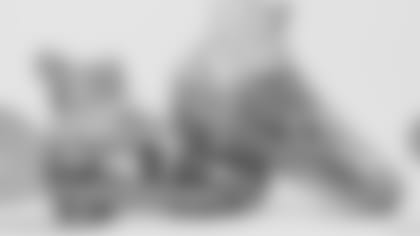 "It's been a real magical thing."
What is now the Why Not You Academy nearly opened a year earlier and with no connection to Wilson and Ciara. Garth Reeves and Scott Canfield, career educators with extensive teaching and leadership experience in the Seattle area, planned to start their own charter school and received approval in 2019 from the state to open a high school. But then the COVID-19 pandemic hit, leading to construction delays, financial concerns and other factors that put the launch of their school at risk.
But as Reeves and Canfield waited to get their school off the ground, they ended up getting connected with the Why Not You Foundation, and they quickly realized that their goals and values aligned closely with the Wilsons'.
"We got the introduction, we had a couple meetings with Larry (Estrada) and Ryan (Tarpley) from the foundation and then ultimately we met with Russ and C," Reeves said. "And things seemed to go really quick and really well. (The Why Not You Academy) has a real attitude around—we would call it one student at a time, one individual at a time. I think there was a lot of alignment there to what they wanted to do.
"Both of them talked about having a dream to have a school. So it was a combination of opportunity and timing and then also being aligned in our mission and the way we thought about things. They agreed to come on as co-founders. There was a name change to honor that co-founding and to bring them on as partners."
When Wilson first started the Why Not You Foundation—which got its name from a phrase his late father, Harrison Wilson III, would say to encourage his children, Russell, Harrison IV and Anna, to pursue their goals—he brought up the idea that if the work his foundation can help just one child, then that child can go on to change someone else's life, a so on, and through that one deed someone can change the world. And while at the time a school wasn't on the horizon, that idea the elder Wilson instilled in is son meshes well with the way the Why Not You Academy operates, with each student working closely with dedicated advisors and mentors to guide their high school experience, including significant time learning out of the classroom in real-world settings such as internships as part of the school's Leaving to Learn platform. (Anyone looking to get involved as a mentor can find out more by going to this link).
"It's been a real magical thing, because they are very involved in the sense that they want to know really specific updates," Reeves said. "They have attended student leadership meetings. They've come to visit the school. They have a really firm understanding of what we do. They love the alignment with the attention to goal-setting and having a long-term vision, and that's awesome. And they also allow us to teach, to do our jam; they don't micromanage. They don't tell us, 'You've got to do this and you've go to do that.' So it's a little bit of the best of both worlds. I will say that one area that has been really awesome is with Russ' involvement with Limitless Minds. Trevor Moawad and (Wilson) started that company with his brother Harry. I read that book independently as we started to partner with Russ and C. I had just picked up the book and I'm like, 'This is great stuff and it would be really applicable to high school.' And I learned through our emerging partnership that Limitless Minds had wanted to get into the K-12 space. They're predominantly working in corporate spaces, and they wanted to get into the K-12 space, so we then agreed to explore that and are in the process of creating a curriculum around Limitless Minds to bring into high school. That's an area where it's a little more hands-on and a partnership. We were like, 'This is great stuff. Let's do it.' And again, it was sort of this magical, aligned moment."
"Education has always been big."
When the Seahawks take the field Sunday, Wilson will first and foremost be getting ready to face the 49ers, but he'll also be representing, through his custom designed cleats, not just a school that he and Ciara helped launch along with Reeves and Canfield, but also the nearly limitless ambition instilled in him by his father, not just to succeed in sports, but to have an impact on the world. It's a big reason why Wilson won the prestigious Walter Payton NFL Man of the Year Award last year for his charitable work, and why he has every intention for the Why Not You Academy to change the lives of the kids who pass through its halls.
"The thing my dad used to always tell me as a young kid was, 'Son, why not you?'" Wilson said last year. "'Why not you play pro baseball, why not you play pro football, why not you graduate early, why not you do this and that?' I realized at a young age when I was 6, 7, 8 years old, that was the driving force question consciously and subconsciously that I ended up asking myself all the time. And I think that's the question we all have to ask ourselves."
Those questions Harrison Wilson III encouraged his children to ask didn't just lead to athletic success, but also success and ambition in all walks of life, and they're questions that, among other things, have led Wilson to help launch a school dedicated to improving the lives of Seattle-area children. And it's only fitting that, in a family so dedicated to education, Wilson's path led him to this endeavor.
"The passion for education came from my parents," Wilson said. "My dad went to Dartmouth, he went to UVA law school, my mom went to UVA, and she went to Xavier for nursing school, so my parents were always talking about education, reading, and how important it was for me as a young kid to read and be involved with that. For me and Ciara it's been so critical along the way that we are so passionate about school. When we first met, we talked about the idea of opening up a school and having that journey to be able to create something like that.
"To be able to create the Why Not You Academy here in Seattle has been such a blessing. What's so cool is that you get to see so many kids along the way, and the experience that they are getting to talk to some awesome people that have gone through ups and downs in life, people who have built businesses, just creating that opportunity for kids that they may not have otherwise. Our charter school has been really great, it's just the enthusiasm and the teachers are amazing. Education has always been big. My grandfather was the president of Norfolk State for a long time, for 22 years, and my grandmother was a doctor and taught at ODU, my uncle went to Dartmouth. There is a lot of education in my family."
Seahawks players, dancers, and staff will wear custom designed cleats and shoes supporting causes they feel passionate about during Week 13 vs. the San Francisco 49ers on December 5.