As part of the Seahawks' continued efforts to celebrate and honor local cancer patients and survivors through the NFL's Crucial Catch campaign, DeeJay Dallas joined Virginia Mason and CHI Franciscan patients for a virtual Q&A session.
Four patients from Virginia Mason and CHI Franciscan had the unique opportunity to chat with the rookie running back, asking him whatever questions they could come up with.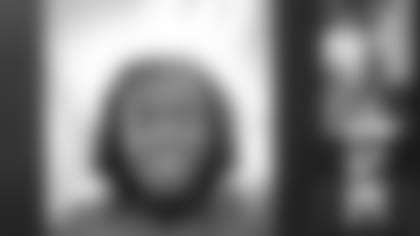 One of those patients is Renton resident Mike Gates. A huge Seahawks fan, Gates beat lung cancer in 2019 after taking the proactive approach of contacting his doctor when he noticed things weren't normal. After experiencing chest pain and shortness of breath a few years ago, he reached out to his primary care provider.
"I'm pretty proactive about my health, so I asked my family doctor if she could order blood tests and a lung X-ray," Gates said about his diagnosis. "The X-ray showed some shadowing in my lung, so I was referred to a pulmonologist, who then ordered a CAT scan."
The shadowing turned out to be a suspicious growth, but instead of immediate treatment his doctors recommended yearly scans to monitor its growth. In 2019, the growth had darkened, and later tests confirmed that it was caused by early-stage lung cancer.
Gates' care team included CHI Franciscan pulmonologist Frederick Troncales, MD, and thoracic surgeon Baiya Krishnadasan, MD. The team put together a treatment plan, and in July of 2019, Dr. Krishnadasan performed surgery to remove the cancerous tissue.
Now cancer-free, Gates is living proof of the importance and effectiveness of getting screened. Simply put, not ignoring the symptoms and reaching out to his doctor saved his life.
"The doctors are professionals, they're committed to discovering these things early so they can treat them," Gates said. "It's not that hard to do your part. Just follow the steps — when you get your physical, if you feel any issues, ask for some tests. Your doctor will be happy to do it."
"Just take it serious," Thorpe said. "(Cancer) came into my life in ninth grade, but if that didn't happen, I could easily see myself not being aware of it, not taking this as seriously. I want to spread the word, get your checkups, let your uncles know, your aunties, your grandparents, just make sure everybody you love, ask them, 'You get your checkup?' It's not that hard. It's simple, it's painless."
Throughout the month of October, the Seahawks also donated 12% of the proceeds from in-store Seahawks Pro Shop purchases of Crucial Catch apparel to Crucial Cash. In partnership with Virginia Mason and CHI Franciscan, Crucial Cash funds help local patients who cannot cover the costs of their cancer treatments.
Gates credits his recovery to his proactive attitude about getting screened, as well as his expert care team.
"I believe I was lucky," Gates said. "I could have waited to get checked, and people do get busy in life … but your health is your wealth. I've got nine grandkids, four adult children, and a wife I've been with since 1975. It's just a relief for all the people I love who rely on me."
Seahawks players, coaches, staff, and even Blitz will wear custom designed cleats and shoes supporting causes they feel passionate about during Week 13 vs. the New York Giants on December 6. This Seahawks gameday featured gallery is presented by Symetra.