Day 6 of Seahawks training camp presented by Bing is in the books, and while we'll have more later this afternoon on the day's best story, Jesse Williams' return to the field, there is plenty of other on-field action to get into. So let's look at three things that stood out in Thursday's practice.  
1. Frank Clark is adjusting well.
Early in his first training camp, rookie defensive end Frank Clark arguably has looked best as a three-technique tackle in the nickel defense (the role Michael Bennett usually plays in nickel packages). That's notable not just because the Seahawks, like any team, can always use more pass rushers, but because that's an entirely new role for Clark. While at Michigan, Clark played exclusively as an end, a position he is playing some as well during camp in the base defense.
"Before this, not at all," Clark said when asked if he had played defensive tackle before. "When I got here, this is my first time pass rushing inside, and it's a big change. But it's something I've accepted. I've accepted that role and I'm ready to go at it full speed. It's just quicker. You've got guards setting on you much quicker, there's not as much time for the play to develop. You've got to be able to work quicker and think quicker, but I'm very comfortable in that role and I'm ready to get to it.
Part of Clark's early development has been taking in as much information as he can Bennett and other veterans.
"I lean on him a lot," Clark said. "He looks out for me a lot. He's a guy who's been in the league for numerous years, he has experience, he's a great player. Him, as well as Cliff Avril as well as big Mebane, they teach me a lot of things just as far as the proper techniques of how to play NFL football. The always tell me, a lot of the moves I used to use, I can't use them anymore, because the quarterbacks are getting the ball out quicker, or the offense line is better, so I have to develop moves or tweak moves so they work fast so I can get to the quarterback fast.
If Clark is that comfortable already in a new role, that kind of versatility could make the second-round pick an immediate contributor to Seattle's defense. Will Clark step in right away and be Michael Bennett, 2.0? That's highly doubtful considering Bennett is one of the best and most versatile defensive linemen in football, but Clark is looking like he will carve out a role for himself.
"We have rushed him quite a bit inside," Seahawks coach Pete Carroll said. "I love the thought of a 4.6 guy rushing on the guards, and he's very active, he's got great hands. We have to see how that fits, and it's going to take us a while before we know that."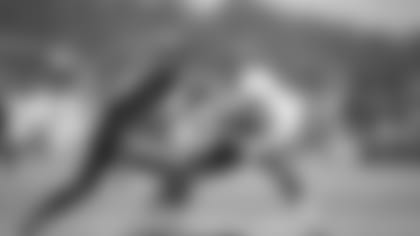 2. Douglas McNeil III, cornerback?
Up until now, McNeil had been a bright spot at camp as a receiver, most notably for his highlight reel catches. But on Thursday, McNeil, who played in the Arena League before joining Seattle's practice squad last season, had made a position switch and was playing cornerback.
While one practice is hardly enough to make any judgements on his play, the 6-foot-3 McNeil fits the mold from a physical standpoint for a Seattle corner. With Tharold Simon and Jeremy Lane on the physically unable to perform list, the Seahawks are thin at cornerback these days—that was also part of the reason for the trade to acquire Mohammed Seisay—while receiver is one of their deeper positions. So whether or not McNeil has a long-term future at corner, the move should at least provide some depth in the short-term.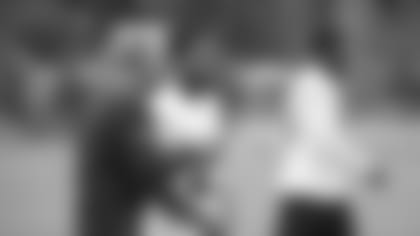 3. Earl Thomas is off PUP, but not all the way back.
There was understandably a lot of excitement Wednesday when All-Pro safety Earl Thomas passed his physical and was activated from the PUP list, but just because Thomas took that step forward, that doesn't mean he's quite back to full-go just yet.
While Thomas is expected to take place in walk-through practices right away, he did not participate in Thursday morning's practice. As he has been doing throughout camp, Thomas stayed busy helping coach young defensive backs, including Steven Terrell, who is working with the first-team defense in Thomas' absence. Thomas being activated off the PUP list was a very important step in his recovery from offseason shoulder surgery, but the Seahawks will be cautious bringing him back slowly.  
Emptying out the notebook:
Receiver Kevin Smith missed a second-straight day with a groin injury, and tight end Anthony McCoy was also out after leaving Wednesday's practice because of light-headedness. Rookie safety Ryan Murphy was also out again with an ankle injury.
It's hardly news at this point that rookie receiver Tyler Lockett is having a good camp, but it's worth noting again anyway that he again looked very good Thursday. In particular, Lockett's ability to change direction and make defensive backs look foolish is quite impressive.
Deshon Foxx was Thursday's winner of the "roster hopeful at receiver who had a good practice" award. OK, that's not a not an actual award, but Foxx did stand out, making a few nice catches, none better than a diving grab in the front corner of the end zone. Foxx is part of a very deep receiver group that has impressed in camp, but unfortunately for him, he is also a quick-but-undersized receiver on a roster that already has two of them who are all but locks to make the team: Doug Baldwin and Lockett.
Once again Kristjan Sokoli saw a lot of action at left guard with the first team offense, though Alvin Bailey saw time there too. That is suddenly looking like a real battle after Bailey got all the first-team reps in offseason workouts and early in camp. At center, meanwhile, the first-team reps continue to be split between Lemuel Jeanpierre and Drew Nowak.
Nate Boyer, Seattle's 34-year-old rookie long-snapper, saw plenty of action and continued to look accurate with his snaps. Beating Clint Gresham for a job still seems like a tough task for the former Army Green Beret, but Boyer has looked pretty good thus far.