We asked Seahawks fans what draft prospect they wanted to hear from during Friday's 2019 NFL Scouting Combine media availability, and Washington State quarterback Gardner Minshew was the winner. Oklahoma QB Kyler Murray was also a popular choice, so we included a bit from him as well.
INDIANAPOLIS—At this time last year, Gardner Minshew thought he was going to start preparing for an eventual career in coaching, not a possible career as an NFL quarterback.
Minshew, who in 2018 played for East Carolina, had committed to Alabama where, as a graduate transfer, he was expecting to be a backup quarterback while getting a jump-start on a coaching career. Instead, WSU offered him a chance to win a starting job, and Minshew took full advantage, earning Pac-12 Offensive Player of the Year honors while leading the Cougars to their first 11-win season in the program's history.
That standout season that few could have possibly seen coming put Minshew on the NFL's radar, which is why he was at the NFL Scouting Combine this week to help show teams why he's worthy of a draft pick.
"It makes me extremely grateful," Minshew said from the combine on Friday. "I had a lot of people help me get to where I'm at. Washington State giving me the chance, Coach (Mike) Leach believing in me, all those guys letting me step in and lead on short notice. It has been an incredible year. And it's not done, the ride's only getting better and I'm excited to see what's going to happen in this next year."
Minshew showed he could quickly win over a locker room in Pullman, not to mention a fanbase, having quickly become something of a local icon due to his play, his fun, easygoing nature, and of course his signature mustache. Now he's trying to show NFL teams that he's pro-ready, despite not having all the ideal physical traits of an NFL quarterback, and despite playing in an air raid offense that in the past has been viewed as a hindrance for quarterbacks trying to make the leap to the NFL.
But while there used to be something of a stigma associated with air raid quarterbacks, the recent success of players like Patrick Mahomes, Jared Goff and Baker Mayfield has helped change that perception, meaning Minshew might be coming into the league at just the right time.
"There have been some guys in front of me who have done a lot of good things in the league that has kind of opened the door for us air raid guys," Minshew said. "You even see coaches now, it's a hot commodity. So it's spreading throughout the game, and I think there's going to be plenty of opportunity for me.
"There's always a learning curve, and that's for no matter who it is. The air raid gets the rap for having that extra learning curve, but it's really the same for everybody. Nobody is facing in college the kind of defense that you face in the NFL. Most people don't have the responsibilities at the line that you're going to have in the NFL. So it's a learning curve for everybody, but I think the air raid prepares you in a lot of different ways."
Of course Minshew realizes that coming from the same type of offense as Mahomes, the league's MVP in 2018, doesn't guarantee anything at the next level.
"Yeah, if I could throw it 80 yards on the run, I'd love to," Minshew said with a laugh. "Make the guys miss like he does, throw no-look, I'd love to be able to do all that. No, man, he's really special. He's probably one of one or two guys in the world who can do the stuff he's doing, so he's a guy you've just got to watch and go, 'wow.'"
In addition to being incredibly productive at Washington State—he led the nation in passing yards per game (367.6), threw 38 touchdowns and completed 70.7 percent of his passes—Minshew also showed the kind of leadership and intangibles that could help him overcome any physical shortcomings at the next level.
Asked what trait of his game he was most proud of, Minshew said, "I'd say elevating the guys around you, that's what it's all about playing this position. Taking this team, going 11-2, 11 wins for the first time in school history. That's what it's all about, making the guys around you better, that's how you come to work every day and how you lead."
Another positive in Minshew's game is that at WSU he had a lot of responsibility on him, with Leach giving him the freedom to make a lot of changes at the line of scrimmage.
"I think it's definitely one of the things that makes me unique," he said. "I think it's something I bring to the table, that experience calling so much at the line of scrimmage. So I think it's great for me, and it's just one of the many things I can hang my hat on."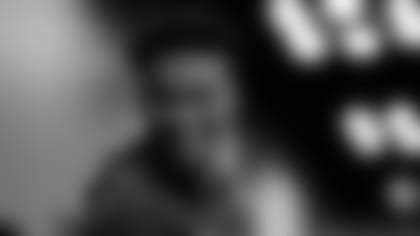 Oklahoma's Kyler Murray has been in touch with Seahawks quarterback Russell Wilson.
Oklahoma quarterback Kyler Murray is one of the biggest names at this year's combine, a Heisman Trophy winner who is expected to be one of the first quarterbacks selected despite measuring just a bit over 5-foot-10. As an undersized quarterback who also happens to be an accomplished baseball player—until recently Murray was still undecided between football and baseball—the comparisons to Wilson have been common. Murray said Friday that he has had some contact with the Seahawks quarterback and that it helps having a quarterback of a similar stature succeeding in the NFL.
"I've studied a lot of quarterbacks in the league, but him in particular just because we're similar in height," Murray said. "He's had a lot of success, obviously. I've gotten to talk to him a couple of times. It's good to have him in my corner as a resource. Obviously, I look up to him. Watching him do it at 5-10 and kind of putting doubters to rest, it's a good deal."
Photos from Day 4 at the 2019 NFL Scouting Combine in Indianapolis, Ind., where Seattle Seahawks coaches and personnel staff are evaluating more than 300 of college football's top professional prospects ahead of this year's draft.