A day before Seattle's 2019 NFL Draft class takes to the practice field for a three-day rookie minicamp along the shores of Lake Washington, Pete Carroll joined 710 ESPN Seattle for a Thursday morning conversation with 'Brock and Salk.' The full segment is embedded for you above, but here's a few things we learned from 710's talk with the Seahawks head coach:
Where Rookie Leadership Will Come From
The Seahawks will welcome 11 draft picks as well as a large contingent of undrafted rookie free agents and tryout players to team headquarters this weekend, holding practices on Friday, Saturday, and Sunday at Renton's Virginia Mason Athletic Center. A complete roster of rookie minicamp attendees will be made available on Friday here at Seahawks.com, and as you might expect, the ever-enthusiastic Carroll said he's excited to see "just the whole group, really all of them."
"I love the receivers in this crop, three receivers (DK Metcalf, Gary Jennings, John Ursua) that's fun," Carroll said. "The linebackers, both backers (Cody Barton, Ben Burr-Kirven). Anxious to see L.J. (Collier) just get in with our guys and fit in and see how he starts to make the process happen. It's all the way through. There's guys in the free-agent group too that are really exciting, so it's going to be fun."
In Collier, Seattle's first-round pick (No. 29 overall) out of TCU who earned first-team All-Big 12 honors as a senior, Carroll said the Seahawks have a defensive end who has "been up against it in his career and was always fighting for the recognition and you could tell he's got the big chip on his shoulder. It's something that we picked up on early and really, really liked, obviously. We're kind of nuts about that."
When it comes to identifying potential leaders within the 2019 draft class, Carroll said he hopes Collier's chip-on-the-shoulder mentality will shine through, adding there's other candidates with unique characteristics that could translate to team leadership.
"I'm hoping that he'll show that makeup and that'll be who he is as he brings to the program. We need all that we can get. That's one aspect of leadership," Carroll said. "There's some interesting guys throughout here. (Ugo) Amadi, that's a guy we're really anxious to see how he fits in and what he can do. He's been a real live wire in the program, he's been an excitable player that's infused a lot of energy. We'll see where he fits. There's another guy, Marquise Blair, doesn't say very much, but he hits the hell out of stuff. He is physical and tough and is looking for big hits. That's another way to send your leadership impact on the team. So we'll just have to wait and see, I can't imagine. DK (Metcalf) is such a great worker. I'm really hoping that he'll fit into that category of player that impresses you just because his work ethic is so good and his intensity is there. So there's a lot of different ways it will come."
Wide Receiver Development
With uncertainty surrounding receiver Doug Baldwin's future with football — Baldwin has been rehabbing multiple offseason surgeries and both Carroll and general manager John Schneider have acknowledged retirement is a consideration for the 30-year-old — Carroll was asked about the development of young NFL receivers. Seattle took three wideouts in the 2019 draft, selecting DK Metcalf in round two, Gary Jennings in round four, and John Ursua in round seven. And while there have been some exceptions, including Baldwin when he led the Seahawks in catches and receiving yards as a rookie, a lot of first-year receivers can take a bit of time to start producing in the NFL. Carroll said a receiver's development depends on each's player's individual background and situation in college, but he believes this year's crop of wideouts has a chance to contribute sooner rather than later.
"DK is a guy that works really hard. He loves to workout, he loves to be on the practice field, he's got a great work ethic about him," Carroll said of the 6-foot-3, 229-pound Ole Miss product who ran a 4.33-second 40-yard dash at this year's NFL Combine. "I've been able to track him, we tracked him all the way through the offseason with who he was working out and how those workouts were going and all of that, offseason meaning prior to the draft, and his attitude about it, his willingness to be great. He's got all that going for him. He's been playing wide receiver, he's been dedicated to it. I don't think he's going to have as far to go as maybe another guy that might be. Gary Jennings is another really dedicated receiver that's been in the program. I don't know as much about Ursua's background in terms of his work ethic like I do those other two guys, but John has been a really productive, natural player, so he's got the other side of it. So it just depends. We'll have to wait and see, but we feel good about it."
Carroll said he anticipates seventh-year receiver Jaron Brown, who hauled in a career-high five touchdowns in his first season with the Seahawks last year, as well as third-year pro David Moore, who electrified with big plays and finished as Seattle's third-leading receiver behind Baldwin and returning starter Tyler Lockett, to also show an uptick in production in 2019.
"Now, I like the development of our guys that are here, too," Carroll added. "I thought that Jaron Brown did a fantastic job for us last year in an underused role. We need to use him more because he's a guy we can lean on. He's got all of the stuff. He played really well for us, it's just the ball didn't go to him last year, it's going to more so this year. He'll be a bigger factor right off the bat.
"I think that David Moore's development is really one of the crucial ones because he's really talented and made it extraordinarily obvious how he can make the plays, we've just got to clean up his game and this being his third year that's kind of what it takes sometimes on the later-developing guys. So third year around for him he should be on it, too."
Shirts Optional
Chances are you've seen the video of Carroll taking his shirt off to meet with an also shirtless Metcalf at the 2019 combine — since being posted this past weekend it's been viewed more than 3.4 million times on @Seahawks Twitter alone — but if for some reason you haven't, we'll embed it here for your viewing pleasure. Asked about that entertaining exchange, Carroll said the move was all instinct on his part, joking that Metcalf, "was intimidated, obviously."
"There wasn't a lot of time between when the thought hit and it landed and the action took place. There was not a lot of time that transpired there," Carroll said with a laugh. "It was kind of a moment's impulse and I just thought, 'well, I'll match this up.' Fortunately, the camera was where it was and we survived the impact of the exposure."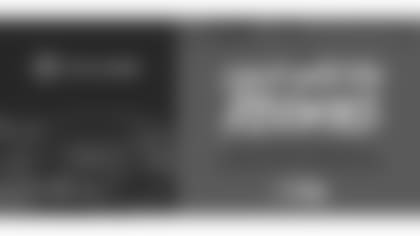 CenturyLink Lunch with the Rookies
Win a private lunch with the 2019 rookie class at the Virginia Mason Athletic Center (VMAC), with a tour of the facility and sideline view for a mini-camp practice.