When the playoff-bound Seahawks (9-6) kickoff against the NFC West champion Arizona Cardinals (13-2) in the regular-season finale at 1:25 p.m. PT this Sunday at Glendale's University of Phoenix Stadium, roughly 1,250 miles to the east in Kansas City, Mo., a future Pro Football Hall of Famer will be suiting up for the final time.
Last month, 39-year-old Oakland Raiders safety Charles Woodson announced that 2015 would be his last season in the NFL. The 18-year veteran will play his final game this weekend against the Chiefs at Arrowhead Stadium, where Woodson played the very first game of his storied career back in Week 1 of the 1998 season.
"Definitely grew up a fan of Charles Woodson," former Washington State Cougars safety turned Cardinals linebacker Deone Bucannon said on a conference call this past week. "It's kind of hard not to, when a guy like that is making plays all over the field at multiple positions and just doing what he does.
"Players like that come once in a lifetime. He speaks for himself. I don't have to explain his legacy."
Woodson, who's currently tied for fifth on the NFL's all-time interceptions list with 65, signed a one-year contract this past January to remain with the Raiders, the team that drafted him with the No. 4 overall pick in 1998 out of the University of Michigan, where Woodson became the first two-way player in a generation to win the Heisman, given each year to college football's top player. Woodson beat out former Tennessee quarterback Peyton Manning for the award, intercepting seven passes and recording 43 tackles while catching 11 passes for 231 yards and a touchdown, leading the Wolverines to an undefeated regular season and 21-16 win over Washington State in the Rose Bowl to claim a share of the national title.
"He meant a lot to the NFL, to the game of football in general," said Seahawks cornerback Richard Sherman. "Going back to college, I think he's like one of two players who ever won the Heisman on defense.
"He's just an incredible athlete, incredible player, incredible playmaker."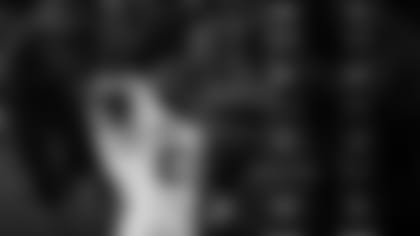 Woodson spent his first eight NFL seasons with the Raiders before going to Green Bay in 2006, where he won Defensive Player of the Year in 2009 and the Super Bowl with the Packers to close the 2010 season. He returned to the Raiders in 2013 following his release from the Packers, and continued to put up big numbers, with his five interceptions leading the Oakland defense this year. He won the AFC's Defensive Player of the Month award in October and was voted to his ninth Pro Bowl in December. In 14 career games played against the Seahawks, Woodson notched 57 tackles, 3.0 sacks, five picks, five forced fumbles, and 15 passes defensed.
"I knew how much of a baller he was," Seattle strong safety Kam Chancellor said of what he remembers about watching Woodson while growing up. "He was a person who you hear his name all the time. But just to have somebody like that in this game, that's somebody you can take some stuff from, take some notes from. Just watching his film, watching how he plays now, still, because he's an older guy. He doesn't move the same, so he has to find little tendencies to get a jump, and you can just see his smartness, his wittiness, and his craftiness."
Woodson was the focal point of an emotional home farewell last week in the Bay Area. After Oakland secured a 23-20 overtime victory against the San Diego Chargers, Woodson led a "Rai-ders! Rai-ders! Rai-ders!" chant with the crowd before addressing Raider Nation over the O.co Coliseum loudspeakers.
"Though this is my last game in the Coliseum, just know I will never leave you," said Woodson. "Go Raiders."
"He really showed how high the ceiling can go for a DB, how much impact you can have on one game," Sherman said. "I think he'll be tremendously missed. I'm sure the Raiders and Green Bay will give him a great farewell, but he'll be missed by everybody in this League."