SEATTLE — Saturday's only pro day in the nation went down at University of Washington's Dempsey Indoor Practice Facility, where representatives from what looked to be nearly all of the League's 32 teams came together to watch a handful of former Huskies work out ahead of the 2017 NFL Draft.
While not as all-encompassing as the recently-wrapped up NFL Combine, pro days give teams a more up-close and personal look at potential NFL talent. A small contingent of Seahawks coaching and personnel staff were on site at UW as some of this year's top prospects including wide receiver John Ross and defensive backs Budda Baker, Kevin King, and Sidney Jones showed what they have to offer NFL teams. 
Jones, unfortunately, wasn't able to finish Saturday's pro day, going down mid-drill with an injury that forced him to leave the facility on a training cart. Other UW NFL hopefuls, though, met with the media after their on-field work was complete. Here's some of what they had to say:
WR John Ross
(On if anything from the NFL Combine surprised him…) "Yeah, they heighted me at 5-10. I thought I was taller than that. Other than that, no surprises. Just enjoyment."
(On what he was hoping to show at UW's pro day…) "I just want to come out and finish, really. Show everybody I can run more than just the go-ball. I think I did a pretty good job of showcasing that I can get in and out of my breaks."
DT Elijah Qualls
(On the unexpected things he experienced at the NFL Combine…) "Old players — Danny Shelton, Shaq Thompson, Marcus Peters, people like that — you had access to them, to ask them what the experience was like and what to anticipate. There weren't many, 'Oh crap, that's happening I don't really know what to do.' There might've been a few unexpected bumps, but nothing I couldn't handle."
(On how important it was to pick older players' brains before the NFL Combine…) "Amazing, because I'm somebody who likes being prepared for the game, and this is the game right now. Being able to have that intel, some techniques, things to use, how to carry out, how to get through it, it helps a lot."
(On what his conversations have been like with NFL teams…) "Some intense and then some really laid back. There's definitely been some coaches on both sides, they're either pounding me with questions or something like that, or just kind of, 'Hey, who are you? What are you like? This is kind of what we do, are you cool with that?' So I mean you've got a variety of different approaches to the process."
(On if he's ready for the NFL Draft process to be over…)"I'm ready to play actual football. This stuff's cool and all that, obviously it's necessary to get to where I'm trying to get to, but I'm not a track star, I'm not a tester. I play football, that's what I do. So that's what I'm ready to get back to."
TE Darrell Daniels 
(On his experience at the NFL Combine…)"I enjoyed my time out there being with my teammates, going out there and competing with some of the greatest athletes out there. It was a humbling experience and a dream come true."
(On what he hoped to accomplish at the NFL Combine…) "I just wanted to put my name out there on the map, showcase my talents and let the world know what I have to offer and let every NFL team know what I have to offer, what I'm bringing to their organization."
(On what separates him from other tight ends…)"My physical attributes, speed, and I'm a good route runner, great blocker, and great leader on and off the field. I feel like that's what I have to offer."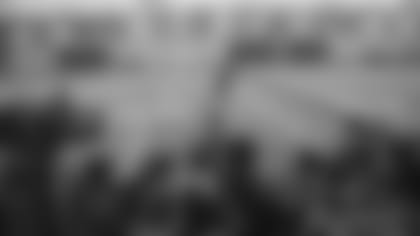 S Budda Baker
(On his experience at the NFL Combine…)"It was a great experience. A lot of meetings, psychological testing and all that type of stuff kind of takes a toll on you, but it's a mental game as well as a physical game on the last day, so it was a great experience."
(On the craziest question he received at the NFL Combine…) "Craziest question? I'd say, 'How do you get 37 cents using eight coins?' I had no clue, so that was a crazy question."
(On if it's a strange feeling working out in silence with NFL personnel watching…) "Not at all. You try to silence the noise even at games, so for this you've just got to think of it as another opportunity to get better. You're on the field with your brothers probably for the last time, so just have a great time and do what we do."
(On what he hoped to accomplish at UW's pro day…)"I just wanted to prove that I was fluid in my DB drills. That I could catch the ball. Mostly just fluid and under control when I'm breaking and doing all that type of stuff."
(On how he feels about his pro day performance…)"I felt really good about it. There was one ball I dropped, so I've got to get the push ups in for that. But overall it was pretty good."
CB Kevin King
(On what he hoped to accomplish at UW's pro day…)"Really just consistency. I went out there on Monday [at the NFL Combine], had a good outing, and I just wanted to be consistent. Anybody can do it once. It's all about if you make one good play in the game and get beat three times then that's not a good game. So I just continued to showcase what I can do, just let them know that it wasn't striking lightning or something with what happened at the Combine. Just being consistent."
(On the toughest part of the draft process…) "Really just staying focused. Coming from a student athlete to the business side of it. That's why I've got guys like my agent and my family around me that can help me out with that type of stuff. But now I'm a businessman, I have my own brand, and next will be the brand of whatever team and market that I'm in. Just going from me as a college student to me as a professional athlete. But I'm coming along."
The University of Washington held its annual pro day on Saturday, March 11, when former Husky NFL hopefuls worked out in front of scouts, coaches, and personnel staff from around the League.