Once again, it's time to answer your questions about the Seahawks and whatever else might be on your mind. Thanks as always to those who submitted questions, and sorry if I didn't get to yours this week.
@jtown asks, "Why switch Chris Matthews for Kevin Smith? What does Coach see there?"
A: As Justin notes, the Seahawks made a roster move Tuesday, signing Kevin Smith off the practice squad and waiving receiver Chris Matthews. We'll hear from Pete Carroll on this move Wednesday, and while I'm not about to speak for Carroll when it comes to a roster move, I can say the Seahawks have had a high opinion of Smith going back to when he first spent time with them before the 2014 season. After spending last year out of football, Smith got a second shot with the Seahawks in camp this year and came back leaner and faster, and while he didn't make the 53-man roster, he did enough to earn a spot on the 10-man practice squad. The Seahawks have a history of letting players earn spots on the roster with their hard work on the practice squad, including another undrafted University of Washington receiver, Jermaine Kearse, and Smith is now being rewarded for his strong play in practice. How much Smith factors into the offense right away remains to be seen, but expect to see him involved on special teams, something he earned praise for in the preseason in addition to being one of the team's top pass-catchers with six catches for 61 yards.
"He has been really active in camp and done very, very well for us," Carroll said during training camp.  
@MoneyLynch24 asks, "How much money does Seattle have to spend this offseason?"
A: Marshawn, is that really you? Oh wait, his account is @MoneyLynch. But as to your question, I'm not trying to avoid it, but it's simply too early to say. What we know right now is that the Seahawks don't have much cap space at this very moment, but some players under contract now are free agents after the season, so what the Seahawks and those players decide to do after the season will affect the team's cap space. So too would a player retiring, being traded or released, so in a lot of ways, the amount of cap space available in the offseason is largely dependent on what happens in the offseason, if that makes sense.
@Cougarboy85 asks, "Would Kam Chancellor run through the center field wall at Safeco, or would be bounce off the wall?"
A: The wall would see Chancellor coming and run out of bounds.
@tibbsaf asks, "Will the Seahawks ever win again?
@bowlby0505 asks, "The O-line showed improvement Sunday, but when will the penalties be eliminated?" And @kkurt13 asks, "Penalties keep killing dries on offense and extending drives on defense. What can be done to finally end this problem?"
A: Understandably there is a lot of concern about penalties after the Seahawks had 14 enforced against them in Sunday's loss to Arizona, many of which were huge on both sides of the ball, but it's worth remembering that this has not been a consistent problem this year. While the Seahawks have been one of the more frequently penalized teams in the league in the past couple of years, they actually have ranked near the bottom in penalties for much of this season. The Seahawks have had five or fewer penalties enforced against them three times this season, and hit double-digits only twice, and even after 14 penalties on Sunday, they rank only tied for 13th with 65 penalties enforced this season.
All of that being said, penalties were obviously a huge problem for the Seahawks against Arizona. The offense faced first-and-25 on its first drive after getting one first down, the opened its next three possessions with holds, setting up first-and-20 and eventual three-and-outs.
"The penalties really dictated what was going on the way they got their first 19 points," Carroll said. "Of course they executed to get their points, but we made it really easy on them. To play defense on first and twenty, and second and sixteen, and then third and twelve and fifteen, that's what you hope for. It's not hard there. That's the best you get on defense. So we really made it easy for them and they took advantage of it and held us, and got the field position and got their points. So it played into a great opportunity for them really."
Getting off schedule also kept the Seahawks from doing much in the running game, even though they felt like they could run the ball well given better down and distances to do so.
"We averaged well in the running game," Carroll said. "We never got to our run game. We never got to it, and we were down 19-0 before we knew it. I think the fifth drive was the 2-minute drive. We just never really got to where we wanted to, and it's really a shame because we had a really good plan. I really liked it."
@kirDS44 asks, "Is Jimmy Graham's playing style just not suitable for Seattle's run-first offense?"
A: To be clear, answering this question doesn't mean I agree with the premise of this questions. Is Seattle's offense different than New Orleans', meaning Graham has to adjust to some things? Of course. And has Graham's production been up-and-down some times? Sure. But nine games into the season, Graham is still Seattle's leading receiver with 41 catches for 491 yards, putting him on pace for nearly a 900-yard season, which is a big number in Seattle's offense. Carroll acknowledged Monday that there were a couple catches Graham usually makes that he didn't come up with on Sunday, but overall his production has improved of late as he learns to play better in Seattle offense and with a quarterback who is more likely to improvise than Graham is used to. If there is one area the Seahawks would like to get more out of Graham, it's in the red zone, but it's not fair to look at Graham's two touchdown catches as put that all on him. The Seahawks did go to Graham a couple of times in the red zone against the Cardinals, with him barely failing to hold onto a touchdown on one play, then drawing pass interference on the next to set up Will Tukuafu's touchdown run.
On Wilson and Graham's growing chemistry, Carroll said the following after Graham had seven catches for 75 yards against Dallas, "I don't think there's any question, you can see it. You can see these guys working together, and they're really fine-tuning on throws and spots that they're throwing too and all that. I think we're going to continue to see them go and get better. But I think right now it's really obvious. You play us, you can see that that's happening, that Jimmy's a big factor and he's got a bunch of targets. I'm not concerned about any of those discussions anymore at all. It's just part of our game now. And with that, I think just comes the comfort. Hopefully we'll continue to build on it. Jimmy was a big factor in that game yesterday, and could have had a monster game if we'd hit him a couple times there."
And finally, even if you were to argue that Graham has been a disappointment so far, which I wouldn't, remember that the Seahawks didn't make this trade for half a season; they made it to acquire a player who they believe can help them for years to come.
@hummelmax asks, "Do you think the Seahawks will wear throwback jerseys one day like the Steelers or Packers did before?"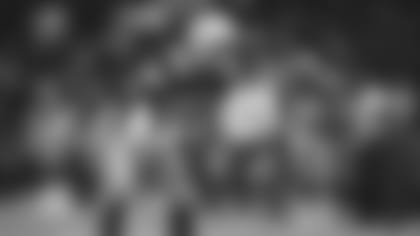 A: While it's hard to argue that the old silver and blue uniforms would be fun to see again, there are hurdles to seeing that happen. For starters, NFL teams are allowed one alternate uniform in addition to their usual home and road uniforms, and right now for the Seahawks, that's the Wolf Grey combo they have worn on occasion since 2012, compiling a 6-0 record while doing so.
Further complicating a possible Seahawks throwback is that in 2013, the league told teams that they needed to stick to one helmet, the reasoning being that, in the name of player safety, they didn't want players going from helmet to helmet since they're custom fit to each player. So to wear a throwback, the Seahawks would either have to repaint their helmets silver for a game, or wear navy blue on top of royal blue, which might look a little odd.
@SkiffFeldspar asks, "Would Mike Bennett be as funny without his beard?
A: Good question. On one hand, Michael Bennett's brother, Martellus, is pretty funny too, and he has sported a clean-shaven look at times. Michael Bennett, however, uses his beard in a lot of his best jokes, so would getting rid of the beard also rid him of some of his best material? Is a beard to Bennett's sense of humor what hair was to Samson's power? We may never know... Unless Bennett shaves, then we'll find out.