Will Tukuafu was inactive for Seattle's first two games—"kind of forgotten for a little bit," as Seahawks coach Pete Carroll described it. Yet as the season has gone on, the fullback/special teams contributor/occasional defensive end has become an important player for the Seahawks, in part because of his versatility, and also just for what he can do as a 280-pound lead blocker.
"Will is playing really good football for us," Carroll said after Thursday's 20-3 victory. "We're really excited about what he's doing. We're fitting together a role for him. And he's alive to play on defense as well. He's just doing a nice job. He's a big, big load coming up in there, and he's got a good attitude about it, of course. And Marshawn really could feel him and he's running behind him well, and I think we're going to continue to see that grow and open. I'm just really proud of Will. He's a terrific kid, and you know he was kind of forgotten for a little bit, and he's back in action and we love what he's offering our team right now."
With Derrick Coleman sidelined with a concussion, Tukuafu played 36 percent of Seattle's offensive snaps, helping pave the way for a big night for Marshawn Lynch, and he also played four snaps at defensive line and six more on special teams. Here's a look at what the rest of the playing time looked like in Seattle's Week 7 win at San Francisco.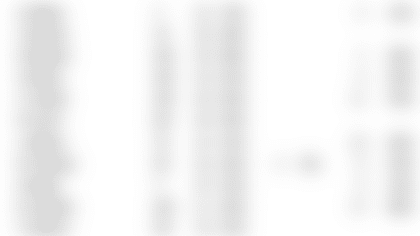 Offense
Unlike most games this season, only three linemen—J.R. Sweezy, Drew Nowak and Justin Britt—played all 72 snaps, as did quarterback Russell Wilson. Russell Okung missed three snaps after briefly leaving with an injury, though he was able to finish the game, while Garry Gilliam (74 percent) and Alvin bailey (33 percent) split time at right tackle, with Bailey also playing those three snaps for Okung on the left side, as well as one snap as a sixth lineman when the Seahawks were at the 49ers' goal line on their first possession.
Despite a big game—22 carries for 127 yards—Marshawn Lynch played only 56 percent of the snaps, while Thomas Rawls played 15 percent. As noted earlier, Tukuafu played a big role on offense with 36-percent playing time.
Jimmy Graham played 69 percent of the plays, while Doug Baldwin led receivers in playing time at 68 percent, followed by Jermaine Kearse (62 percent), Tyler Lockett (56 percent), Ricardo Lockette (29 percent) and Chris Matthews (22 percent).
Defense
Earl Thomas, Kam Chancellor, K.J. Wright, Richard Sherman, Bruce Irvin and Bobby Wagner all played 100 percent of Seattle's 46 defensive snaps. Cary Williams played all but one play.
Cliff Avril led defensive linemen in playing time at 85 percent, followed by Michael Bennett (72 percent) Brandon Mebane (61 percent), Frank Clark (46 percent), Ahtyba Rubin (33 percent), David King (28 percent) and Cassius Marsh (22 percent). Clark's playing time was a season-high for the rookie.
DeShawn Shead played 41 percent of the snaps, with one of those coming at left corner in place of Williams, showing that the Seahawks played more base defense than nickel for the second week in a row after playing a lot of nickel against more prolific passing offenses like Cincinnati, Detroit and Green Bay.
Special teams
As has often been the case this season, Shead led the way in playing time on special teams at 84 percent. Mike Morgan was next at 76 percent, while Kelcie McCray, Steven Terrell and Cooper Helfet all checked in at 72 percent.
Earl Thomas had two tackles on kickoff coverage, a role he has been back in for the past three games after not participating on special teams in Seattle's first four games. Thomas returning to kick coverage, something he has done regularly in past seasons, is likely due to injuries affecting special teams depth, and it may also be a sign that there are no lingering concerns over the shoulder he had surgically repaired in the offseason.
In Santa Clara, the Seahawks dominated on both sides of the ball and return to Seattle with a 20-3 win over the 49ers.