It takes time to become a pitmaster. Joe Powdrell's family has been working at it for over 140 years, passing on the skill and knowledge of how to infuse just the right amount of hickory smoke into their meat. And for the last 50+ years, they've done it at Mr. Powdrell's Barbeque House in Albuquerque, New Mexico.
It was in Albuquerque that Seahawks owner Paul Allen first discovered the succulent, smoky flavor of a perfect brisket sandwich. While starting Microsoft in New Mexico over 30 years ago, he frequently stopped for BBQ at Powdrell's, and fell in love with that sandwich. Now, with the help of the Powdrell family, Paul's favorite barbeque sandwich, topped with the family's signature barbeque sauce, is coming to CenturyLink Field for the 2016 Seahawks season at Licketty's BBQ.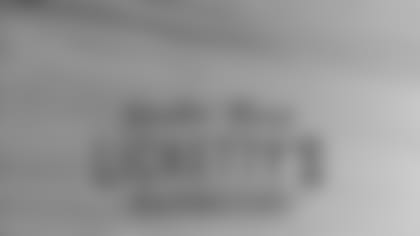 Fans can get a taste of the Mr. Powdrell's hickory smoked brisket starting this week at the Seahawks themed Friday Night Vibes happy hour party in the North Plaza and at the first game of the season, at home on Sunday, September 11 at 1:05pm against the Miami Dolphins.
It took a lot of people and a long time to bring Paul's favorite sandwich to Seattle. Paul's Director of Culinary Operations, Chet Wallenstein, and his team worked with the Powdrells to figure out how to make this perfect sandwich. And for 14 hours before each home game, the team will smoke all-natural, hormone-free beef over hickory wood in a renowned Klous BBQ Pit smoker trailer that just arrived at the stadium from Houston, Texas.
But the sandwich wouldn't be the same without the sauce, and this isn't just any sauce. Back in the 1870s, in Baton Rouge, Louisiana, the Powdrell family created the sauce from tomatoes, sugar cane, and lemons, — three ingredients they could acquire with ease.
Over time, as the family traveled to Western Louisiana, then East Texas, and on to Albuquerque, the sauce changed and adapted, marrying new flavors with the original sauce as it moved west.  The sauce is a family heirloom, an edible history of one family's travels westward, passed on through generations, and available only at their restaurants in New Mexico — until now. We're honored to be able to have it in Seattle at Licketty's BBQ, and honored to partner with the Powdrells to share their delicious barbeque with our fans.
But if you want to try this terrific sandwich, you'll have to get in line early. With only a limited number of briskets smoked for each game, a limited number of these legendary sandwiches will be available from pre-game to halftime and on until they're sold out. Find Licketty's BBQ in the stadium's North entry plaza.