It was a very busy day for the Seahawks' NFC West rivals as rounds two and three were completed. The 49ers and Rams certainly looked to the future, while the Cardinals continued to fill in some areas of need.
San Francisco 49ers
Round Two: Jaquiski Tartt, S, No. 46 overall
Who He Is: A 6-1, 221 pounder from Samford
What He's Done: Totaled 277 tackles, 199 were solo stops. Registered 62 tackles last year, with 53 solos. Intercepted 20 passes and had 6.5 tackles for a loss. Named to the American Football Coaches Association FCS All-America Team in 2014.
NFL.com Analysis: "Well-built with impressive overall size. Gets downhill quickly from high safety to mix it up in run support. Takes good angles to ball carriers and is an aggressive tackler. Willing to play through pain and compete. Fierce competitor. Plays with confident, clear eyes to diagnose and handle his responsibilities. Attacks the ball at point of catch to disrupt wide receiver and dislodge the pass"
What it Means:The 49ers get depth in the secondary, and a big hitter who can add a real presence to the back end of the defense. He certainly can come in right away and add some thump on key downs. If injuries strike at safety, Tartt won't hesitate to show his aggressiveness with more playing time. With the Seahawks and Rams having significant power running attacks, adding a safety who hunts the run appears to be a very savvy move. San Francisco already has Antoine Bethea and Eric Reid at safety, so Tartt may get to learn from some notable veterans, which can only improve his outlook over time.
Tartt already has stated it is a good situation for him to enter into with his new teammates.
It is apparent that the 49ers brain trust has their eyes on not only bolstering the defense in the short term, but making the unit more formidable down the road. First-round DT Arik Armstead and Tartt can be very key pieces of the defense once they fully adapt to the pros.
Round Three: Eli Harold, OLB, No. 79 overall
Who He Is:A 6-3, 247 pounder from Virginia
What He's Done:Was second-team All-ACC in 2014. Registered 14.5 tackles for a loss.
NFL.com Analysis: "Fires out of stance with forward lean, gaining ground quickly with his first two steps. Edge rusher who torques upper body around edge, giving tackles limited area to punch. Has efficient, quick inside move to pressure quarterback. Memorable closing burst. Impressive, accurate hand usage with little wasted motion as pass rusher and uses hands to snatch and shed against run. Potential to be outstanding edge-setter against tight ends."
What it Means:San Francisco adds a possible impact rusher off the edge as the focus on defense early in the draft continues. He may continue to evolve and improve at the pro level. Like the two selections before him, Harold can help the Niners become a defensive force in the longer term.
Harold certainly is focused on being a mainstay for his new team.
There was some speculation that San Francisco could make a move for a wide receiver in the first two days of the draft, but the focus on defense is apparent and also necessary given the nature of the NFC West. The Seahawks have set high bars for defensive play, and the Rams are poised to possibly be one of the conference's better units.
What's Next: The 49ers can stock up more for the future with seven picks on the third day of the draft, including three in the fourth round. They may look to address inside linebacker and could vie for a wideout.
St. Louis Rams
Round Two: Robert Havenstein, T, No. 57 overall
Who He Is: A 6-7, 321 pounder from Wisconsin
What He's Done:Named first-team AFCA and All Big 10 in 2014. Started every game at right tackle for the Badgers from 2012 to 2014.
NFL.com Analysis:"Massive tackle with very functional length. Takes quick steps and good angles for proper positioning to wall off defenders on gap plays. Above-average power in run game and runs legs to create movement. Drive blocker by nature. Block winner at point of attack. Uses well-timed punch and has adequate foot quickness to set out to edge speed. Aggressive, play-finishing demeanor on the field. Plus body control and balance on second-level blocks with ability to sustain. Can brace against power and has feet to counter inside moves in pass pro."
What it Means:The Rams traded back from the 41st pick in the second round with Carolina, and this was the first of three selections they received to slide down. They still nabbed the offensive line help they needed, especially after taking Todd Gurley in the first round. Havenstein is regarded as an absolute force in the run game, and was the next logical step to building a central focus on a run-based offense in St.Louis.
Former Rams wide receiver Torry Holt's thoughts on Havenstein were shared by the team on social media.
St. Louis completed the second portion of what to looks be a well thought-out strategy to revamp the offense on the first two days of the draft. After getting Gurley first, and following with Havenstein, they were not quite done on Day Two.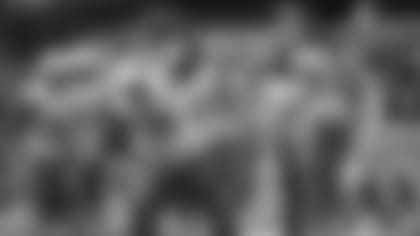 Round Three: Jamon Brown, T, No. 72 overall
Who He Is: A 6-4, 323 pounder from Louisville
What He's Done: Named second team All-ACC in 2014.  Was a first-teamer in 2013. Started all 13 games at left tackle for the Cardinals in each of the past three seasons.
NFL.com Analysis:"Thick, wide frame. Adequate power in lower half to get initial push. Quicker than expected out of stance and with initial steps. Can beat defender to the spot as position blocker. Play speed will be a plus inside. Straight-line mover in space with potential to be effective blocker on inside zone plays from guard spot. Has experience at both tackle spots and at guard."
What it Means:Much like Havenstein, Brown can be an impressive presence as a run blocker. His stability in college certainly is a plus, as his experience as a starter was regarded as an asset. After selecting two prominent linemen on Day Two, the Rams addressed what was perceived to be a top need entering the draft.
Longtime Rams offensive line anchor Orlando Pace was very encouraged by the emphasis on blocking.
St. Louis was not done with addressing the offense on the draft's second day, having acquired another third-round selection in their trade with the Panthers.
Round Three: Sean Mannion, QB, No. 89 overall
Who He Is:A 6-6, 229 pounder from Oregon State
What He's Done: Set 18 passing records for the Beavers. Was a four-year starter at Oregon State. Threw for a Pac-12 record 4,662 yards in 2013 with 37 TD passes and 15 interceptions.
NFL.com Analysis:"Played in pro-style offense and is comfortable with 3-, 5- and 7-step drops from under center. Trusted by head coach Mike Riley to make pre-snap reads and audible. Played in multiple-read offense and shows patience in allowing routes to develop. Good feel for pro-style play-action passing attack and can throw with above-average accuracy and ball placement."
What it Means:The Rams may have found a quality backup for Nick Foles who can also project to be their QB of the future. St. Louis placed an obvious emphasis on surrounding the passer with possible high quality players in the supporting cast, so Mannion enters into a potentially friendly situation.
What's Next:The Rams have four selections on Day Three of the draft. St. Louis will pick twice in the sixth round. Don't be surprised to see them bolster the offense again by taking one of the better wide receivers available.
Arizona Cardinals
Round Two: Markus Golden, DE, No. 58 overall
Who He Is: A 6-2, 260 pounder from Missouri
What He's Done:Started 13 games in 2014 and was named second team All-SEC.  Recorded 10 sacks for the Tigers last year.
NFL.com Analysis: "Plays with toughness and is a fighter. Turns effort switch on and it stays on. Can set and hold the edge against the run. Stays alive in pursuit and has extended motor down the field. Holds his ground at the point of attack. Shows good awareness and locates the ball quickly. Has strength in his hands. Heavy tackler."
What it Means: The Cardinals get a tenacious effort guy after moving down three spots in the second round through a trade with the Ravens. He projects to play at outside linebacker for Arizona, which was cited as a position of need entering the draft. He can certainly help the team improve its pass rush.
Golden echoed what most analysts have been saying about his nonstop motor.
While the Cardinals elected to address offensive needs with two of their first three selections, they did not overlook the defense with one of their most important picks. There is still strength on the unit, but the selection of Golden certainly helps the outlook of a group that needed to further fortify itself at linebacker entering the draft. The Cards then went back to the other side of the ball with their third-round pick.
Round Three: David Johnson, RB, No. 86 overall
Who He Is:A 6-1, 224 pounder from Northern Iowa
What He's Done:First player in Northern Iowa history to register three consecutive 1,000-yard seasons. Finished his senior season with 15 school records.
NFL.com Analysis:"Possesses a big body and falls forward for additional yards. Smooth pass-catcher out of the backfield and is a mismatch for linebackers. Has been a consistent weapon out of the backfield while in college. Uses an effective jump cut on inside runs to change direction and can string a couple of them together on the same run. Has good long speed when he gets into space."
What it Means:Arizona gets a big RB to complement Andre Ellington and give the team dual threats out of the backfield. If needed, he could potentially function as a featured runner. He is a versatile type who can see a lot of touches.
Cardinals head coach Bruce Arians believes he can depend on Johnson as a pro.
By upgrading the offensive line in the offseason and early in the draft, plus adding Johnson, Arizona is gaining increased offensive stability. It can only help Carson Palmer to have a dependable ground game, and Ellington becomes more of a weapon if he is used selectively. The Cards are making strides to threaten for the NFC West title again.
More Analysis of the Cardinals draft: I provide further insights on why Arizona has to be taken seriously as a NFC contender after their early draft selections right here.
What's Next: Arizona has six selections on the final day of the draft, including two picks in the fifth round. Look for them to possibly add an inside linebacker and some cornerback depth.
RELATED