Seahawks training camp presented by Bing concluded on Wednesday, which means, among other things, no more reporting on what happens during practice since they are now closed. So with that, let's get to the final version of training camp observations for 2015:
1. Jermaine Kearse had "a heck of a day."
As has been mentioned in this space before, it at times has been easy to overlook the Seahawks' top returning receivers because there is so much excitement about two new additions, Jimmy Graham and Tyler Lockett. But the consistent play of Doug Baldwin and Jermaine Kearse shouldn't be forgotten even if people are, for good reason, excited about two new pass-catchers. On any given day, a young receiver like Kasen Williams, Kevin Smith or B.J. Daniels might stand out with a few catches, but nobody has been more consistent on a practice-to-practice basis than last year's starters.
In case anyone needed reminding of that, Kearse finished training camp with a number of good catches and one spectacular one—a leaping, one-handed grab in the end zone with Richard Sherman in coverage. Russell Wilson's throw, which briefly looked like it was headed out of bounds, was in fact perfectly placed, because while it required a spectacular catch, it was a rare throw that was out of Sherman's reach.
"Jermaine had a heck of a day today," Baldwin said. "He's been one of the most consistent guys throughout the course of camp."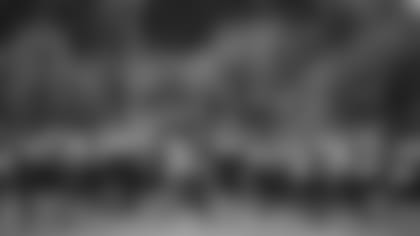 2. The new-look O-line is getting a serious look from coaches.
Given the amount of change we've seen along Seattle's offensive line so far, it would be very premature to say that anything is settled, but even so, seeing the same first-unit line for a third straight day is somewhat notable after so much shuffling. Whether or not Garry Gilliam remains the starting right tackle and Justin Britt sticks at left guard remains to be seen, but it's clear that Tom Cable and company want to take a good look at that combination before making any more changes.
At center, meanwhile, Drew Nowak continues to work with the starters, so expect to see him get the start in Kansas City after Lemuel Jeanpierre started last weeks' game. As Cable noted Monday, they're hoping to settle on a starting five sometime soon so the line can build some continuity, so this current group could help itself in a big way with a strong performance Friday.
3. Secondary depth: concern or strength?
With Earl Thomas and Richard Sherman being sidelined at times, and with Kam Chancellor yet to report, the Seahawks have had their depth tested in the secondary. But as players like Thomas, Sherman and Will Blackmon get healthy, and as young players continue to develop, it's apparent there are, in fact, going to be some very tough decisions to make when it comes time to set the rosters.
When Thomas wasn't on the field—he is still limited in his reps—Ronald Martin Jr. again was the starting free safety, while Dion Bailey worked at strong safety. Those two, along with DeShawn Shead, and Steven Terrell, all have made a strong case for jobs, but the realities of a 53-man roster means the Seahawks are very unlikely to keep six safeties. At cornerback, Blackmon returned from a groin injury, but was limited, meaning Marcus Burley and rookie Tye Smith split time as the nickel corner with the No. 1 defense. As much as secondary depth has been an issue because of injuries and Chancellor's absence, it's looking like it will be a pretty deep group if and when everyone is available.
[wysifield-embeddedaudio|eid="294846"|type="embeddedaudio"|view_mode="full"]
Emptying out the notebook:
Watching Garry Gilliam in one-on-one drills, it's evident why he has convinced his coaches to look at him as a potential starter. The former college tight end is just more athletic than most linemen, and it shows up when he's in space trying to block speedy ends like Cliff Avril and Cassius Marsh. Gilliam doesn't win every battle, but he's holding his own. Next up for Gilliam will be to show that he can be an effective run-blocker from that position in game situations. 
CB Douglas McNeil III returned to practice after missing the previous two days because of an ankle injury suffered in last week's game.
Undrafted rookie Kasen Williams ended camp doing what he has done so often, making a couple of spectacular catches, one on each sideline.
Toronto coach (and former Sonics assistant) Dwane Casey and several Raptors players were visitors at camp, and Utah Jazz coach Quin Snyder was there for a second straight day. 
Fittingly, Tyler Lockett stood out on the last day of camp, finishing strong after a camp full of big catches, and just as importantly, routine ones that showed his route-running ability and understanding of the offense. Lockett still has to show he can get it done as a receiver in games, but he has been consistent in practice on a day-in, day-out basis.
Seahawks Training Camp presented by Bing officially broke at the end of Day 15 practice.