On the eve of Oregon's pro day last spring, 15 or so NFL scouts were enjoying dinner at the North Fork Public House in Eugene when news broke that would change just about everything in the world of sports.
That evening, Utah Jazz center Rudy Gobert had tested positive for COVID-19, and the NBA suspended play, the first major domino to fall in what would quickly become a global shutdown of sporting events.
As NFL scouts, who were getting ready to see Justin Herbert and other Oregon prospects work out the next day, enjoyed their meal, they did so while wondering if this would be the last such gathering for the foreseeable future.
"We were all at Oregon's Pro Day, March 12, and there was a group of scouts, we were all having dinner," recalled Tyler Ramsey, the Seahawks' west area scout. "That was the night the NBA shut down, and I kind of looked around and I was like, 'Shoot, this might be the last supper of scouts. I might not see you guys for another year.' Then it's crazy that ended up somewhat happening."
Oregon's pro day did go on the next day, but that previous evening was the beginning of what would be a dramatically changed sporting landscape, one that has not yet fully returned to normal more than 13 months later.
And with the COVID-19 pandemic affecting football at the pro and collegiate level for the past year, evaluating players for the 2021 NFL Draft has been anything but normal for the Seahawks and 31 other NFL teams.
Every team has had to deal with the same challenges when it comes to scouting players for this year's draft, most notably the lack of an NFL Scouting Combine—last year's combine did take place before the sports world shut down—the inability to host 30 prospect visits at team facilities, and the cancellation of the East-West Shrine Game and the NFLPA Collegiate Bowl, to name a few issues. But while every team has faced similar challenges, each will hope that they were the best at adjusting to these unusual times, and that of course includes the Seahawks, who apply an Always Compete philosophy to everything they do, including scouting.
Through conversations with VP of player personnel Trent Kirchner, director of college scouting Matt Berry and west area scout Tyler Ramsey, Seahawks.com took a look at what was different about the past year for the Seahawks, and how they adjusted to be ready for the 2021 NFL Draft.
"It's less information, but I don't feel like we're less informed, if that makes sense."
Not long after the sports world began to shut down last March, it became clear to people in the Seahawks front office that they weren't just going to be dealing with a different 2020 draft, but that things would be different potentially for a long time. So as soon as the Seahawks wrapped up the 2020 draft, they immediately began figuring out how they'd prepare for the unknown of the next year.
Following most drafts, Seahawks scouts would get a well-earned break for all or most of May before diving back into film to study players who would be in the following year's draft class. Scouts wouldn't start digging into the process of getting to know players—the character evaluation, if you will—until August or so.
Last year, however, knowing the 2020 college season could look very different, or perhaps not even take place, Seahawks scouts began their work for the 2021 draft almost as soon as the 2020 draft was over.
"We've been out of a normal cycle now for two drafts, or a draft and a half since the end of last year's combine," Berry said. "So we're kind of used to the mode of having to adjust. Our guys started right after the draft."
When it comes to adjustments made by Seattle's college scouts—assistant director of college scouting Aaron Hineline and area scouts Josh Graff (southwest), Todd Brunner (northeast), Kirk Parrish (midlands) and Ramsey—Berry said, "They have been unbelievable. Really from last February—usually they get time off in the summer; they did not get much time off. We rolled right into this year's draft as far as getting information from coaches."
One big adjustment Berry outlined was the way scouts began doing their background work on prospects months earlier than usual. In a normal year, scouts might visit a college in the summer and have chances for one-on-one conversations with people around the program who could give more thorough evaluations of a prospect. Facing a scenario of video calls with college coaches that involved dozens of scouts on the same calls, the Seahawks knew less candid information would be available if they waited.
"One of the things we tried to get ahead on was talking to as many of our contacts and position coaches and guys in schools we had relationships with before other teams got on that," Berry said. "So we started right after last year's draft… I'm really proud of (the area scouts). The amount of time they dealt with COVID restrictions, extra tests, changes of (college football) seasons. Their ability to handle the changes and remain flexible, I'm really, really proud of them. They basically had to figure out how to scout in a totally different way and try to get the same information in a much harder way, and they did an excellent job of that. We adapted a little bit from a process standpoint, but those guys made it work. For me, that's the big takeaway is that we have a really freakin' good crew."
By making those calls to their contacts at different colleges early last spring, the Seahawks feel like they got perhaps more honest assessments on players than they might have had they waited until later in the process when an August visit to a school would have been replaced by a group Zoom call with a head coach.
"We reached out to position coaches, support staff well before they expected teams to work on the next draft," Berry said. "From that standpoint, we felt like we were able to get less filtered information. That was something our guys did a great job of. When I say they started right after the draft, I mean right after."
Perhaps no scout on Seattle's staff faced more challenges than Ramsey due to stronger COVID restrictions that went in place in west coast states like Washington, Oregon and California. It became evident early on that there might not be a Pac-12 football season at all, or that if there was that it would be an abbreviated one. With that in mind, Ramsey began writing up all of his scouting reports off of 2019 film in case there was no 2020 season.
"I jumped on all the work earlier, like May, June, right after the draft," he said. "I did as many reports and called as many people at every school as I could, because I didn't know what the fall was going to look like. So I was pretty much ahead early on in the process, then with the Pac-12 cancelling in August, to re-starting in October, we were kind of in limbo. BYU was the only school playing in my area for a while… You had to get creative and find ways to do your job with fewer resources."
Said Kirchner, "Really, credit to our college staff of Hineline, (personnel executive Jason) Barnes, Graff, Todd, Tyler and (NFS scout Ryan) Florence for—a lot of these schools you had to test to go to the pro day, and they're going from one school to another, so they're having to test frequently, find locations to test at, so it was a strain on those guys. But they did it and did a great job of it."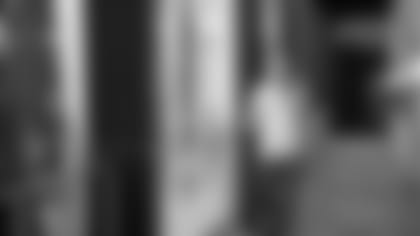 And it wasn't just the college scouts who had to adjust. The pro scouting staff—director of pro personnel Nolan Teasley, assistant director of pro personnel Willie Schneider, pro scouting assistant Armani Perez, personnel executive Alonzo Highsmith and pro personnel scout D.J. Hord—had to deal with restrictions on free agency, including limited visits. That in turn meant they were able to gather less intel on positions teams might be targeting, which means fewer tells on what teams might be looking for in the draft. On the analytics side, Patrick Ward, the team's director of research and development, and Josh Smith, the database architect/application developer, looked for ways to get more information out of game tape to compensate for any gaps in testing data with the lack of a combine, and with uncertainty about 2021 pro days, which did end up taking place, but weren't a sure thing to happen heading into 2021.
"Our analytics staff, Patrick and Josh, have found different ways to gather testing numbers for guys who didn't run maybe based upon film," Kirchner said. "They do a great job constantly trying gather information and trying to refine some of the stats or metrics we've looked at in the past. I think it's digging into the process more, and with there being less information, you just have to dig a little bit harder.
"It's less information, but I don't feel like we're less informed, if that makes sense."
The Challenge Of Medical Evaluations
While Kirchner for the most part feels like the Seahawks compensated as well as possible with less information, one place where it was impossible to fully make up for everything lost over the past year was the medical evaluations of players.
"If there's a spot we have less information, it's medical," he said.
While some players with injury concerns did go to Indianapolis for medical checks, it was only a small portion of 300 or so players who would normally be evaluated at the combine. Teams also can conduct their own medical checks in their building during the 30 visits, which didn't take place this year.
"It's really put a stress on Strick (head athletic trainer David Stricklin), (assistant athletic trainer) C.J. (Neumann), (assistant athletic trainer) Mackenzie (Marques), (assistant athletic trainer/physical therapist) Harrison (Grube), those people down in the training room having to contact schools and get medical information," Kirchner said. "… You're dealing with HIPAA laws, it's tough to get access. Our docs and training staff have really had to grind this offseason. It's been difficult, but they've done a great job and provided us with as much information as they could."
As Berry notes, teams would usually have full medical reports on roughly 350 prospects at this time in a normal year, this year that total is closer to 150.
"So there's a lot more questions about players' health and longevity," he said.
Lessons Learned For Future Drafts
While the Seahawks and every other team want to see the world get back to normal, there are things they have learned over the past year that they think can help them moving forward.
Berry points to the idea of having scouts start working on evaluations earlier as something that could stick, while Kirchner notes that coaches, scouts and the analytics department continue to push to come up with new ways to evaluate players.
Then there's also just the simple fact that the pandemic has made it clear that a lot of things can be done remotely that weren't in the past.
"From a communications standpoint and a technology standpoint, I think we're in a much better place than we were before COVID," Berry said.
Said Ramsey, "It's been a challenge, but it's been good too. It has shown us that we're able to do things a little different than it's always been done. None of us have this personnel thing figured out, so finding new little ways of doing things that might streamline it might be helpful going forward."
Kirchner credits the open-minded approach of general manager John Schneider with helping the Seahawks adapt well throughout the past year.
"John continues to try to fine-tune so many things," Kirchner said. "He doesn't push people, but we have people who do a great job of educating themselves and always trying to improve the process, and John has always been great at doing that and trying to get the rest of the staff to do that, and I think we've all taken that mindset in. No idea is a dumb idea, you know?"
For example, a coach or scout might take something to the analytics department and come up with an idea that can help the team in the future. Or, that idea might be met with a "why the hell are you looking at this," from Ward and Smith, Kirchner said with a laugh. "But nothing's ever off the table in terms of questions or ways to improve the process."
More Uncertainty & Less Depth
For fans and media members, the draft is always something of a crapshoot, though obviously some draft pundits are better informed than others. And while teams never know for sure what other teams will do, in a normal year, scouts and executives probably have a lot better idea of how things will unfold than those on the outside of the business. This year, however, the draft is likely going to feature more surprises even for the most informed people in the NFL.
In a normal year, plenty of information is exchanged between scouts on the road and at the combine, and things like free agent visits and 30 visits can act as tells heading into the draft, both on the positions and specific players teams might be looking at. Add to that the fact that there's less information on players from a medical standpoint, and that teams have had fewer chances to evaluate players both on the field and as people, and this year's draft has even more mystery to it than usual.
"When it comes to predicting what positions teams are going to take, free agency helps because you see what positions they bring in, and this year you didn't really have a true sense of what positions they were bringing in or working out," Kirchner said. "I think there will be more surprises than in the past."
Said Berry, "There's more uncertainty around every pick."
Ramsey added, "No combine is big, that's a level playing field to measure guys against each other, and it's a week of information gathering among your peers. It'll be very interesting to see which teams come out of this better and which teams don't in the long run. And I could see it being more predictable, yeah. There's definitely going to be surprises."
And in addition to being more unpredictable, this draft class is also expected to be less deep than usual, in large part because the NCAA gave players a chance to return to school for an extra year of eligibility next year. That likely won't change much in the early rounds—top prospects likely are still are going to come out given the chance—but if a senior is looking at being a late-round pick or potential free agent and can instead try to improve his draft stock next fall, a lot of those players will opt to go back to school.
"One of the biggest things about this past year is the amount of players who are going back to college," Kirchner said. "The NCAA allowed players an additional year (of eligibility)… If they're thinking, 'I'm a fifth for sixth-round draft pick, I'm going to go back, train my tail off, and try to improve my stock to a third or fourth-round grade.' So the overall numbers in this draft are down, but the biggest area it's going to affect is undrafted free agency."
Just how much worse the depth is won't be known for years to come, but in terms of sheer numbers, teams are dealing with a smaller talent pool.
"This year, I think there's only 650 or 700 guys who signed with agents," Ramsey said. "Last year it was 1,900, the year before that it was 1,800."
As Berry noted approximately 485 football players took the NCAA up on that extra year of eligibility, and while not every one of those players would have been drafted or even signed after the draft, "it really thins out the back half of the draft and free agency," he said.
On the flip side of that, Berry notes that "Next year's class is going to be incredibly deep and you might be able to get some more quality players than you normally would."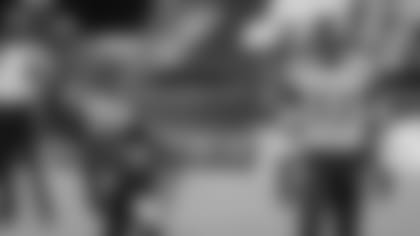 "John pretty much nailed that one."
The Seahawks head into the 2021 draft with just three picks—a second-rounder, a fourth-rounder and a seventh-rounder—a total they'd obviously love to see increase between now and the end of the draft. But given that this year's draft will be more unpredictable than ever, and that the depth is worse than in normal years, this might be the year to have traded away multiple picks ahead of time, if ever there were one.
The Seahawks gave up a lot last summer to get Jamal Adams, first and foremost because the All-Pro safety is a game-changing player. But they were also comfortable making a move that cost them their first- and third-round picks this year, as well as a 2022 first-rounder, in part because they knew there'd be so much uncertainty when it came to this year's draft.
"John pretty much nailed that one," Kirchner said. "That was talked about when we did it. It was discussed in terms of, 'The amount of information we'll have next year, who knows what it's going to be?' So looking back at it, you're looking at Jamal Adams as your first-round pick, you're elated."
The Seahawks also gave up a seventh-round pick last fall to add Carlos Dunlap II, then traded this year's fifth-round pick to add guard Gabe Jackson, so while they have only three picks, this year's draft has already landed them three impact starters.
"Any time you can add players to your team, be it through the draft or trade or free agency, that you know are going to help your team right away, you want to do that," said Berry. "And in the case of those trades, it's more expensive, but there's less uncertainty. We're jacked up about it. We're excited about Gabe, obviously Jamal had a great year last year and Carlos last season."