Sheila Trznadel spent a decade trying to teach her daughter, Faith, lessons about confidence and courage and believing that her potential was limitless, even if she was born without the tibia bone in her right leg, leading to amputation at birth.
But even though she has seen Faith, 10, come so far and accomplished so much to live those lessons taught to her by loved ones, Trznadel couldn't stop the tears from flowing late last Thursday night. The tears came because Trznadel, more than most, could appreciate what Shaquem Griffin has come to mean to Faith and so many kids like her around the country.
Griffin's story was known by most by the time he became the AAC Defensive Player of the Year as a junior at UCF, but he became something of a phenomenon earlier this year when he first stole the show at the NFL scouting combine before eventually getting drafted by the Seahawks in the fifth round of the 2018 draft. Griffin made it this far as a football player despite what many people throughout his life assumed would be a significant disadvantage—his lack of a left hand. Griffin was born with amniotic band syndrome, which kept his left hand from developing properly, leading to him having that hand amputated when he was 4 years old.
Yet even as coaches at every level doubted him, Griffin continued to thrive, riding a combination of athletic ability, determination and work ethic all the way to the NFL. Griffin played well enough in training camp and the preseason to secure himself a spot on the 53-man roster, and with K.J. Wright still recovering from arthroscopic knee surgery, Griffin will start Sunday's season opener at strongside linebacker.
So when Griffin, fresh off leading the Seahawks in tackles in their preseason finale against the Oakland Raiders, walked back onto the field well past 11 p.m. last week to meet a group of young campers from NubAbility, a non-profit that's mission is to "encourage, inspire and instruct limb-different youth in mainstream sports," he wasn't just another adult telling those kids that they can accomplish anything—he was living, breathing proof of it.
"At NubAbility, we teach them courage and confidence and tell them, you can do anything you want to do, but he showed them that you can," Trznadel, the executive director of NubAbility Athletics said, still wiping away tears. "It was this realization for them—this is what we drill into their heads every day—you guys can do this, don't let anybody take you down, there's no excuses. Our thing is, 'don't need two,' that's our hashtag. We constantly push them to be their best, no excuses. But then he went out and did it, right? So us telling them and someone doing it, it's two different things."
Griffin's interaction with the NubAbility campers included connecting with several of the children who starred in the goose-bump-inducing NFL 360 "I am Shaquem Griffin" video the NFL Network put out just before the draft, including a boy named Mason who portrayed the younger version of Griffin. Griffin joked that it was "like seeing famous people," and it's clear the interaction was as meaningful to him as it was for the kids who were meeting their hero.
"It's just really showing them that whatever you put your mind to, whatever you work for, you can always accomplish it," he said. "All it takes is hard work and giving it everything you got. It doesn't matter what limits you have, as long as you give it everything you've got, eventually it's going to pay off. A lot of kids nowadays, they start working, then when it gets too hard, they stop. You've got to be able to push through the hard parts, and eventually it will come out in your favor."
Griffin went on to call that postgame meeting with the NubAbility kids, "Amazing. You take pictures, you get a little hugs. That's the best part. It's heartwarming when you get with the kids and see the reaction on their faces, because not only are they making me happy, I'm making them happy too, so it's kind of a back-and-forth type of thing."
"It's something I would have never expected. It's crazy how it happened."
As Griffin continued to interact with the campers, Trznadel wasn't the only onlooker whose eyes were filled with tears.
Standing just outside the tunnel that leads to the Seahawks locker room was Tangie Griffin, the mother of Shaquem and his twin brother Shaquill, who just happens to be Seattle's starting left cornerback.
Oh yes, did we fail to mention that part? So incredible is Shaquem Griffin's story that it's possible to get more than 700 words into a story about him without even getting to the fact that he is teammates with his twin brother. And again, with Wright sidelined, Shaquem Griffin will start Sunday, meaning twin brothers will be starting on defense for the same team in an NFL game. Go ahead and read that last sentence again. Never mind Shaquem Griffin's inspirational story, for two twin brothers to make it to the NFL, let alone be teammates, let alone start together on the same side of the ball, it's all downright unbelievable—though oddly enough, New England currently employs twins Devin and Jason McCourty in its secondary, meaning there are two sets of twin teammates in the NFL. According to Elias, the last time twins played on the same team was when Earl and Myrl Goodwin suited up for the Pottsville Maroons.
Add it all up, Shaquem Griffin's remarkable story, the fact that he was drafted by the same team that selected his twin in the third round a year earlier, that they could actually start together this week, and you have such an over-the-top field-good story that, were it not true, would probably be rejected by a Hollywood studio for being too corny, too far-fetched for an audience to believe.
"It's the most amazing thing," Tangie said. "This was the right time, the best time. This is the best thing ever."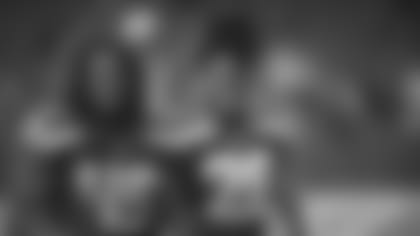 Tangie was emotional watching her son inspire so many kids, but tears are nothing new for here these days.
"There were already tears," she said. "I've been crying since the draft. I've been crying for a long time, and I just have not stopped. I'm just trying to hold it together. The kids are coming up and giving me hugs, and the parents, to see it in their eyes, it's such a priceless moment.
"As a mom, it has been one of the most amazing things I have ever experienced. Who would have thought that he would be in this position, and to have the platform to inspire so many different people, not just kids—he inspires me. I'm just grateful. He's a very humble kid. It has been amazing."
Tangie, Shaquill jokes, has become the family's designated crier. Oh sure, there were tears for Shaquem and Shaquill last spring when they realized they were going to be NFL teammates, but now the twin brothers are too focused on the upcoming season to get caught up in the emotion of the situation. That's mom's job now.
"She cries enough for all of us," Shaquill said. "I did my crying during draft day, so I'm done. She's more than excited for us. These past few months have been crazy for her and our whole family. I know it's been a lot of excitement for her, and it's going to continue that way, so hopefully she gets used to it."
Even if he has moved on from most of the emotion of this whole unlikely situation, the intellectual side of Shaquill still has a hard time grasping the fact that his twin, his best friend, the person he has gone through nearly everything in life with other than one year apart last year, is really sharing an NFL locker room with him.
"It's something you dream about, you talk about when you're younger, but for it to actually happen, I definitely couldn't have imagined that would actually happen," Shaquill said. "People say 'a dream come true,' we actually can say it and mean it, and not just use that saying. It's something I would have never expected. It's crazy how it happened, how this whole journey went, how it's going—going into game one, just to know that he's on the team, it's a blessing that we're going into Week 1 together as teammates."
Yet as much as Shaquem Griffin has come to mean to limb-different kids all over the country, and as special as it is sharing a field with his twin brother, he knows that his story can't reach its full potential, that his impact can't be as great if he doesn't take care of the actual football side of things.
"Still focus on the task at hand, and that's playing football."
Jim Nagy can tell you exactly when he made up his mind about Shaquem Griffin. The former Seahawks scout, who now serves as the executive director of the Reese's Senior Bowl, had been keeping an eye on Shaquem since he began scouting Shaquill. Nagy loved what he had seen from Shaquem during his junior year, but it was on a sweltering hot day in August that Nagy knew for sure that Shaquem should be a Seahawk.
"I went to the school last August, and Shaquem was living in the facility," Nagy said in a phone interview. "He was sleeping there during fall camp. And the cynical part of you is like, 'Is this for show, is this real? What's this all about?' So I just talked to all the guys on the defensive staff, and they said it was really real, he was doing it to be a leader.
"Then I went out to practice, and at the end of practice—it was a really hot day, first week in August, it's a swamp down there in Orlando, really hot practice—they were hitting it full-tilt that day. And then at the end of practice, they ran gassers, they were running those guys hard, and guys were starting to fall out. At one point, there was a big offensive lineman who was struggling, and Shaquem ran over and checked on him. Shaquem went over, took a knee next to him, let the kid rest on his shoulder and held him. You saw it, you saw the leadership, you saw the type of teammate he was. That was all I needed to see, it was real, it wasn't for show, it wasn't put on. Every little thing you can get as a scout, every little nugget you can get at a school, whether it's something you see or something you hear, it helps you gain conviction on a player. Just seeing him that day at practice, and watching the energy he practiced with, then to see that little thing with a teammate after practice, that's all I needed. Coach Carroll always talks about finding guys who love to practice. As a scout, you always want to find out, 'Does this guy love it, does he really love football?' It always comes down to, watch him practice. If he really practices hard and he's out there giving good energy, then yeah, he loves it."
Of course it was more than his heart or his love for the game that got Shaquem Griffin to the NFL. He's also an instinctual, hard-hitting player with blazing speed—he ran a 4.38-second 40-yard dash at the combine, the same time his brother ran a year earlier. All of that jumped off tape during the scouting process, and it has helped Griffin make his mark so far with the Seahawks.
"It was just his motor and his speed," Nagy said. "Usually when you call a guy a high-motor player as a scout, you're really talking about an overachiever, a guy who relies on his motor to compensate for some physical shortcomings. Well Shaquem brought both things to the table. He was blazing fast, and he played his butt off. You put those things together, and he just jumped off the tape. I always told players, the biggest compliment I could ever give a player as a scout is that they were fun to watch, and Shaquem was incredibly fun to watch on tape."
The evaluation Nagy and the rest of the front office had on Shaquem Griffin so far appears to have been an accurate one. The expectation was that Griffin would make big contributions on special teams this year while providing depth at linebacker, but he showed enough in camp to move into the No. 2 spot at weakside linebacker, and in four preseason games he led the team in tackles with 24, including nine in Seattle's first preseason game and seven last week against Oakland.
Yet it hasn't all been smooth sailing for the rookie linebacker. As talented as he is, Shaquem Griffin has experienced the usual rookie highs and lows so far this summer, but what has impressed coaches is the way he has bounced back from the occasional struggles, all while handling all of the attention that comes with his inspirational story.
"It has gone up and down a little bit," Seahawks coach Pete Carroll said. "First week, he had nine tackles. Second week he was lost, he was all over the place. You could see the newness just kind of affect him and I don't know what it was that got to him. He's been diligent the preparation and the process all the way throughout. But not until he came back Week 3—everybody was working with him, trying to get his feet on the ground, make sure he was just relaxing through the process as opposed to being overtight—he was trying too hard, he wanted it too much. It was so obvious that it made sense and he really just turned the corner. That happened Week 3, and Week 4 he played really good both of those weeks. So he really had one down week.
"I do think with all that has followed him, we have to stay with him and we've got to monitor him. It's almost too much for anybody in some regards. Having his brother right there next to him throughout all of this couldn't be more valuable. They ground off of each other, they fit off of each other so well, and they own up to each other really well. Shaquill will just tell him flat out what he needs to tell him, they don't mince any words at all. I think with that, he has as much support as he's going to need, I think he'll be able to handle it. But, everything's brand new, first-time stuff, first time officially starting the week, so we'll take each one, one step at a time and take them all through it."
Shaquem jokes that the twin bond between them is strong enough that during preseason games, he knew the lectures his brother was going to give even before he reached the sideline after a defensive series.
"What y'all don't know is he's getting in my ear about things I'm doing wrong, so I have to correct it," Shaquem said after the game. "There was one play where I came up and made a hit and I was going backwards, and he was like, 'I know that woke you up.' And I was like, 'Yeah, it did,' because I came up clapping and stuff, so he knows exactly how I'm thinking before I get to the sideline. He'll come get in my face and tell me about what I'm thinking before I can tell him. He knows I'll go and redeem myself. It's kind of crazy when he knows what I'm thinking on the field before I even come off."
Despite being the same age, Shaquill has in some ways taken on a big-brother role having been in the NFL for a year. His biggest advice to his brother has been to just keep things simple and stay calm on the field.
"The main thing I've been helping him with is just being calm with everything," Shaquill said. "I don't want him to be overwhelmed, don't want him to overthink, just want him to play football and play fast, and everything will come along. Just trying to help him understand the things I went through my first year. If you've got to play early, I just want him to play calm. Just play fast, have fun—you've got other people who have your back, and we're all going to have fun with you. I just want him to enjoy it and not over think it."
But as much as Shaquill can teach Shaquem about life in the NFL, late on a Thursday night in a nearly empty CenturyLink Field, it is Shaquem passing on the most important life lessons while his proud twin brother watches from a few feet away. As 30 kids swarmed Shaquem for hugs and pictures and autographs, they represented thousands more like them who, in the form of a rookie linebacker wearing No. 49 for the Seattle Seahawks, are benefiting from a real-life example of the lessons their parents have tried to instill in them—that anything is possible, that even the most challenging obstacles can be overcome, that dreams, no matter how unbelievable, can come true.
"I can't even put into words how proud I am of him," Shaquill said. "Everything he's doing, he's doing it the right way. He's not letting everything get to his head, he's using his platform to help others. He's putting everybody first before himself, and that's all you can ask for from a professional athlete. You can see he's making a difference not just in the community, but in the world. It's so cool to see, and that it's coming from my twin brother, I'm more than proud. It's hard to put into words the things he's doing and that he's about to do. He's only getting started."
Giving to Fly, a group that supports amputees and children with missing limbs by giving them the financial support to attend camps around the country, visited 2018 Seahawks training camp on Thursday, July 26 at Renton's Virginia Mason Athletic Center, where they spent time after practice with Seattle cornerback Shaquill Griffin and his twin brother, Seattle linebacker Shaquem Griffin, who had his left hand amputated at an early age due to amniotic band syndrome.