The Seahawks had already added three players as the middle part of the second round of the 2023 NFL Draft unfolded on Friday night.
In selecting cornerback Devon Witherspoon fifth overall, receiver Jaxon Smith-Njigba at 20, and outside linebacker Derick Hall at No. 37, the Seahawks had drafted what they expect to be three impact players while, rather than reaching for need, sticking with the grades on their draft board.
And as the as the 52nd pick approached, Seattle's fourth pick in the top two rounds thanks to last year's trade that sent Russell Wilson to Denver, they certainly had more concrete needs than a running back. What they did not have, however, was a player with a higher grade on their draft board than UCLA's Zach Charbonnet.
As they always do, the Seahawks did their due diligence during their allotted time on the clock fielding calls about trades, but when it came time to turn in the card, the choice was Charbonnet rather than an interior lineman on either side of the ball, which could have been seen as the bigger need.
"Go with the board," Seahawks coach Pete Carroll said to no one in particular as the pick was phoned in. Carroll then turned to Shane Waldron, who was standing near the back of the room, and said, "He's a heck of a player."
On a few different occasions leading up to this year's draft, as well as in past years, Seahawks general manager John Schneider has talked about the dangers of pushing a player up the draft board due to need. When the Seahawks have missed on players in their previous 13 drafts under Schneider and Carroll, it has often been, Schneider explained, the result of either not doing a good enough job of getting to know the person, or of reaching for a need.
Only time will tell how successful the Seahawks were in the 2023 NFL Draft, which saw them acquire 10 players, as well as an extra third round pick in 2024, over the course of three days. But what the Seahawks do know immediately coming out of the draft is that they stayed true to their draft board to select what they're expecting to be a second straight class that can make big contributions towards the team's success.
Throughout the three days of this year's draft, Seahawks.com spent time inside the Derrick Jensen Draft Room to give you a look at how things unfolded over the course of 10 picks.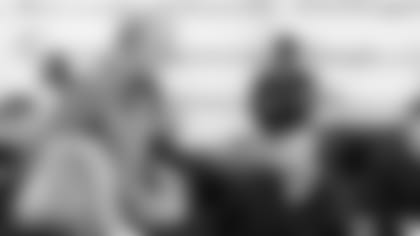 Day 1: Round 1
After Carolina took Alabama quarterback Bryce Young with the No. 1 pick, a decision just about everyone assumed was coming, what Schneider would describe as "probably the most random" draft he has seen was ready to really get going.
While everyone was expecting Young to go first, there was far less certainty over the No. 2 pick. Houston selecting quarterback C.J. Stroud was hardly a shocker, but it's clear from the reaction in the room that Houston's plans really were something of a mystery.
The Stroud pick is announced on TV, and Arizona is on the clock with the third pick. The Seahawks, who hold the 5th and 20th overall picks, have fewer than 20 players with first-round grades on their board, so there is no guarantee they'll come away from the first round with what they deem to be two first-round talents. Schneider and Carroll talk with Seahawks chair Jody Allen, vice chair Bert Kolde and president Chuck Arnold to discuss the options that lay ahead with the fifth pick approaching, depending on what happens with the next couple of picks.
With two minutes left on the clock before the third pick, Schneider asks the room if there's word of any Arizona trade activity. Moments later, vice president of football administration Matt Thomas alerts the room that Houston is on the clock, having traded up for the No. 3 pick, giving them back-to-back selections.
Schneider, while also on the phone discussing potential trades, asks for the volume of the TVs in the room to be turned down so he can confirm with Thomas the terms of Arizona and Houston's trade.
Houston picks Alabama outside linebacker Will Anderson, one of the top players left on Seattle's board along with Witherspoon. Schneider, meanwhile, is on the phone talking to a team interested in moving up.
The Colts take quarterback Anthony Richardson, a quarterback Carroll and Schneider have spoken very highly of both before and after the draft.
Schneider calls back the general manager looking to trade up and the conversation is very brief.
"We're picking," Schneider says.
Schneider's next call is to Witherspoon.
"We had a great visit with you, so we want you to get your ass back out here to Seattle, OK? We're going to select you right here," Schneider said before handing the phone to Carroll.
Later Schneider talked about those moments on Seattle Sports 710AM, saying, "We really didn't know what was going to happen in front of us. It was very much wide open. We had options there to go back. (Witherspoon) was a guy we really knew if he was there, we weren't going to trade back. Once Indy picked, we had a clear-cut idea of where we were headed. Everyone in the room just felt a sigh of relief. So we called off the dogs on other trades and went ahead and picked him, and it felt great."
The Witherspoon pick is announced on TV, and everyone in the room takes a quick break from all the busy activity to watch highlights of the team's newest cornerback.
A few moments later just outside the draft room, Carroll laughs as he explains how, on his way to pick up food the previous night, he saw in quick succession not one but two cars with Illinois plates.
"I thought, 'Holy cow, this is happening.' And it did," Carroll said.
As the middle part of the first round moves along, the Seahawks are getting closer to the second of their two picks on this night. Washington takes cornerback Emmanuel Forbes at 16, and the Seahawks still have four players left on their board with first-round grades with three picks to go. In other words, if they don't trade back, they're going to get a player they view as a first-round talent.
After New England picks cornerback Christian Gonzalez at No. 17, Carroll and senior director of player personnel Matt Berry are having one conversation while Schneider and assistant general manager Nolan Teasley are engaged in a separate discussion nearby. Throughout the draft, those four, along with director of college scouting Aaron Hineline and director of pro personnel Willie Schneider, were in nearly constant discussion about upcoming picks, potential trades and more.
After Detroit picks Iowa linebacker Jack Campbell and Tampa Bay takes defensive tackle Calijah Kancey, the Seahawks are back on the clock for the second time in the first round.
Schneider tells the room that if they're picking, it's going to be Jaxon Smith-Njigba, and with that Carroll looks back at offensive coordinator, Shane Waldron who gives an approving fist pump.
Schneider did say "if," however, so the pick hasn't been made just yet. Schneider is always going to do his due diligence, so he's at least willing to entertain trade offers while there's still time left on the clock. After Teasley gets off the phone with another team, he and Schneider quietly go over their options.
Carroll walks to the back of the room for a quick chat with VP of health and player performance Sam Ramsden and head athletic trainer David Stricklin, just getting a little reassurance. Smith-Njigba missed all but three games last season due to a hamstring injury, and as Schneider would tell the media later that night, that injury did complicate the evaluation somewhat, though it did also allow for a top-10 caliber talent to still be available at 20th overall.
As Carroll, Schneider, Teasley and Berry all huddle up, Thomas calls out "Two minutes," to the room. Moments later, the call to Smith-Njigba is made. After Schneider and Carroll welcome Smith-Njigba, Waldron takes the phone.
"Let's light 'em up," Smith-Njigba tells his new offensive coordinator.
"You, DK, Tyler rolling together, the rest of the receiving crew, I can't wait to see you here," Waldron says. "This will be awesome."
The Smith-Njigba pick is announced on TV by high school student-athletes from the Kansas City area.
"This is cool," Schneider says.
As the NFL Network shows Smith-Njigba highlights, Kurt Warner talks about Seattle's talent at receiver, and at one point refers to DK Metcalf as a "straight-line guy." This gets a chuckle out of Schneider, who says wryly, "Straight-line guy, huh?"
Following Seattle's selection of Smith-Njigba, the next three picks are receivers—Quentin Johnston to the Chargers, Zay Flowers to the Ravens and Jordan Addison to the Vikings—indicating the Seahawks picked the perfect time in the draft to get their preferred receiver.
The day is over for the Seahawks, who came out of Day 1 of the draft with the top players at two premium positions. But with eight picks still to go, including two more in Friday's second round, the work is far from done.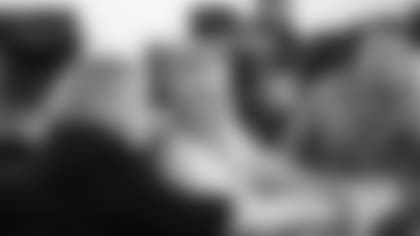 Day 2: Rounds 2-3
The second round is underway, and with Notre Dame tight end Michael Mayer going to the Raiders at No. 35, the Seahawks are two picks away with their top target heading into the day still available.
Remember how we said earlier that, as the 20th pick approaches, the Seahawks still had four players with first-round grades left on their board? A day later, one still remains, and it's Auburn outside linebacker Derick Hall, standing out alone on the top row of Seattle's board.
Carroll, Schneider and Teasley discuss trade possibilities.
The Rams pick TCU guard Steve Avila, and a big cheer goes up in the room. The Seahawks won't be trading.
Schneider makes the call to Hall, telling him, "We're going to make you a Seahawk, OK? You're going to have to ship that big truck up here," that last statement a reference to Hall's hobby of rebuilding trucks.
Carroll takes the phone, telling Hall, "We're really thrilled about getting you here. We've been watching this thing and we've been waiting on it. We feel very fortunate that we got you."
Moments later, defensive assistant and former Auburn defensive back Neiko Thorpe pops into the room to holler his one-word catchphrase, "Eeeee-zzzzz!"
After Tampa Bay takes North Dakota State guard Cody Mauch at 48, Seahawks are three picks away from being on the clock again at No. 52, and they only have a few players left with second-round grades.
The Steelers take Wisconsin defensive tackle Keeanu Benton—a player the Seahawks liked, though not the top player left on their board—followed by Green Bay selecting Michigan State receiver Jayden Reed.
The Seahawks are almost on the clock again, but Carroll, who's only comfortable if he's multitasking, has one eye on a TV in the corner of the room showing the Golden State vs. Sacramento playoff game so he can keep tabs on his hometown NBA team, which is coached by a friend, Steve Kerr.
As the Dolphins select South Carolina corner Cam Smith, Schneider is on the phone with a team trying to move up, but a deal doesn't materialize.
Charbonnet is the top player left and who the Seahawks want to pick, but they're still going to use their time in case an offer too good to pass up comes along.
"Go with the board," Carroll says to the room, then to Waldron. "He's a heck of a player."
Schneider makes the call to Charbonnet, and for the fourth time in as many selections, the Seahawks have truly stuck to their board and taken their top player.
"Congratulations, man," Schneider says after welcoming Charbonnet to the team. "Seattle Seahawks, we run the crud out of the ball here, right?"
Before telling Charbonnet how excited he is to add him to the team, Carroll has a little fun with him, saying, "Look, I'm not going to hold anything against you because you're a Bruin. I had nothing to do with this pick here. You'll be treated just like anyone else, I won't badger you because of where you played your ball."
On a nearby TV, an analyst says, "This feels like a Seahawks pick," which gets a pretty good laugh out of the room.
As Carolina selected Oregon outside linebacker D.J. Johnson with the 80th overall pick, the Seahawks are preparing for what is scheduled to be their fifth pick in the first two days of the draft.
Carroll and Allen, who spent all of the first three rounds in the draft room, enjoy a brief conversation as Tennessee picks Tulane running back Tyjae Spears, and with that pick the Seahawks are one pick away from being back on the clock.
Just after Tampa Bay picks Louisville defensive end YaYa Diaba, Schneider is back on the phone, this time with Denver, as the Seahawks are on the clock.
Schneider repeats the terms of a potential trade to the rest of the room, and as time winds down, he clears up one more detail with Denver—which of their two third-round picks next year is coming back to Seattle in the deal.
With about a minute left on the clock, Thomas calls in the trade, which sends the 83rd pick to Denver in exchange for a fourth-rounder (No. 108 overall), as well as a third-round pick in next year's draft, the later of either Denver's own third-rounder or the one they acquired in an earlier trade with New Orleans. Schneider would explain after the draft that adding picks for next year had been a goal coming into the draft, as they see next year's class as being a strong one.
With their third-round pick now traded away, the Seahawks are done picking for the night, but they aren't calling it a day just yet. Carroll and Schneider stand in the front of the room, intently studying the draft board as they look ahead to a Day 3 in which they now hold six picks.
Half an hour after trading away Seattle's final Day 2 pick, Schneider is still pacing in front of the board, almost as if he expects it to tell him what's going to happen the next day.
Allen, meanwhile, has a request.
"Let's get some hockey on in here," she says, referring to the Seattle Kraken playoff game against the Colorado Avalanche that had recently started.
As Schneider would detail later in his press conference, the third round, and the later parts of it in particular, saw several players go off the board that the Seahawks would deem as "upsets," meaning they didn't expect that player to go so early in the draft. In fact, as Schneider noted, some players going in the third round were players the Seahawks either had off their board for medical concerns, or were players the Seahawks had graded as potential undrafted free agent targets.
"This one is probably the most random that we've had so far in our 14 drafts since we've been here," Schneider said. "We've had guys come off our medical board already, we've had guys come off our free agent board already, and we're only in the third round. This is very random."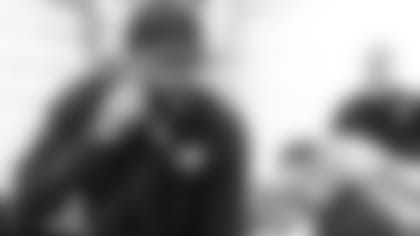 Day 3: Rounds 4-7
After Day 3 opens with New Orleans and Las Vegas picking Nick Saldiveri and Jakorian Bennett, respectively, Philadelphia takes cornerback and Tacoma native Kelee Ringo. Two more picks before Seattle is up at No. 108.
Jake Andrews, one of the top centers left on Seattle board, goes to New England. This gets a bit of reaction from the room, but not that big of one, because the Seahawks had another interior lineman in mind for pick No. 108 anyway, as well as another center they really like and would get later in the day.
Schneider makes the call welcoming LSU guard Anthony Bradford to Seattle.
"Great visit up here," Schneider says. "We have the 108th pick, and we're going to take you right here. Come get to work, buddy."
The Jets pick Pittsburgh tackle Carter Warren, meaning the Seahawks are two picks away. Schneider is on the phone, while Carroll, Berry and defensive coordinator Clint Hurtt discuss the upcoming pick.
As Teasley, Berry, Carroll and Schneider all huddle up, the Jaguars pick Ventrill Miller, an inside linebacker from Florida, meaning the Seahawks are one pick from being back on the clock.
In the back of the room, Hurtt watches nervously. Unless the Seahawks make a trade, which is always possible, he's one pick away from getting a big interior lineman for his defense, so long as Arizona doesn't beat Seattle to it.
The Cardinals go with UCLA guard Jon Gaines II, meaning the Seahawks are back on the clock and Hurtt is getting the nose tackle he wants for his defense.
As personnel assistant Hailey Holtz makes the call to connect Schneider with Mississippi State defensive tackle Cameron Young, Carroll looks back toward Hurtt with a smile and says, "You got a biggun."
Adds Schneider, "His back's almost as big as Clint's."
On the phone, Schneider asks Young, "You want to be a Seahawk? We're going to select you right here." After a pause, Schneider then sarcastically adds, "Actually you don't have a choice, we're going to select you right here."
"I was waiting on y'all," Young says in response.
Moments later, Hurtt tells Young, "I'm excited I got you so now I'm not the only guy with a wide back in the meeting room."
Three picks ahead of their first of two fifth-round selections, Schneider is on the phone talking about a potential move back.
Noah Sewell goes to the Bears, while Carroll, Schneider, Berry, Hineline and Teasley discuss the upcoming pick and the possibility of a trade.
Green Bay picks quarterback Sean Clifford, putting the Seahawks on the clock at 151.
Schneider gets Michigan defensive end Mike Morris on the phone to tell him he's coming to Seattle.
"I'm ready to work my ass off," Morris tells Schneider.
Hurtt gets on the phone and tells Morris, who moved around on the line at Michigan, that they see him as playing big in Seattle's defense as a 3-technique end: "You don't have to worry about backing up from the table anymore, you keep the damn calories on, you hear me?"
With another pick coming up at 154, the Seahawks don't have much time to celebrate the Morris pick.
Hineline has a trade offer on the phone and asks Schneider if they want to go back. With no hesitation, Schneider gives a quick, "No," before realizing that, in the interest of leaving no stone unturned, he should at least have Hineline tell him the offer. Hineline relays the trade details.
It's still a no from Schneider.
Tampa Bay picks linebacker SirVocea Dennis, and Seattle is back on the clock.
"We got him!" Carroll shouts.
The "him" being Michigan center Olu Oluwatimi, the other center who was up high on Seattle's board when New England took Andrews in the fourth round.
The team that had been on the phone earlier with Hineline calls back to check in, but is told the Seahawks are picking.
Carroll spots Seahawks Legend and Hall of Fame guard Steve Hutchinson, now a football consultant in Seattle's front office, and jokingly asks the Michigan alum, "Hey Hutch, where'd he go to school?"
After Schneider welcomes Oluwatimi to the team, Carroll makes it clear to the rookie that, Day 3 pick or not, he's coming to compete for the starting center spot.
"I know it's a long wait for you, but you've got your place now," Carroll says. "You've got a really competitive opportunity too. You come in here with your mindset, you're going to come out and get this job and see if you can own this thing. You're going to get a real good opp to take a look at it."
The music, more mellow early in the draft—think Bob Marley at a modest volume—has switched to loud country music as the sixth round unfolds.
Berry, Teasley, John Schneider and Willie Schneider are in the back of the room looking at where the team's depth chart stands after the picks the team has made so far.
With the Seahawks only three picks away, Schneider asks for the music to be turned down. In the past, this had been the job of John and Traci's son, Jack, but with Jack away at college, Joey Schneider, who with a law degree and the title of salary cap analyst/assistant to the GM is probably overqualified for role of draft room D.J., steps up and turns the music down.
Tampa Bay's selection of Eastern Michigan outside linebacker Jose Ramirez is followed quickly by Miami taking Stanford receiver Elijah Higgins. The Seahawks are now on the clock, and almost immediately Schneider gives a huge hug to Southwest area scout Ryan Florence.
The reason? The Seahawks are about to pick New Mexico safety Jerrick Reed II, a player who was on Florence's radar long before other teams knew about him, and a player who Florence presented to the team with a ton of conviction when Schneider and his scouts first got together to put together their draft board.
In a moment that is rare, if not unprecedented in Schneider and Carroll's previous drafts in Seattle, Schneider doesn't make the initial call to Reed. Instead, Schneider gives Florence that honor.
"J-Reed? Hey, it's Flo," Florence says. "We're going to make you a Seahawk right here. You're going to come here, get to work and kick some ass."
Later that day, Schneider would call Reed "one of our favorites," while Carroll praised his aggressiveness and toughness.
For three days, every time the Seahawks were on the clock Matt Thomas would call out updates as the time wound down: "Five minutes!" "Two minutes!" and so on. Thomas would also do the same to count down the final picks leading up to a Seattle selection.
And with Seattle's final pick of the draft, No. 237 approaching, Thomas announces, "We're one pick away."
Carroll, unable to help himself, says with mischief in his voice, "Hey Matt, how far away are we?"
The Colts select Northern Michigan tackle Jake Witt, meaning the Seahawks are on the clock for the final time in the 2023 draft.
After a brief discussion, Schneider notes that Georgia running back Kenny McIntosh, subpar testing numbers or not, is just too darn good of a football player to still be available this late in the draft.
Before Schneider can even tell McIntosh he's the pick, saying "you're too talented to be sitting here right now," the running back is crying on the other end of the call. The tears continue through McIntosh's brief chat with Carroll and running backs coach Chad Morton. Morton can't do much other than take in the noise of the celebration happening in the background and McIntosh's emotions.
"He was crying the entire time," Morton says after getting off the call, describing the emotions that would continue for McIntosh 20 minutes later when he talked to Seattle-area media.
The McIntosh pick put a bow on a 10-player class both Carroll and Schneider said features a common theme of toughness.
"It's toughness and physicality," Carroll said. Really, from top to bottom, it's a group that's really going to demonstrate that. We're fired up about that."
It's also a group the Seahawks are expecting can follow in the footsteps of a very successful 2022 draft class.
"It feels like we've continued from where we left off last year in the draft effort," Carroll said. "Just the kinds of people, the opportunities that the guys are going to be faced with when they come here and they see their chances, it's going to feel like last year in some regard. So It's our job to do a good job to knit that together and make sure that that happens so we maintain the momentum the movement. We love last year's class, and we were fired up about this year's class, and it just feels like we've added on to it. I'm really, really proud of the work that all the guys did and where we are right now. You have met a lot of these players and you can tell that they're the kind of guys that we love, and it feels like an extension of some really good stuff. We've got to prove that, but it's there for us to do. So It's really exciting."
Go behind the scenes with Seahawks team photographer Rod Mar as he documents the Seahawks Draft Room during the 2023 NFL Draft. Eye On The Hawks is presented by Western Washington Toyota Dealers.