Good morning, 12s. Here's a look at what's out there today — Friday, June 16 — about your Seattle Seahawks.
Pete Carroll Joins Man 2 Man Podcast To Talk Coaching Philosophy & More
With the 2023 season around the corner, Seattle is full swing into team building in preparation for a run at getting back on top in the NFC West. Coach Pete Carroll joins the Athletic's Michael-Shawn Dugar and Christopher Kidd on the Man 2 Man Podcast to discuss what it means to be a "player's coach" and what lies ahead in 2023.
In more than four decades of coaching at the collegiate and professional levels, Carroll has developed just as much of a rapport for his innovation in the player experience as he has for winning. The 71-year-old has always been a winner, securing two national championships at the University of Southern California before leading the Seahawks to a Super Bowl XLVIII victory. On Tuesday, Carroll led the rookie class on a canoe ride on Lake Washington with members of the Muckleshoot Indian Tribe in the team's latest excursion. Each activity combines team-building with competition, a Carroll specialty. Last year, the team ditched training camp to reset (and compete) at Top Golf. Carroll discussed exceeding expectations based on his coaching methods.
"I would be remiss if I didn't go along with that," said Carroll. "I don't mind at all breaking some of the boundaries; seeing things our own way, doing things our own way. And certainly overcoming odds and stuff like that, that's a big part of our mentality. We prepare to be effective in that manner. I'll take a big turnaround, big change, big comeback, overcoming the odds, the whole thing. I don't really care about doing it like anybody else is doing it, I like to do it our own way and figure out how we can stay unique in our own little space and create the magic we create and see how often we can do it. I'm looking forward to that always. But I don't use stuff like that to try to motivate, just doesn't have staying power to me. It's kind of hit-and-get-out kind of thing. So we're staying more true to the principles that guide us. And playing the best that we can play, always preparing at a high level. Always compete in all those things we do to try to maintain a consistency. I find if you lean on something like a theme for a season because you're underdogs and people are talking bad about you - it's not gonna last. It's not real. So we don't do that."
Player relationships are paramount, as blending personalities to create a cohesive unit isn't always an easy task. Carroll elaborated on his reputation for letting players be themselves.
"It goes way, way back in my early coaching days," said Carroll. "Back to my college days even. The stuff that I was working on, the stuff that I was studying, the stuff that moved me and turned me into a different direction was about performance. In general, we were learning and studying performance, but it led us to 'How can you get yourself in the best frame of mind to operate like you're capable of?' More consistently than the other guys. It was a performance kind of model that we followed, and it did lead to being consistent, you had to be authentic. You had to be true to who you are. So, the last thing I want to do with our players is try to make them like something that they are not. Or something that I wish they could be. So you hear me always talking about celebrating their unique qualities. I'm always looking for attributes and makeup that separates them from others rather than what makes them more the same. Because, you're going to be your best when you're being yourself. That's what I'm coaching for. I'm coaching to find ways to help people be really comfortable with who they are, what they can become with their hard work and practice. And then try to steward them along so that they can stay in connection with that authenticity, that allows them to be consistent. So, look at us, we've been here 14 years or something we're going on, and what I'm most proud of is our consistency. That's something we're always teaching, coaching and expecting. But we don't get there by making everybody the same. We get there by recognizing who they are, and trying to consistently elevate them to their best."
Check out the full podcast and all of Carroll's methods of success here.
Julian Love Has Number Retired By High School
Newly-signed Seahawks safety Julian Love hasn't yet had his opportunity to make his mark as a Seahawk, but he had a big impact at Nazareth Academy where he helped lead the Naz football team to back-to-back state titles. On Thursday, his alma mater retired the No. 20 in his honor, the first number retirement in the school's history.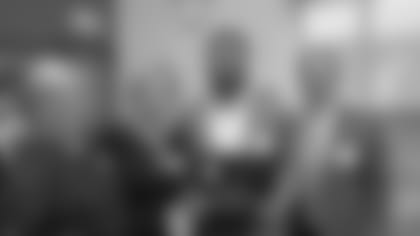 Love was surprised with a video tribute before giving a short speech.
"This jersey was special, because when I wore it, I had no expectations and none of the pressure of playing in college or the NFL. I was just playing a game with my friends," Love said before going on to thank his head coach at Nazareth, Tim Racki, the man he called one of his biggest allies.
"Retiring a jersey at Nazareth Academy holds a very high bar," said Nazareth Academy President Deborah Tracy. "The recipient of this honor must be outstanding in many ways, not only in our memory and in reality as a high school student on and off the field, but with a proven impact beyond their Nazareth years. Julian is just such a person; he continues to thrill us as a football player, while still remaining focused on the importance of education and giving back to the community. Julian Love continues to create a wonderful legacy, and we are bursting with pride as we officially retire the #20 with Naz Football."
Social Post Of The Day
Actor and die-hard 12 Jeffrey Dean Morgan joins GMFB to talk all things Seahawks.
With the offseason program ending after the ninth OTA, the Seahawks get one step closer to kicking off the season with training camp.