Here are five observations from Day 2 of training camp:
1. It's a normal camp for Jimmy Graham, which is a big deal for the Seahawks.
At this time last year, tight end Jimmy Graham wasn't practicing, and it was still very much in doubt that he would be ready for the start of the season due to the knee injury that ended his 2015 campaign. Graham did make it back for the start of the year and, despite limited preparation, he still made the Pro Bowl after establishing franchise bests for tight end receptions and receiving yards.
This year, Graham is back to full health and practicing fully each day in camp, something Pete Carroll called "a big highlight for us" during the offseason. Graham was very good last season, but with a full offseason and training camp to work with Russell Wilson and the rest of the offense, he could be in for an even bigger 2017.
"We were just talking about how much smoother everything is, how much confidence he has, how much confidence me and him have together," Wilson said. "He had a great year last year, and he's looking forward to an even better year, this year coming up. He's put all the work in— thinking about the work put in, in California, the work we put in here, all the detail. He's super pumped and he has a clear vision on what he wants to do and who he wants to continue to be, and he's one of the best teammates you could ever ask for in terms of his work ethic. And you know he's going to make a lot of great plays out on the field come Sundays."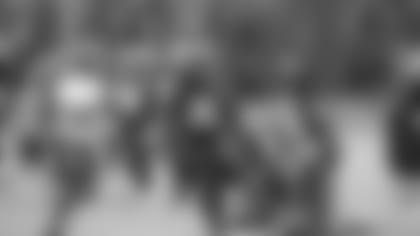 2. Alex Collins looks different… In a good way.
As a rookie, Alex Collins struggled to make an impact early in the season, and one reason for that, Carroll said last year, was that Collins was a bit heavier than he needed to be. Collins got into better shape late in the season and took advantage of more opportunities late in the season, and he is back for his second season looking a lot more like the late-season version of himself. If anything, Collins might be even a bit slimmed down and more explosive than he was when he had 162 all-purpose yards in three games during the final month of the season.
"He's leaner, he's faster, he's quicker," Carroll said in June after seeing Collins in minicamp. "He's all of that and he knows what he's doing now, so he's really positioned himself well to compete for a spot."
Collins is facing a lot of competition for playing time from players like Eddie Lacy, Thomas Rawls and C.J. Prosise, but after two days of practice, he looks like a player who can help the offense in 2017.
3. Mike Morgan isn't the only Seahawk happy about his re-signing.
Linebacker Mike Morgan, who has spent his entire six-year NFL career in Seattle, was a free agent until Monday when the Seahawks brought him back. And while Morgan was obviously happy to be back in an NFL training camp, he might not have been as excited as linebacker K.J. Wright, who interrupted Morgan's post-practice session with the media looking giddy that his friend was back.
"I don't know if he would have made it without me," Morgan joked. Moments later, Cliff Avril walked by and excitedly yelled, "Mike Mo's back!"
And now that Mike Mo is back, he'll be competing at strongside linebacker, where he was a starter last season, with newcomers Michael Wilhoite and Terence Garvin. Wilhoite opened the team portion of practice as the No. 1 strongside linebacker, while Garvin has impressed with his athletic ability thus far, at one point breaking up a pass deep down the sideline.
"I'm just here to compete, just like coach always preaches," he said. "It's definitely a deep room and I'm excited about the opportunity to get out there and compete and see what happens."
Morgan also hopes to make himself valuable by doing a bit more on defense this year.
"I'm trying to add to my versatility, do some more rushing, doing everything I can," he said. "Doing everything I did before, then stepping out and doing even more."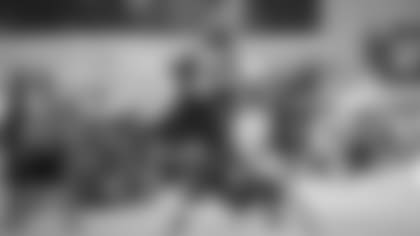 4. Kasen Williams is making a case for himself.
Receiver Kasen William ended Monday's practice with a nice diving catch over the middle of the field, one of several catches the former Skyline High School and University of Washington standout has made over the first two days of camp.
Williams, 24, has spent time on Seattle's practice squad and active roster over the past two seasons, and will need a strong performance in camp to win a roster spot at a deep, competitive position group. Williams had a good chance to make the team out of camp last year before a hamstring injury set him back, and if he can stay healthy and productive this year, he'll be in the mix.
5. Bobby Wagner and Richard Sherman are providing a lot of sideline entertainment.
In addition to being two of the best in the NFL at their respective positions, linebacker Bobby Wagner and cornerback Richard Sherman are also proving to be quite the entertaining duo at this year's camp. When those two aren't on the field, they can be seen mimicking one-on-one basketball battles, dancing, playing air guitar, and as was the case Monday, imitating wrestling moves (fortunately for Sherman, Wagner's elbow drop didn't land).
And speaking of Wagner, in an only-in-2017 moment, one young fan yelling for Wagner's attention didn't want a picture or an autograph, he instead shouted, "Bobby, do you want to spin my fidget spinner?"
RELATED
Photos of fans from the second day of 2017 Seahawks training camp at Renton's Virginia Mason Athletic Center.