Seahawks coach Pete Carroll, however, said Thomas is "flying" and looks as good as he ever has, and the version of Thomas that Carroll described was on display Friday, in particular when he leapt in front of a pass in the end zone for an interception. After a short return, an incredibly excited Thomas celebrated as only he can, running around like a man possessed before leaping onto the back of an unsuspecting Michael Bennett, sending them both crashing to the ground.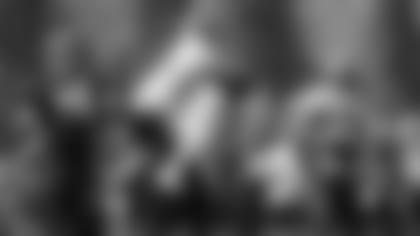 That interception and subsequent celebration might not have even been the most entertaining moment of Thomas' practice, however, which is a convenient segue to…
Here are five observations from Day 5 of Seahawks training camp.
1. Doug Baldwin vs. Earl Thomas is almost always worth watching.
On a team full of hyper-competitive players, few are more intense or driven than Thomas and Baldwin, who are not only two of the best in the league at their respective positions, but two of the most respected players on the team. When those two line up across from one another, particularly when receivers and defensive backs do one-on-one drills, intense battles ensue.
Earlier this week, Baldwin blew by Thomas with some nifty footwork—remember, he's easing into things—and Baldwin made sure Thomas heard about it after. On Friday, Thomas had tight coverage on Baldwin, but the receiver still made a great catch while going to the ground. Thomas then wrapped Baldwin up in something resembling a bear hug, though it was unclear if he was congratulating his teammate for a nice play or trying to squeeze him as punishment. After Thomas let go, Baldwin walked a few yards down field and posed a little bit, no doubt taking pride in beating one of the best defensive backs in the game.
2. Russell Wilson is noticeably quicker.
One notable benefit from being a bit slimmer is that Wilson is moving very well, which was on display Friday when Wilson ran about as much as he has in any practice. Wilson didn't just show straight-line speed, but also the ability to make people miss. Most notably, he used a nasty juke move on rookie Otha Peters, a cut that, as the kids would say, put the linebacker on skates.
On one hand, Wilson had a pretty remarkable 2016 in the way he was able to play through significant ankle and knee injuries, but on the other hand, the Seahawks would love to have the speedy, nimble version of Wilson back on the field in 2017.
"I'm amazed with what he went through and what he did (last year), and to be out there every day, to be there for his team, make plays for his team, and to gut out what he was gutting out, I think it speaks volumes for who he is," offensive coordinator Darrell Bevell said. "He didn't miss anything, obviously you can see that he didn't have his full game, but he played at a pretty high level and led us to a lot of wins. Is he better out here? Of course, he's had this offseason, he's been able to train, he's been able to work his arm, he's been able to work his legs, and he looks great out here."
3. The running game is "coming together."
Until preseason games arrive, bringing live tackling with them, it's a little hard to gauge just how well the running game is working, but with Thomas Rawls and Eddie Lacy leading the way, there have been encouraging signs early in camp. Rawls, who at this time last year was recovering from a serious ankle injury, looks fast and motivated, while Lacy appears to bring the big, physical presence the Seahawks were hoping to add when they signed him as a free agent. Add to the mix some strong play from the likes of Alex Collins, C.J. Prosise, Mike Davis and rookie Chris Carson, and there's plenty of reason to be excited about that position group and the running game as a whole.
"I just really like how the run game is coming together," Bevell said. "We really made an emphasis in the offseason to kind of get back to our stuff, I think we have really blocked some plays well, and then the running backs; I mean it's a pretty long list of guys that are flashing at different times. I love that Thomas Rawls is back out here healthy, you can see it, he's playing at a different speed than he ever did last year when he was out there; you can see Alex has slimmed down and he's looking really good; C.J. we fit in there; Eddie Lacy is out here, it's cool to see him and how he can bounce off things and gain some extra yards; Chris Carson has looked good as well running the ball, so there's a long list of guys and they've all had their moments."
4. "That's just not fair."
The above quote was uttered by a member of the media as Jimmy Graham hauled in one of his two red zone touchdowns late in Friday's practice, this one coming on a well-placed jump-ball from Russell Wilson. That particular touchdown was a bit unfair because it came with Graham being guarded by first-year safety Jordan Simone. That's not meant to be a shot at Simone, who was impressive enough as a tryout player in rookie minicamp to earn a roster spot, but it is worth noting that at 5-11, 191 pounds, Simone is giving up eight inches and 74 pounds to Graham. Oh, and let's not forget that Graham is a four-time Pro Bowler who is heading into his eighth season while Simone is in his first NFL camp and a year removed from football having sat out last year due to a knee injury that ended his final season at Arizona State.
Regardless of who is covering Graham, he has been awfully impressive in camp thus far, and his ability to make plays in the red zone is always a good sign for an offense looking to improve in that phase of the game.
"That's what we're always looking for, always trying to do," Bevell said of getting the ball to Jimmy Graham in the red zone. "It's a learning process for Russ, Jimmy, and the plays, and the things like how he fits into those plays, so it's a learning process there. It's great to see him, Russ, give him a couple of opportunities to make some catches and learn the body language, the catch radius, all of those things, and that's not to say we haven't had that, but there's always levels that you can take it to. I think you saw the two plays that he had where you're able to see that."
5. Cassius Marsh could be ready to "take the jump."
Cassius Marsh enjoyed the best season of his career in 2016, taking on a bigger role in the defensive line and recording 3.0 sacks while also playing a big role on special teams. But if the first few days of camp are any indicator, Marsh could be in for an even better year heading into his fourth season. Marsh has found himself in the backfield on a few occasions over the past few days, and has looked good in one-on-one pass-rush drills, and his teammates are taking notice.
"Cassius Marsh is a guy that I think is really improving every single day," said defensive end Michael Bennett. "I think he is really going to take the jump like Frank (Clark) did last year. This is a guy who has worked with me all this summer and to see his progression as a player, his conditioning, his work ethic and his mindset for the game this year. I think Cassius is going to be a guy who is very exciting and it is going to be a really great year."
RELATED
Photos from the fifth day of 2017 Seahawks training camp practice at Renton's Virginia Mason Athletic Center.