After being traded to the Buffalo Bills in 1985, Pete Metzelaars offered a glimpse of what it was like to play the
tight end position in coach Chuck Knox's "Ground Chuck" offense.
"A tight end can go an entire season in Seattle and the only thing he'll catch is a cold," Metzelaars, now the tight ends coach for the San Diego Chargers, said at the time.
Short. Succinct. And spot-on.
During Knox's nine seasons as the Seahawks' coach (1983-91), the most receptions by a tight end was 36 – by Charle Young in Knox's first season.
And things haven't gotten that much more productive at the position in the past 31 seasons.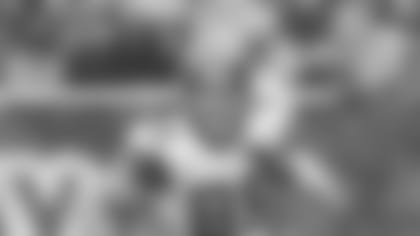 Christian Fauria had 37 receptions and 377 receiving yards in 1998. Itula Mili upped the franchise marks for the position to 46 receptions and 491 receiving yards in 2003. John Carlson (right) upped those numbers to 55 and 627 in 2008, when he led the team in both categories as a rookie.
Don't look now, but here comes Jimmy Graham.
The 6-foot-7, 265-pound receiver in a tight end's body who was acquired in a trade with the New Orleans Saints on Tuesday has had at least 85 receptions and 800 receiving yards in each of the past four seasons – topped by his 99 receptions and 1,310 yards in 2011.
Ninety-nine receptions and 1,310 receiving yards? The Seahawks' franchise records are 94 receptions by wide receiver Bobby Engram in 2007 and 1,287 yards by Hall of Fame receiver Steve Largent in 1985.
The Seahawks are not the Saints, obviously. Last season, Drew Brees had 659 passing attempts for the Saints to lead the NFL, while Russell Wilson's 452 attempts ranked 19th in the league – despite being the most in his first three seasons.
And Pete Carroll isn't about to become pass-happy Pete just because he now has Graham.
"We're always going to be running the football," the Seahawks' coach said Tuesday. "But we need those targets and he brings us an obvious opportunity to get the ball in the end zone."
Ah, the end zone. Graham has averaged 11.5 touchdown catches the past four seasons, including a career-best 16 in 2013. Eleven of those 16 scores came in the red zone, with four others covering 56, 51, 44 and 43 yards.
The Seahawks used four tight ends last season and they combined for six TDs – three by Luke Wilson, two by Cooper Helfet and one by Tony Moeaki. The franchise record for the position is seven by Carlson in 2009, with Zach Miller (2013) and Jerramy Stevens (2005 and 2006) tied for second with five.
In the past four seasons, Graham has had 50 receptions in the red zone – and 35 have been for touchdowns.
Knox, who is from Sewickley, Pa., always used a favorite line when something was beyond obvious: "That's eighth-grade Sewickley." And that definitely fits when it comes to the Seahawks never having a tight end with the potential put up numbers like Graham.