BALTIMORE—The Seahawks' two-game winning streak was snapped on Sunday in a 37-3 road loss to the Ravens. Despite struggles on both sides of the ball, second-year linebacker Boye Mafe provided a bright spot with a big play that allowed him etched his name in Seattle's record books, tying a franchise record with a sack in six consecutive games.
Last April, Seattle selected Minnesota linebacker Boye Mafe with the 40th overall pick in the 2022 draft. In 17 games played and three starts, Mafe recorded 41 combined tackles, three tackles for loss and 3.0 sacks. Through seven games played in 2023, Mafe has already doubled his rookie sack production, while finding his way into Seattle's record books with his current hot streak.
On Sunday, Mafe recorded a strip sack of Ravens' quarterback Lamar Jackson, recovering the fumble. It's Mafe's second consecutive game with a fumble recovery, and his sixth straight with a sack. On the day, Mafe combined for six tackles and the first-half forced turnover. The streak ties Seahawks Legend Michael Sinclair for longest run of consecutive games with a sack, which Sinclair set between the final two games of the 1997 season and first four the following year.
Coach Pete Carroll discussed the strip sack and performance of his second-year pass rusher following the contest.
"Huge play," said Carroll. "He just continues to do stuff in every game. He's really a good football player, and it shows. It's hard to do what he just did in the last six weeks. And he's just getting warmed up. He's just so young and so fresh, he's just getting started. It's exciting to know that. I wish we could have had some more contributions like that."
Safety Jamal Adams pointed out the consistency he's seen from Mafe following the game.
"He's been balling," said Adams. "Just consistently doing what he does best. He's getting better. Obviously, it's Year 2 for him, but sky's the limit for Mafe."
Fellow outside linebacker Darrell Taylor shared insight on his most-recent talks with Mafe, as he continues to blossom in his sophomore campaign.
"I just told that boy, he's just balling man," said Taylor. "He's on point with everything. Makes no mistakes and he takes advantage of all the opportunities he's got. He's on point, and you can't do nothing but wish him the best. He's a great player. We all look forward to seeing that and seeing him keep working."
Mafe and the Seahawks will look to bounce back in Week 10, and perhaps continue his streak against the Washington Commanders, who came into Week 9 tied for most sacks allowed with 41.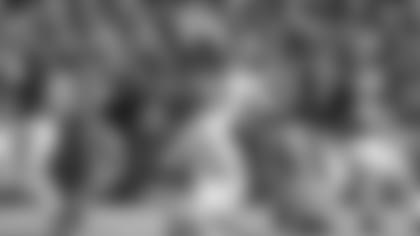 The Seahawks players hit the field to get loose ahead of the Week 9 matchup vs. the Ravens at M&T Bank Stadium in Baltimore, MD.