Here's a look at what's "out there" for today — Tuesday, August 22 — about your Seattle Seahawks: 
2017 All-Pro Team Projections
It's only the third week of the preseason, but NFL.com's Elliot Harrison took an early stab at projecting which players would make the 2017 All-Pro team. 
Two Seahawks players made Harrison's projections — both of them being on defense — in linebacker Bobby Wagner and safety Earl Thomas. Harrison believes Wagner deserves more credit across the league and that Thomas will be right back where he was before sustaining a season-ending leg injury last year: 
Inside linebacker: Bobby Wagner, Seattle Seahawks
*Wagner played his butt off again in 2016, and at this point, he deserves more acclaim than he gets. Yes, he's widely considered an elite MLB, but he should be thought of as a top player in the entire NFL. Middle linebacker is not the glamour post it was in the days of Dick Butkus, Jack Lambert or Mike Singletary, largely because of the league's aerial evolution. Thus, Wagner just won't get as much attention as other players manning more high-profile spots. That said, Wagner put on a clinic last season, a tackling manifesto that more than a few players -- linebacker units ... uhh, teams ... -- should aspire to replicate. *
Safety: Earl Thomas, Seattle Seahawks
*Pete Carroll gushed about Thomas in training camp, saying he was as fast as he's seen him since early in his career. Thomas' season ended prematurely last year with a broken leg, yet the key here is that the safety didn't suffer an ACL injury or some kind of ligament tear. Otherwise, we might've had to wait until 2018 for Thomas to roam center field the way he has throughout much of his All-Pro career. *
Pro Shop Item Of The Week
This week's featured item at the Seahawks Pro Shop are new beanies, which was sported by Wagner last Friday evening against Minnesota: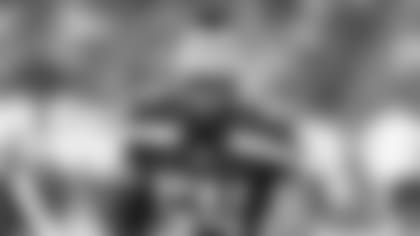 Tweet Of The Day
Today's "Tweet of the Day" comes from Seahawks center Joey Hunt, who shared this photo of his jersey swap with former college teammate Aviante Collins: 
Danny O'Neil of 710 ESPN Seattle doesn't think Fant's injury will slow down the Seahawks this season. 
The FNTSY Sports Network discussed the fantasy appeal of San Francisco running back Carlos Hyde, who will face the Seahawks twice this year. 
Finally, Danny Kelly of The Ringer looked at the best skill-set players around the league. 
Prior to the start of Monday's practice at Virginia Mason Athletic Center, Seahawks players, coaches and staff took in the 2017 total solar eclipse.