Seahawks defense end Michael Bennett hosted a pair of events over the weekend to benefit the Bennett Foundation, which aims to fight obesity through community education, activity and nutrition.
In addition to a dinner and auction that raised more than $400,000, Bennett also hosted an event call Ocean Health Fest at Camp Korey in Carnation. The Ocean Health Fest, which was attended by more than 500 kids and their families, featured health screenings, lunch and cooking demonstrations, and was sponsored by Safeway, Pineapple Hospitality and Delta.
Bennett takes his nutrition seriously, and wants kids to know how to do so as well to benefit their health.
"I noticed my game change when I really started taking my nutrition to the next level,'' Bennett told the Seattle Times Saturday. "Ever since then I think it's really changed my game… That's how I stay so healthy during the season."
During the dinner event at El Gaucho, teammates Cliff Avril, Doug Baldwin, Jermaine Kearse, and Steven Hauschka, Seahawks coach Pete Carroll, and Patriots tight end Martellus Bennett, Michael's brother, all served as celebrity waiters to help the cause.
"They were both great events," Avril said. "A few guys came out and raised a lot of money for his foundation. Coach Carroll, Doug, myself, Martellus Bennett, Jermaine Kearse, Hauschka, quite a few guys came out. It was a great event, Blue Thunder was there. They raised a lot money for his foundation, which is for a great cause. I was just happy to be there."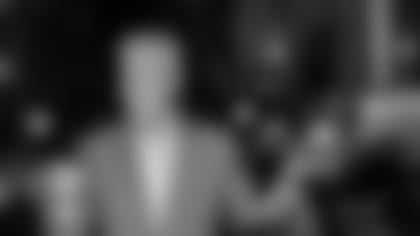 In a "battle of the desserts," Carroll beat Baldwin in auctioning off desserts, fetching $6,000 for a dozen cupcakes. Baldwin, however, said he was at a competitive disadvantage given the demographics of the crowd.
"There were some older ladies who were fond of the gray hair," Baldwin joked. "I couldn't really compete with that, unfortunately."
Seahawks teammates, past and present, helping each other at events has become a regular occurrence during the offseason, whether it's teammates participating in Earl Thomas' camp in Orange, Texas, or at Marshawn Lynch's camp in Oakland, or at Kam Chancellor's "Bam Bam Spring Jam" in Norfolk, Virginia, or even helping Avril build a school in Haiti.  
"That's awesome," Avril said. "Most teams, guys don't get along this well, and for us to be able to come together off the field and help with community work and things like that, it speaks volumes about the type of people we have on our team, and it also shows on the field on Sundays."
Added Baldwin: "We just have a great love for each other in this locker room. On any successful team, the wins are kind of a byproduct of the chemistry and the relationships in the locker room. All of us have great relationships, we truly do care about each other, and that shows when we do events like that."