Curious who plays in each game and how much they play, as well as what the distribution of playing time might mean? Throughout the season, we'll post the snap counts for the Seahawks the day after each game and take a look at what stood out.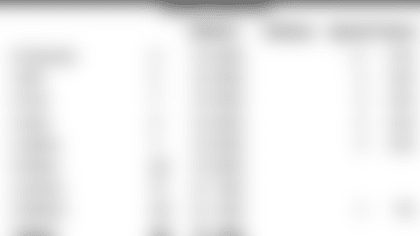 Offense
The offensive line, as well as Russell Wilson, played all 70 offensive snaps, while reserve tackle J'Marcus Webb also played three snaps when the Seahawks went heavy at the goal line.
Jimmy Graham played 96 percent of the snaps with the Seahawks often using one tight end and three receivers, while Brandon Williams and Nick Vannett each played 17 percent.
Doug Baldwin led receivers in playing time at 90 percent, followed by Jermaine Kearse (90 percent), Tyler Lockett (60 percent) and Paul Richardson (26 percent). Richardson made the most of that limited playing time, catching two passes for 52 yards.
C.J. Prosise started at running back for the first time and played 77 percent of the snaps while leading the Seahawks both in rushing and receiving yards. Christine Michael played 16 percent of the snaps, Alex Collins played 3 percent and fullback Will Tukuafu played 14 percent.
Defense
Bobby Wagner, Earl Thomas and Kam Chancellor played all 67 snaps, and if you'll notice the total number, this is the first time in four games that the number of plays, and with it time of possession, weren't lopsided in favor of the opponent. This week, the Seahawks ran four more plays from scrimmage than the Patriots and edged New England in time of possession 30:25 to 29:35. That's hardly an easy day for the defense, especially against an offense that tested Seattle like New England's did at times, but it does represent a positive shift both in terms of the offense staying of the field and defense getting quick stops to get off of it.
With the Seahawks playing a couple of snaps of dime defense (six defensive backs), K.J. Wright was off the field for two plays, replaced by safety Steven Terrell.
Cornerbacks DeShawn Shead and Richard Sherman both played 90 percent of the snaps, coming off for seven plays when the Seahawks were in goal-line defense.
Frank Clark and Cliff Avril both played 88 percent of the snaps to lead defensive linemen, followed by Ahtyba Rubin (55 percent), Jarran Reed (54 percent), Tony McDaniel (51 percent), Cassius Marsh (46 percent), Sealver Siliga (21 percent) and Damontre Moore (19 percent).
Brock Coyle didn't start, as the Seahawks opened the game in nickel, but he again was the strongside linebacker, playing 58 percent of the snaps, while nickel corner Jeremy Lane played 42 percent.
Special Teams
Brandon Williams again led the way in special teams playing time at 85 percent, followed by Kelcie McCray (78 percent), Steven Terrell (74 percent), Brock Coyle (70 percent), and Neiko Thorpe and Dewey McDonald at 63 percent.
See some of the action from Sunday Night Football, Seahawks at Patriots during Week 10 at Gillette Stadium.