Shortly before the Seahawks left the Virginia Mason Athletic Center to begin their journey to Munich, their practice concluded in a most fitting manner.
On the final play of a "Turnover Thursday" practice—yes, it was Wednesday, but with the trip overseas, the Seahawks got a head start on their practice week, doing Wednesday's work on Tuesday—linebacker Aaron Donkor, a player born and raised in Germany, finished the day with an interception, making a nice grab on a tipped ball for a practice-ending play that had Seahawks coach Pete Carroll and his teammates all fired up.
Then, after Carroll briefly addressed the team, he called Donkor to break down the team huddle, which he did with an "Eins, zwei, drei, Hawks!"
An international game is a unique experience for any NFL team or player, but for Donkor this week is particularly special. Donkor, who is from Achern, Germany, grew up focusing on basketball but eventually found his way to football as a young adult. That led him to the U.S. where he played college football at the New Mexico Military Institute and Arkansas State, then eventually to Seattle where in 2021 he was assigned to the Seahawks' practice squad as part of the NFL's International Player Pathway Program.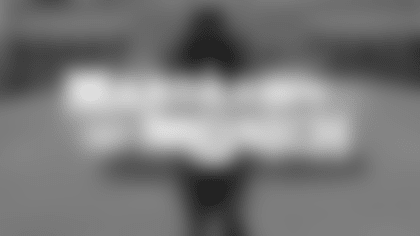 Marshawn Takes Munich
New series drop, Marshawn Takes Munich! Watch this special 5-episode series as Marshawn explores Munich from going Lederhosen shopping to practicing with FC Bayern and more. Series will premiere on November 1st on the Seahawks YouTube Channel. Don't miss out! Sign up below to get notified as each new episode airs.
Neither Donkor nor the Seahawks could have known it when he joined the team in 2021, but that journey would eventually lead to him returning to his home country, with the Seahawks set to play the Buccaneers Sunday in Munich in what will be the first regular-season NFL game played in Germany.
"I think God just set this up, and I'm right in the middle of it," he said. "And the beautiful thing is, it's not about me. It's about everybody that is enjoying it and a part of this journey to bring football overseas, and I hope that we inspire people to follow this beautiful game of football."
Germany has long supported American football more than most European countries, something Donkor attributes to the American military presence in that country since World War II, and the Seahawks have a particularly large following there, so he is expecting a pretty pro-Seahawks crowd on gameday and around the city.
"German fans are going to embrace us and love us," he said. "I'm not sure on if they know who to root for, but we'll make sure they are with us when we step on that field; that's the goal.
"I feel like the Germans are going to do their thing. They are great hosts. They have been preparing and organizing and making sure everything is set up. It's going to be a party. I already know they are excited, and it's going to be a Super Bowl in every sense of the word."
With his hometown located about a five-and-a-half hour drive from Munich, Donkor is expecting a big turnout from family and friends, though not as big as it could have been had tickets not been in such high demand.
"I could have given out as many tickets as I could have received and I'm very, very grateful that they threw some tickets at me," he said. "I passed them out to the people that I thought of first and I apologize to everybody who I didn't get. I'm looking forward for the people that are coming. I think that it's bigger than the people who are coming or not coming, it's about us all coming together and seeing the bigger picture."
Donkor and his teammates are on a work trip first and foremost, but they will have a little bit of downtime, and he had some ideas for how he and his teammates, or visiting fans, could spend a little free time.
"There is an art gallery that is pretty cool, I'm going to check it out," he said. "There's a great museum, I think the BMW museum is not too far away. You have to check out the food. The Italian border is not too far away, so I think there is a good gig to find a hole in the wall and just sit down and enjoy. The German food, you have to try, the German beer, and you just have to get settled in, embrace it, and make it a great moment."
As for his favorite German cuisine, he offered up a holiday favorite.
"Around Easter we always eat Klösse (dumplings) with duck and some Rotkohl (red cabbage), and that's pretty good," he said. "It always reminds me of coming together at home and I think it is pretty good."
Some of Donkor's teammates have expressed a desire to learn the language from him, but as he dryly noted, "They don't come to class."
Fellow linebacker Jordyn Brooks said he has been asking Donkor about German ahead of the trip, inquiring about topics such as, "What's the weather like, the people, the food? The food is the biggest thing for me, I've got to see what the food is about. That'll be the first thing I check out."
And like Donkor, Brooks is hoping to experience at least a little bit of what Munich has to offer as time allows.
"Obviously it's going to be exciting to go to a different country, see different things, see different people, eat different food," he said. "But you got to find that balance to still prepare, because coming to play a football game. And so it's just being a professional and find that balance."
For Donkor, this is more than a business trip, of course. He will be focused on helping the team get ready for Sunday's game, of course, but he will also be representing his country and the sport that continues to gain in popularity in Germany.
"I'm excited for this weekend for many reasons, and I'm blessed to be here," he said.
On the final practice at the Virginia Mason Athletic Center before the Seahawks took off for the first-ever NFL regular season game in Germany, Oberto and Bavarian Meats provided some alphorn players to help set the mood.