The Seahawks are off to Germany soon, so let's get right to it with this week's mailbag. As always, thanks to everyone who asked questions this week, und Entschuldigung, wenn ich Ihre Frage dieses Mal nicht beantworten konnte.
Rob Hettinga from Hermiston, Oregon asks, "With the Seahawks playing in Germany this Sunday, how much will that change their prep and routine compared to if they were playing in Tampa Bay?"
A: The routine for this week will change quite a bit, mostly because the Seahawks are leaving for Germany on Wednesday in order to adjust as well as they can to the nine-hour difference. Were this game in Tampa Bay, the Seahawks would follow their usual plan for a trip east, which would mean a normal week of practice Wednesday, Thursday and Friday, followed by a Friday afternoon flight that would arrive late that evening. Saturday would consist of a walkthrough and meetings, then gameday on Sunday.
With a trip across the Atlantic, the Seahawks are leaving Wednesday, and with the time difference and a long flight, it will be midday Thursday when they arrive. Because of that lost time, the Seahawks are getting extra work in before they leave, having held a practice on Tuesday—usually the players' day off—as well as Wednesday, meaning they can have a light session Thursday after they arrive without feeling like they're behind on their preparation. Other than the obvious fact that they're in Munich and not at home, Friday's practice will be pretty similar to normal, and Saturday will be meetings and a walkthrough as usual.
As Pete Carroll discussed Monday, this plan is very similar to the one the Seahawks followed when they played in London in 2018, beating the Raiders 27-3.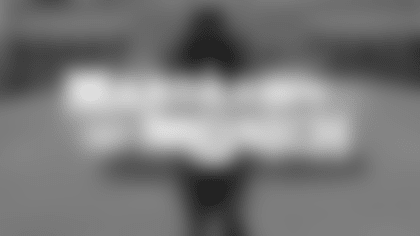 Marshawn Takes Munich
New series drop, Marshawn Takes Munich! Watch this special 5-episode series as Marshawn explores Munich from going Lederhosen shopping to practicing with FC Bayern and more. Series will premiere on November 1st on the Seahawks YouTube Channel. Don't miss out! Sign up below to get notified as each new episode airs.
@CFR624 asks, "Which of these awards do you see as most likely for the Seahawks to win: Coach of the Year (Pete Carroll), Executive of the Year (John Schneider), Offensive Rookie of the Year (Kenneth Walker III), Defensive Rookie of the Year (Tariq Woolen), Comeback Player of the Year (Geno Smith), MVP (Smith) or Mascot of the Year (Blitz)?"
A: First off, is that last one even a real award? Taking the bird out of the equation for a moment, I can't help but marvel at the fact that it's tough to answer that question because so many of those feel like very real possibilities.
Carroll and Schneider should have both won Coach and Executive of the Year at some point, especially early in their tenures as they built the Seahawks into one of the NFL's best franchises, so maybe they get some long-overdue recognition this year? It's hard to say who is more deserving, because you can make a great case for both. Carroll has, over the course of his tenure here, built an incredibly unique winning culture, and while that's something that is often hard to quantify, it is showing up in big way with this team. He also believed in Geno Smith when a lot of coaches wouldn't have, helping set the table for Smith's incredible 2022 campaign, and Carroll also wasn't afraid to feature rookies in starting roles, nor was he too set in his ways to empower Clint Hurtt, Sean Desai and company to make significant changes to the defense, which after some early-season struggles has been one of the best units in the NFL for the past month.
Schneider, meanwhile, oversaw a draft class that has already produced six starters, with a couple of them already developing into young stars. He re-signed Smith, a move that might not have garnered a lot of attention at the time, but that has obviously been massive in retrospect, and in free agency he added outside linebacker Uchenna Nwosu, who is playing at a Pro-Bowl level, while also adding several other key pieces to the defensive front like Shelby Harris, Quinton Jefferson and Bruce Irvin. And while it was no-doubt a very difficult decision to move on from a nine-time Pro-Bowl quarterback, the trade that sent Russell Wilson to Denver landed the Seahawks two starters in Harris and tight end Noah Fant, and a ton of draft capital that has already turned into left tackle Charles Cross and either running back Kenneth Walker III or outside linebacker Boye Mafe (we don't know who Seattle would have picked with those back-to-back second-rounders had they only had one pick and not Denver's pick as well).
As for the players, Smith has to be the favorite, if not the co-favorite with Giants running back Saquon Barkley, for comeback player of the year. MVP will be a tougher ask, but if the Seahawks stay hot, he has to be considered a legitimate contender. As for the two rookie awards, Walker and Tariq Woolen, both coming off of October Rookie of the Month honors, are among the favorites as well.
With half a season left, I'm not going to attempt to rank the odds of winning each of those awards, but again, it helps illustrate how well things are going in 2022 that we can sit here and make a legitimate case for so many possible awards for the Seahawks.
Vicki Kellum from Silverton writes looking to settle a dispute with her University of Georgia-loving husband who "is under the misconception that my beloved Seahawks would be lackluster against the Bulldogs. Please settle this rift in our relationship?"
A: I haven't heard a discussion like this in a while, but every so often when a college team is looking like a juggernaut, inevitably a debate comes up as to whether that team could beat the worst team in the NFL. The answer is no, and it's an even more resounding "of course not, don't be ridiculous" when we're talking about a playoff-caliber team like the Seahawks.
The thing to remember when we're talking about a great college team, even a national championship-caliber one, is that they still have a lot of players in starting roles who are simply not NFL-caliber players. Furthermore, setting talent aside for a second, NFL players are just more physically mature and have that many more years of NFL-caliber strength and conditioning work that will further exacerbate the mismatch.
Yes, a loaded college team has some elite players who could compete right now with NFL talent, but when you're looking at all 11 players on the field at any given time, there inevitably would be a few of those college players just completely overmatched by the NFL player lined up across from them. And this is particularly true when we're talking about offensive and defensive line play. Let's say a hypothetical No. 1 college team has three future NFL players on their offensive line—and that'd be one hell of a college line—but the two who aren't are the center and one of the guards. How will that interior line hold up to someone like Al Woods, the epitome of Old Man Strength, Poona Ford and Shelby Harris attacking those two players? Lemme give you a hint… They'd get wrecked.
There are a million reasons why a "best college team vs. worst NFL team" would never happen, but if it did, and that NFL team had incentive to take the game seriously, it wouldn't be close.
@seattle_patriot says, "Woolen picks off Brady."
A: Not sure if that's a prediction or a request, but sounds good to me either way.
@Its_A_Count asks, "Will players and coaches have time for a little sightseeing in Munich? If so, what is the team looking forward to in Germany?"
A: For the most part this trip is business as usual, but as Carroll noted this week, he does see this as being something like an NFL version of a college bowl game, and does want his players to enjoy the unique experience. Tight end Noah Fant brought up a point that probably applies to a lot of players, which is that he's never been to Europe, so he just wants to get out a bit and experience a different culture and way of life. Players will get a few pockets of down time in their schedule, just as they would were they home for a game or on the road, and no doubt some will get out and explore the city a bit, but obviously they won't be getting the full tourist experience.
@CelestialMosh asks, "Which of the rookies are playing at a Pro-Bowl, if not All-Pro level?"
A: The Seahawks have six rookies who are currently starting or playing significant roles on offense or defense—tackles Abraham Lucas and Charles Cross, cornerback Tariq Woolen, running back Kenneth Walker III, nickel corner Coby Bryant and outside linebacker Boye Mafe—and two more rookies, Joey Blount and Dareke Young, are making big contributions on special teams.
As for which ones are playing at a Pro-Bowl level, the obvious answer is the two players who just won NFL Rookie of the Month honors—Woolen and Walker. Woolen, who had four interceptions in four games before teams started avoiding him in recent weeks, already is looking like a lockdown cornerback who should and likely will garner Pro-Bowl and/or All-Pro consideration. Walker, meanwhile, has been one of the NFL's most productive backs since taking over for an injured Rashaad Penny, so he too has a great shot if he keeps this up.
Beyond those two, the best rookies have probably been the two tackles, but one thing Lucas and Cross would have going against them is that, quite often when it comes of offensive linemen, they don't getting Pro-Bowl recognition until they've been playing at a Pro-Bowl level for a year or two.
@HolliWinters says, "Be sure to try the beer in Germany!"
A: Consider it done, but only because I feel it is my duty as someone reporting on the team's experience traveling to Germany. I'll be drinking those beers for you, the readers. A great sacrifice.
@WasEinHamburg asks, "The 12s will go nuts around Munich, are your ready for this? And while you're staying in Germany, what would you like to do/see/eat/drink, but won't have time to do?
A: First off, yes, the Seahawks are very ready for the 12s to turn out in big numbers in Munich, much like they did in London in 2018. I remember talking with some of members of the German Seahawkers who came to that game in big numbers, and it's clear the Seahawks have a ton of fans in Germany. This is technically Tampa Bay's home game, but I'm not going to be surprised at all if it sounds like a Seahawks home game, much like it did at Wembley Stadium four years ago.
As for what I'd like to do, well, see the previous question—though I will find time for beer. In general, any time the Seahawks travel to a place I haven't visited, I mostly like to just explore the city, walk around, try some local cuisine, etc., and I plan to do that as much as time allows this week. Obviously, Munich has a ton of interesting history, beautiful architecture, etc. and a few days there while working isn't enough time to see everything. But if there was one thing I'd love to do that isn't going to be possible on this trip, it would be to attend a Bundesliga match.
@StaceAMx14 asks, "How can we watch the game from Seattle?"
A: For most of the country, you'll need the NFL Network or NFL+ to watch, but in the Seattle area, you can watch on free over-air TV on KIRO 7. And of course, you can always hear Steve Raible and Dave Wyman's fantastic call of the game on your radio on Seattle Sports 710AM.