By Mike KahnSeahawks Insider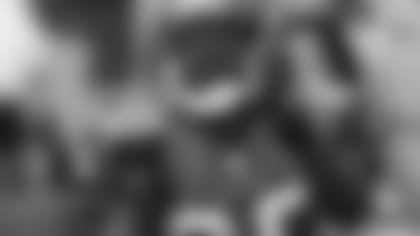 Mo Morris caught a touchdown pass in the Seahawks' first week win over the Bucs.
It happened quickly, too quickly for Shaun Alexander.
In retrospect, the small crack in his left wrist probably happened in the second quarter of the Seattle Seahawks opening game of the 2007 season – a 20-6 win over the Tampa Bay Buccaneers at Qwest Field.
Alexander took a shot just above his hand and quickly they gave him x-rays. This came shortly after his backup Maurice Morris had already injured his hip and newly acquired running back Alvin Pearman had experienced all of three practices.
"We have good trainers here, so they were like, 'Shaun, we have good news and bad news.'" Alexander said. "I was like, 'What's the bad news?'
" 'Mo is hurt. We have good news. You're going to get to show everybody how much you love this team (by playing).'"
Initially there was no sign of the crack; perhaps it was unrecognizable because of the swelling that went along with it. That changed on Monday, less than 24 hours after they had beaten the Cincinnati Bengals 24-21.
"They were like, 'Once again we have good news and bad news,'" Alexander said. "And I said, 'Alright, what's the bad news?' They were like, 'Yeah, there is a crack this time.'
"'So what's the good news?'
"'You've already been healing for two weeks."
More importantly, it's a lot easier to swallow than the cracked bone in his foot last season that took him out of six-plus games plus another to get readjusted to playing. The small cast will prevent any further damage, it is healing and mostly, it's just been about him adjusting to wearing a device on his hand while playing football.
Keep in mind, with 275 yards and two touchdowns, Alexander is third in the NFC in rushing despite playing hurt for 2½ games, and now he's much more comfortable under the circumstances.
"I'm actually way ahead of the curve," Alexander said. "Actually, I don't think I'll have to wear it much longer, but there is a crack in it. It's all looking better from then. It all happened in the first game. Everything fro this last game was just playing … normal football stuff. It was broken, so obviously the last three games have been different but it's better now than it has been, so I'll be a lot better in both catching and blocking – so that's good.
"I've been doing it for three weeks, so all these questions would have probably been hard to answer or difficult three weeks ago. But now it is what it is. The doctors said the all thought it would be, but what can you do?"
The best part is he has adjusted and seems primed to avoid any further damage – essentially meaning he should be pretty close to 100 percent in the coming weeks. When it appeared he had caused damage coming off the field hold his left arm funny in the second quarter of Sunday's game, it was a shot to the arm, not the wrist. Besides, responded in the second half with 78 yards on 12 carries after gaining just 22 yards on nine carries before intermission.
Now, it's all about preparing for the trip to San Francisco and matching up with the 49ers on Sunday. Pearman is now further along in his indoctrination and has played some at halfback in the second game. Morris hasn't played since the opening game with a back injury, practiced on Wednesday, but didn't on Thursday. So he remains a little iffy.
"I'm going to do what everybody in that locker room would do," Alexander said. "When all your backups are either new or hurt, you just want to go out and play … then figure it out once everyone comes back."
Not Just Another Game Ball
In a change, coach Mike Holmgren gave out games balls Thursday instead of Friday, which they typically do after wins. The coaching staff votes on them, and this week wide receiver Deion Branch got the offensive game ball with a 42-yard touchdown as one of his six receptions. Rookie linebacker Will Herring got the special teams' game ball with two tackles. There was nothing out of the ordinary there.
But the defensive ball went to defensive coordinator John Marshall, which virtually never happens.
Some of it was due to holding the high-powered Cincinnati Bengals offense to 21 points, but most of it was because he called the game despite his mother passing away just hours before kickoff.
"It means everything," Marshall said. "Heck, it can make you cry because it's my peers. It's great. I will always cherish it and remember it."
Marshall found strength and focus from his mother, claiming he was never distracted during the game.
"Not at all … because I'm at peace where my mom is now," Marshall said. "She's had 90 years of a great life. Do I miss her? Yes, obviously I'll miss her for a long time … forever. I have a strong faith and I prayed that I'd stay strong. I've got my responsibilities to this team and there was nothing I could do for my mom. And a lot of other coaches and players have done the same thing."
Mo Morris did not practice Thursday, giving his hip an extra day to calm down after his first practice in two weeks on Wednesday. Will Herring did not practice with a sore knee that hasn't been an issue before, while Bennie Joppru again did not practice with his sore ankle. The same goes for wide receiver D.J. Hackett, although he is moving around considerably better on his high ankle sprain. However, Wednesday Holmgren said he didn't expect Hackett back before the bye, which means Nov. 4 in Cleveland against the Browns. … Quarterback Matt Hasselbeck and wide receiver Nate Burleson hooked up for a textbook pitch and catch for a touchdown in practice Thursday, and Hasselbeck also gunned a perfect pass to Deion Branch on a tough route. Middle linebacker Lofa Tatupu made the defensive play of the day with a diving interception, his second interception of the day. … The Seahawks have a typical Friday practice, and Saturday they fly to San Francisco. Next week, the team will leave on Friday for Pittsburgh to have an extra day to adjust before the Oct. 7 game with the Steelers.