By Mike KahnSeahawks Insider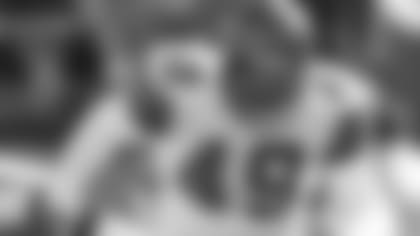 Long snapper Jeff Robinson made an immediate impact on the Hawks' special teams on Sunday.

CHARLOTTE, N.C. – This was a great set up for Seattle Seahawks wide receiver Bobby Engram, a native of Camden, S.C. Some 57 relatives had promised to see the Seahawks play the Carolina Panthers Sunday afternoon at Bank of America Stadium – 35 of them his cousins.
To top it off, Engram was on the verge of the first 1,000-yard season as a receiver in his 12-year career, while bearing down on the personal best 88 receptions in a season as well. All of this figured to be very important to a 34-year-old with is career winding down.
Engram caught 9 passes for 88 yards, giving him 85 catches for 1,013 yards with two games to go … the long caveat - the Seahawks lost to the Panthers 13-10.
"It was bittersweet right now as far as getting 1,000 yards - it's 80 percent bitter, 20 percent sweet," Engram said. "So hopefully that balance will just shift on the way home back to Seattle. It was frustrating. We're a lot better team than we played today, so we need to go answer some questions amongst ourselves … find out why."
The Seahawks, who clinched the NFC West title last week, never were close to scoring until the fourth quarter, when Josh Brown converted a 22-yard field goal with 8:23 left, and their touchdown, a 15-yard Matt Hasselbeck to Deion Branch combination, came with just 1 second left in the game.
The question was why did this offense, averaging 29.6 points during their 5-game winning streak heading into the game, shut down on Sunday. Was it a letdown from clinching the division? Was it because they traveled all the way across the country on Friday night … or both? It certainly appeared things were beginning to open up on offense in the fourth quarter, right up until Hasselbeck was blind-sided, fumbled, the Panthers recovered and three plays later DeAngelo Williams broke a 35-yard touchdown to clinch the game with 1:17 left.
"Actually, at the start of the fourth quarter I thought we did some better things," Engram said. "It took them putting three points on the board it seems like for us to kick into gear for some reason. The drive that Matt got hit and fumbled, I thought we were going to score a touchdown on that drive.
 "They did some good things on defense, but it's nothing we haven't seen. I just don't think we played very well today, that's the bottom line. I have to give them credit, they've got a good defense, especially up front and they did some good stuff.  But at the same time, each man has to look at himself. I can't tell you about other guys' mental state before this game. I thought we came here ready to play, but obviously we didn't."
Still, Engram had family everywhere, got his 1,000 yards and is three receptions away from his career- high – all an amazing accomplishment considering a year ago, he and doctors were still struggling to find a medication that helped him bounce back from a debilitating thyroid condition. The good news is there is still time for the Seahawks to get back on track, with the Baltimore Ravens coming to Seattle next week, and then the Hawks finish the regular season at Atlanta, with a home playoff game the following week. So there's still plenty of room to operate – not only to surpass his own personal record, but three needed to break Darrell Jackson's club mark of 87 set in 2004..
"Right now, it's bittersweet," Engram insisted. "We lost the game and we played an ugly game at that. I don't know – it's a good accomplishment, but it's bittersweet right now. Every game is a learning experience. We're still in the playoffs. We've still accomplished some goals we wanted to accomplish. But this locker room is extremely disappointed right now in themselves and we've got to get ready (for the playoffs)."
---
After getting signed last week as the Seahawks third long-snapper this season, 37-year-oldJeff Robinson didn't know what to expect.
He'd been away from the NFL for more than two years and hadn't snapped a football in three years. And yet, Sunday, with eight punts to Ryan Plackemeier, a field goal and an extra point to Plackemeier for Josh Brown kicks – Robinson was 10-for-10 in flawless fashion.
"Even with the wind that was going to affect him too, Jeff was awesome," Plackemeier said. "It was fun and it was a challenge. You know the wind is a challenge.* *Jeff was awesome today, every snap was right there.  His snap on the field goal was great."
A 14-year veteran who grew up in Spokane and went to school at Idaho, Robinson was living in Seattle working on a startup business with his wife and taking care of their 8-month old daughter when Seahawks special teams coach Bruce DeHaven called. He came out Tuesday and made the team – then spent the rest of the week getting the rust off his game.
That didn't make it any easier
"I felt OK," Robinson said. "I wasn't really nervous, which kind of surprised me to be honest. It was a lot windier than I would have liked, but it was good to get that experience. I feel good. You make adjustments as you go along with the wind. I had one kind of wobble back there to (Plackemeier). He did a nice job with it, and the next time I just made sure I got a nice tight spiral."
It didn't even register with Plackemeier, who was just thankful to have Robinson on hand. The Seahawks opted not to re-sign J.P. Darche after he had hip surgery last season, deciding instead of Derek Rackley, who finished up last season. They brought back Rackley this season, only to get uncomfortable with his inconsistency, so they released him, signing Boone Stutz. Stutz was essentially a fastball pitcher, and a little wild. So they released him last week and signed Robinson.
"It really helped me out knowing that the ball was going to be there," Plackemeier said. "I watched film on him, and like 14 years he didn't miss a snap. It's a good to have that confidence. It's not that I didn't have that confidence in Boone, but it's good to have a guy that I know the ball is going to be there."
---
Seahawks guard Rob Sims on the Seahawks being held to 44 yards rushing by the Panthers:
"It's tough to look at that (number). We thought we had eliminated a lot of that stuff. We came in, we were upbeat and we thought we were starting to come together. For whatever reason it didn't get done, and I've got my part in it too."
---
Free safety Brian Russell, who didn't practice late in the week with a strained abdomen, did start after all Sunday. "I felt fine," Russell said. "It just got a little tight last week." Russell finished the game with five tackles. … Cornerback Marcus Trufant led the team with 9 tackles, followed by Patrick Kerney with 8 and Lofa Tatupu with 7. Tatupu leads the team with 103 tackles; marking all three of his seasons in the NFL he has topped the century mark. Trufant is second with 77; Leroy Hill is third with 69, and Julian Peterson is fourth with 68. … The Seahawks had no sacks and no takeaways in Sunday's game after having five of each in last week's win over Arizona. … Nate Burleson had 5 punt returns for 42 yards Sunday, moving him past Charlie Rogers for second place for yardage in a season. He needs 83 in the last two games to surpass Bobby Joe Edmonds for the franchise record. … Quarterback Matt Hasselbeck, despite struggling to score, still had a 92.9 quarterback rating- completing 27-of-41 for 274 yards and the 15-yard touchdown pass to Branch. That makes him 319-of-510 for 3,620 yards and 25 touchdowns. He surpassed Warren Moon's 313 completions to set a club record in a season, and is 22 away from breaking Dave Krieg's record for attempts, and 222 yards away from breaking his own record for yardage in a season. His personal best is 26 touchdowns in a season.  … Deion Branch's 8 catches were a season-high for him, giving him 47 for the season. His 79 yards gave him a total of 637 yards and 4 touchdowns – keep in mind he missed four games with a sprained foot.
D.J. Hackett once again led the Seahawks inactive, along with Josh Wilson, Jason Babin, Mansfield Wrotto, Ray Willis, Courtney Taylor and Ellis Wyms, andCharlie Frye was the third quarterback. … Vinny Testaverde, as the third quarterback, led the Panthers inactives; along with James Anderson, Brandon Jamison, Evan Mathis, Stanley McClover, Frank McClover, Frank Omiyale, Keary Colbert andGary Gibson.
The Seahawks play host to the Baltimore Ravens next Sunday at Qwest Field, with the regular season finale at Atlanta against the Falcons on Dec. 30. The Seahawks will play host in the first round of the playoffs on either Jan. 5 or 6.