Featuring postgame quotes from the following: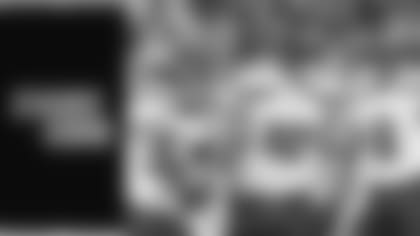 Re-live Each Game With The Seahawks Rewind Podcast
Re-live every Seahawks game this season with game highlights, player and coach postgame interviews, and a whole lot more. Available on Spotify, Apple Podcasts, Stitcher and wherever else you might get your podcasts.
PETE CARROLL: Tonight was nothing but fun. We had a great time. It was hard getting started. You could tell. This was the first time we tackled anybody. That's why we use the preseason game. We needed the first quarter to shake the cobwebs. The defense came back in the second quarter and played great all night long. Those young kids did a beautiful job of playing the scheme and making the plays we needed to make. I thought all in all it was really a really strong win for us because if we can build on all of the things that happened. The cool thing was the young guys playing in the fourth quarter, playing well enough to win the game, hold the defense, all of that. I thought Drew did really well tonight, did a nice job. I believe the ball got tipped on the pick. He was reading the right guy and all that. Ball got tipped at the line of scrimmage. Other than that, he was in command, had a nice night. We didn't run the ball as well as we did early. Same thing, blocking and tackling took us a while to get going. That's why we got to play these games. There's so many names to talk about. You guys ask me the questions. But I was really excited about Holton. Holton, in the end of the game, did what he needed to do, finished up, found a way to make plays. I know they're hooting Tebow and all that kind of stuff. He did a great job for us tonight to finish the game.
Q. Do you have an update on Cade?
PETE CARROLL: Yeah, the first thing that we heard is there was no findings. I think he got concussed, but there was no findings beyond that at this point. We got a real good report, the early one. I'm hoping that's conclusive. That's what we heard.
Q. Did it happen on the kickoff?
Q. He had movement and everything?
PETE CARROLL: Yeah, yeah. They just went to the max precautions. The findings were already really positive.
Q. You had 30 players not play tonight for you guys. The amount of guys you chose to sit out, what went into thinking of that?
PETE CARROLL: Yeah, I didn't say anything to you guys about it. I was waiting to see what happened with the week, who did we need, all that. There was some decisions on some guys that are in competitive situations that hadn't played for us, hadn't shown for us before. Evan Brown has been playing with the first group, just we needed to see him play, wanted to see him go against Olu, as well. Phil, we needed Phil to play, too. Wanted to give Drew a little security in there with guys he knew could guarantee they make the blocks and right calls to get him started well. Colby was another guy we thought about not playing. Felt like we needed to. Our tight ends were banged up all the way going into the game. They made it. We had decisions like that. We held most of the older guys basically.
Q. Coby Bryant is new playing safety. Big hit. What did you think of him out there?
PETE CARROLL: He's doing really well. He's looked really apt for the position. He fits well, moves well, reads the quarterback really well. Covers ground really well back there. Good decision making on playing making opportunities. I think it's going to be a good spot for him. He's also going to be called on to play corner for us. He has nickel and dime he is playing. Like I told you earlier in the week, he's doing everything.
Q. Is Cade spending the night in the hospital?
PETE CARROLL: I don't know. I don't know that.
Q. When you look at the run defense, averaged 3.2 a carry, even with different guys out there, do you take something out of that?
PETE CARROLL: Absolutely. Scheme worked well. We liked the way we played. The choices we settled in on for the way we basically played, the calls worked out really well tonight. The guys were confident in them. As we played more, we got better. They brought the scheme to life a little bit. It was a good night for us on defense, a really good night, except for the start where we couldn't tackle anybody. It was terrible right up to that.
Q. You said you wanted Drew to play a lot this preseason. What are you hoping to see?
PETE CARROLL: I want him to be ready to start games. I want him to be ready to play football games and win championship games for us. He needs to play to do that. He sat around all last year. This formula of him getting three quarters, that's great for him just to be out there playing football. He's going to play a lot.
Q. You probably can't tell from the film, did you notice run fits, did you notice any difference?
PETE CARROLL: We were better. We hit a couple pressures, then the balls popped into the secondary. Made a couple errors where that happened. Once we got going, we were really clean. I thought that Patrick (O'Connell) made a bunch of plays tonight. Devin Bush made some really nice tackles, too. The backers did a good job for us.
PETE CARROLL: He was out there banging away. Had a couple good plays on perimeter plays. He was captain tonight in this game just because. He got back to playing football. It's just heartwarming to see this story. If you ever would have seen how hard he had to work to get back, how much he overcame, so few people do what he did. He just never, ever wavered that he was going to get back. He's playing. He's the captain in his first game back. He was out there making tackles. Kicking game, too. He did a great job tonight.
Q. Bobo was not the fastest receiver but seems to get open a lot.
PETE CARROLL: Ask me the question.
Q. How does Bobo get open?
PETE CARROLL: He's a good player. He just continues to find ways. Really creative and athletic. Look at the great play he made on the punt. That was a perfect play there. He's doing good stuff.
PETE CARROLL: He twisted his knee. Cartilage thing. We don't know how bad it is yet. He's getting around on it. It's not horrible. It wasn't catastrophic. We have to big out how severe it is.
Q. Why didn't Cody Thompson play?
PETE CARROLL: He came up yesterday in practice, his groin was tight. We felt like let's hold him out. It wasn't clear that he could go out there and take off and play through the night. We just said let's rest him. Really wanted him to play tonight, but he couldn't do it.
Q. Zach Charbonnet had a couple of physical runs.
PETE CARROLL: Looked good, didn't he? He looked really physical. Guys on the sidelines were going crazy for him. He has had a great start with us. Looking at him in our offseason work, then in camp already, really it's not a surprise at all. We just needed to see him go do it. He was knocking heads out there. He was really tough.
Q. Cameron Young didn't play.
PETE CARROLL: He has a calf strain, got it a couple days ago.
Q. Seems like Derick Hall has made some strides the last few days.
PETE CARROLL: No doubt. He's doing really well. Give him the month that we need right here, he's going to be in the midst of rotations I think because he's just too physical, runs too fast, had a great head on his shoulders about playing defensive football. We really like the heck out of him. It's just a matter of time, honing his game down. Special teams, as well. He's going to have a big factor on special teams. He's got one of the really, really good attitudes about playing defense. You love his heart, what he wants to do, how he wants to play. He's really one of the fellas.
Q. Your team is full of high energy. How important was it for the rookies to continue today to come with that high energy?
PETE CARROLL: It's really important. It just makes my heart soar. To see them go out there and have them have that much fun playing, see the finish come to them, have an opportunity to finish the game, they find their way to it. Playing good defense, we are playing good offense, we are killing the clock, we're doing all the right stuff. And the guys on the sidelines were going crazy for them. That's what I hope they would feel. I mean, if I could tell you what I hoped this game could be like, that was the game. I don't care how we start. We wanted to see what happened when we finished. We finished with all of the fun. Like (Ty) Okada said, he couldn't believe how much fun football was for him tonight. Go a little further. We dedicate this first game to the young guys. We make a big deal about that in the meetings during the week. Veteran guys talk to them, told them about their first game, gave them a little bit of advice. We just had fun. Made them stand up when they were talking to this them, all the rooks. We wanted to make it memorable. They ain't forgetting this first game. They'll know this first game forever. That's all I could ask for.
Q. How did that feel, first game in almost a year?
DREW LOCK: First game here as a Seahawk in my career. Never walked out there in a Seahawk uniform and played a snap. Had a blast. 12s were definitely in effect. Silent cadence in a preseason game is hard to get done from any stadium. That was awesome. Overall it felt great. To be playing football again, gosh, it's weird when you go a whole year without taking a snap. Props to G (Geno Smith) for doing that last year, rallying this team, getting us to the playoffs. But, man, it felt good to finally be back out there.
Q. How valuable are these preseason games you're playing?
DREW LOCK: Extremely valuable. It's the first time in my career without taking a snap in a season. It was interesting, going back out there, feeling the flow of the game again, being the one in charge. Practice. We do a great job in practice of trying to simulate a game. Nothing's compared to when you really step out there, moving the ball, trying to put points up. Man, I'll take every rep I can get. It was really, really fun tonight.
Q. Can you walk us through the touchdown pass. A little bit of a tight window there.
DREW LOCK: Yeah, they gave us a look for us to be able to check something at the line. I gave it to E (Eason Winston Jr.). He relayed it back. Knew we had it. Just played off one of the safeties. Took the shot. Fit into a tight little window. He did a great job of showing late hands, fighting through contact. We'll give that touchdown to him. He ended up making that one happen.
Q. The touchdown to Bobo, what have you seen out of him throughout this process?
DREW LOCK: Yeah, shoot, a lot. He's been a fan favorite in the locker room, for sure. 'More Bobo' is the thing we like to say in the locker room. Get Bobo the ball. He does everything right, man. He works really, really hard. I know when you throw a rookie out there, you get zero MEs (mental errors) in practices. I'm not saying he's going to do zero the whole time, but he does the right thing. He's in the right spots, knows his job, his assignment. That's all you can ask for. His physical ability will take care of everything else.
Q. Have you been impressed with where Olu is at thus far?
DREW LOCK: Yes, yes. Taken a lot of reps with him in camp. Mock game. Even tonight. Great presence about him up there. Calling everything out. Controlling the O-line. Getting everybody set. I've been extremely impressed with him. I think we have a really cool relationship with how many reps we have been able to end getting with each other. The sky's the limit for that guy. I think he can be a really good player.
Q. What did you think of Holton's touchdown?
DREW LOCK: Big Halers. I was very, very excited for him. Those are the moments, it's weird to say, being fifth year in this now, preseason games are really fun because you get to see guys go out there and make plays. I mean, Holton was an undrafted guy. He got to go out there and he threw an NFL touchdown. Just seeing the smile on his face in the locker room, being able to give him a hug and stuff, it's really cool to see those moments. Preseason is great for that.
Q. Just how you drew it up?
DREW LOCK: Just how we drew it up (smiling). Definitely want him to be hit chucking up a nine ball, making a play. That's what we designed, for sure.
Q. Why did you sign back?
DREW LOCK: A plethora of reasons. One, Coach Carroll has been fantastic to me since I've been here. The way he runs this program and this organization, it's fun. You want to come to work. You want to get better. You want to be there with your brothers in the locker room. I think in an environment like that, I just don't think every place has it. This place was special to me. Shane Waldron has done a fantastic job in my eyes through watching it last season with the way he called plays for G (Geno Smith), the system that we run. I feel comfortable in it. It's just a really great place. I believe in the guys on this team. I believe in our defense. I believable in our offense. I believe when we put both sides of the ball and special teams in there, this can be a really, really good team. I want to be a part of something special, and this place is.
Q. (On Jaxon Smith-Njigba)
DREW LOCK: He's going to be a great player. He's going to be a great player. I'm extremely impressed with just, this is going to sound weird, but just the way he's able to move. The way he runs his routes, they're crisp, defined. He knows how to get open. When you give him the ball, he's going to catch it. He is sure-handed. There's guys that walk out on the practice field day one, your eyes kind of open when they do their first route, run their first play. He was one of those guys for me. Like I said about Olu, I think the sky's the limit for him as well.
Q. What have you learned about yourself this year?
DREW LOCK: One, I think the biggest thing for me is just the mental prep that it takes throughout the week. It's different. Once you get to week six, week seven, you still haven't stepped on the field, taken scout reps. Finding ways throughout the week just to be ready, whether that's stand back with carry, doing extra work, whatever it may be. I feel like one thing I really learned over the last year is just truthfully how to be ready. I felt like I was ready to go into every single one of those games. I think the really cool part of it, too, was you're never disappointed when the Seahawks are winning games, Geno is staying healthy. But, man, just the want and the desire to get out there on that field, it was very apparent to me standing on the sideline last year. That's not my job. I'm the second string here. My job is to help G (Geno Smith) get to where he wants to be and this team where it wants to be. That's my goal and that's what I'm going to do this year for this team.
(On how the first preseason game felt) "It was fun. Obviously in preseason, it's one of those things where it doesn't count, so you might as well go all out and take a chance."
(On how the run fits went today) "It went well. Still some things to clean up. They had a couple good runs on us and we had some poor tackling early on. But there's always going to be stuff to clean up. It's early in camp still, it's our first preseason game and we still have two more to go. You have a long time to clean it up."
(On his hit on the kickoff return and if he played much special teams in Pittsburgh) "No, that was my first kickoff ever in the NFL so I'm glad it went that way. It was fun, I liked that."
(On how comfortable he feels at safety) "Extremely comfortable. It's not my first time playing safety. I played safety my freshman year in college and obviously they have the respect for me to allow me to play safety. I'm getting comfortable, for sure."
(On how safety is different than nickel) "The biggest thing I would say is the space. Just coming down and making that tackle, God forbid you miss that tackle, the whole world sees it. Still having to learn gaps, learning the deep half, playing quarters, things like that. Just still learning."
(On how much pride he takes in being physical) "I take extreme pride in that. As a man, you definitely want to be physical. The positions that I play, you definitely want to be physical and make plays, make tackles. A DB that can tackle is valuable for sure."
(On what the first preseason game meant) "It's a huge moment when you don't play football for two years and get told you will never play again. To be out there today was a pretty special experience."
(On going full speed and playing football again) "I definitely felt like I haven't played football in two years so there is a lot to clean up. It was a good first step."
(On what it meant to be back on the team again) "It's been incredible having the support of everybody letting me come back and be a part of this team again. Fortunately, a lot of the guys that are here, were here before. It did not feel like I was coming into a group of strangers. It definitely was a memorable experience this week."
(On his touchdown catch) "I think that was a culmination of practice, obviously. We practice that play a lot and Drew [Lock] saw a look that he liked and gave me a look so I kind of knew what I was doing. He hit the ball into a tight window. There were three guys surrounding me and I just had to make sure I secured it going down. It was a great feeling that we completed that."
(On what he'll do with the football) "I'm giving this to my mom. This is my first touchdown in the NFL and it's my fourth year. This is a big moment for me and she sacrificed a lot for me so I think it's only right that I give it to her."
(On how comfortable he feels with this team) "I feel very comfortable. It just feels like home. Obviously, I'm a Coug so I've been in Seattle a bunch of times. I never thought I'd be here but I am now and it's been great ever since I stepped foot into the facility. Like I said, it's been great and I just want to keep it going and put my best foot forward."
(On how the game went) "Overall the team finished the game really well. That's what is most important, we got a win. It's the first preseason game so nothing is going to be perfect. We had a lot of expectations going into this game, I think we did a solid job but there is still going to be a lot to improve on. There were a lot of things we could have cleaned up in the first quarter, I felt like we did that in the second quarter and that carried into the second half. Overall, it was a good team win."
(On adjusting in the preseason) "It's the first preseason game. We have our basic defensive calls, they have their basic offensive calls. You're going to go through some ups and downs. Overall, we made a lot of improvements and did the things we needed to get the win."
Check out some of the best action shots from Preseason Week 1 vs. the Minnesota Vikings at Lumen Field on August 10, 2023. Game action photos are presented by Washington's Lottery. This album will be updated throughout the game.