Featuring postgame quotes from the following: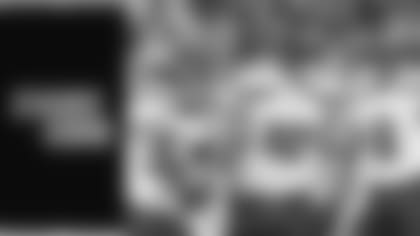 Re-live Each Game With The Seahawks Rewind Podcast
Re-live every Seahawks game this season with game highlights, player and coach postgame interviews, and a whole lot more. Available on Spotify, Apple Podcasts, Stitcher and wherever else you might get your podcasts.
Head Coach Kevin O'Connell
COACH O'CONNELL: I appreciate you guys. Good opportunity for our football team. We clearly did not play a good number of guys. I think the number got up to 17 or 18 of our starters, guys that are having great training camps and doing a lot of great things. But what I wanted to see was our execution. Across the board I thought in the first half, offensively, Nick Mullens really managing the game really well, making some big-time decisions, moving within the pocket, checking the ball down at the right times, pushing the ball down the field at the right times. I thought Ty Chandler jumped out. Anytime he had the ball in his hands he was rarely tackled by the first defender that was in space, catching the ball. And picked up really where he left off as far as his ability when the lights come on to sometimes turn into a different guy. Now I want to see it every single day, and really see him be consistent because he's proven, when it goes live and it's real football, he's a tough guy to bring to the ground. Getting Jordan (Addison) and Jalen Reagor going with some plays there. And then Nick Muse with a big touchdown catch to close the drive out. And Greg Joseph hitting the long field goal. Defensively, I thought, early on, those guys were winning the line of scrimmage. And a lot of guys that keep showing up every day on tape in practice did the same tonight. I thought our tackling was solid for the most part. Just have to make sure we're keeping our head out of some of the hits there. But love the willingness and physicality at all three levels early on. And the second half, we've got to continue to coach those guys up. They may not get a lot of reps, but I firmly believe, maybe it's my own personal experience, I want those guys to feel like they're getting every opportunity to try to make our team and really make an impact for the future. But would have loved to win the game, but we have a lot of things to correct, a lot of things to really build upon and hopefully have some great joint practices this week, and welcome in the Tennessee Titans which will be a huge week of work for us before Arizona arrives the following week.
Q. You mentioned Ty. Did you go into tonight thinking it would be a heavy workload for him to get a look at it?
COACH O'CONNELL: Kene being down, kind of still working through what he's working through, I really wanted to see Ty and see what he can handle as far as all the phases of our offense. And I thought, as calling plays for him there in the first half, I found myself wanting to get him some touches. That's always a good thing. His ability to see it in live-game action, his vision, his burst, his finish, it all showed up. And then like I said, his ability out of the backfield, either on a screen to even getting four or five (yards) on a screen that wasn't well executed, he's making things happen. So when we can clean up our execution around him, you can start to project his impact. So really positive night for him.
Q. You mentioned Mullens a little bit, but what did you think about how the quarterbacks did overall?
COACH O'CONNELL: I thought Nick played well. Really managed it well. And what the challenge is for him and really a lot of quarterbacks when they get their opportunities is not trying to do too much. And I thought he just continued to execute play after play and really made some things right for us. Even in some instances telling some guys who just recently arrived here what to do, how to line up. He had his plate full tonight and handled it really well, which is what I expected. Nick's had a great camp and continues to grow every single day, and really gaining the confidence of our team, if something were to happen to Kirk. The guys have a lot of confidence in Nick. Jaren, it wasn't the easiest of circumstances out there for him. Thought we could have done some things to help him. But what did flash to me was his athleticism. Conflict resolution, there was plenty of it. He was able to kind of at least, sometimes, not extend plays for big gains but sack-saving plays, getting out, spinning out when we missed a couple of protection assignments, and just the big key there is when you're in those situations can you find a way to not make a bad play worse. And I speak from direct experience on that. So I was proud to see him do that, and we'll continue to just get the operation a little cleaner with those 3s and 4s in there, and that's on us as coaches to do. And I think we'll see a progression throughout the next two weeks because those guys are going to get a lot of reps.
Q. How did Ivan do in the expanded role?
COACH O'CONNELL: He keeps flashing. You just see him around the ball a lot. He got a lot of green dot work, calling the defense, which I know he was looking forward to. And all that guy does is continue to do what he's done his whole career, which is make a lot of plays, be around the football, savvy, instincts. And when he sees it, he's downhill making plays. And really, really excited about where he's at right now. And now it's the same thing with a lot of the players that are off to really good starts; can you consistently sustain it through training camp and through the joint practice work, when we're really in a controlled setting? It's for real and we're trying to truly see where we're at as a football team.
Q. What did you think of the protection specifically for Jaren, but seemed like Nick he was under pressure early, too. What did you think?
COACH O'CONNELL: You never quite know how teams are going to go about playing these games. You could watch our opponent play last year in the first preseason game and not see a whole lot of issues on the tape. And then they come out tonight and there's some edge pressures and some clear feel to a mindset of how they wanted to play. I thought we took advantage of it in some moments, and I thought they got us in some others. But we continue to want to marry the run and the pass, and a lot of the immediate duress was on some play (action) passes and some things that that shouldn't happen on when we can account for all the hats in the box. Then the third-down protection, we've just got to continue to try to strive and work our technique, work our fundamentals and try to give that quarterback enough time because we feel strongly about our weapons going down the field. I think Nick's always going to be progressing in rhythm, finding open guys. Can we give him that extra click to do his job will always be the challenge. This was really a good learning experience for some guys that have maybe flashed in the not-so-full-game-like conditions, and then they were out there tonight. You've got to ask yourself; was it moving too fast for me at times? Was I able to handle a consistent drive? We had some longer drives tonight, backed up way too much on our own end. We were able to drive it, but that's what these games are for. And that's what I just told our team: Assess where you feel like you are at right now. And your own personal responsibility of where you're at is going to be what determines your ability to find the formula moving forward to not only improve but continue to try to find your way on our team.
Q. With Ty, you've talked about wanting to see him a little bit here. But how did he do pass protection-wise? Seems like that's a big thing you guys wanted to see?
COACH O'CONNELL: You know, off the top of my head, I think there wasn't really anything that jumped out at me. We'll go back watch the tape and see exactly what was the call, what was the communication like, and then we'll be able to get a clear assessment. But I thought for the most part he seemed to be really totally in the moment. It was not too big for him as it was, not too big for him last year as well in the preseason. That's what got us so excited about him and would have loved to -- you get so tempted in these games -- hey, maybe we let Nick and Ty and some of these guys, maybe Jordan, go one more drive. You've got to stay true to the plan and make sure you understand it's about the overall progression and our plan for our team. A lot of positives tonight. Didn't win the football game. We always want to try to do that. Just not enough offense in the second half and put the defense in some tough spots.
Q. Special teams was kind of a mix of things with the long kick by Greg for the field goal. You rotated, kicked shorter on kickoffs. Did you think you got what you wanted to find out about specialists tonight?
COACH O'CONNELL: Yeah, definitely something you want to go back and study, even when we're allowing some of those returns and trying to see our kickoff unit, you'd love to get those balls a little bit closer to inside the 5 at least. G told me a couple times he didn't hit a couple of them great. But I know this is a tough place to kick, heavy air, and he drilled that field goal, which was big. So overall didn't love the penalties. I thought there was a lot -- that's normal for the first preseason game -- but now can we go back and start to rectify some of those things, the holding calls on some of the kick returns. You're going to be starting at your own 10, you're inside your own 10. And having to drive 90 yards is not the formula on the road at Seattle, even in a preseason game.
Q. With the couple of touchdowns there in the second half, I guess the one was kind of a broken play, but on the Andrew Booth one, especially, was there something that he needed to do more of at the line of scrimmage?
COACH O'CONNELL: I just know we were in a man call. Maybe sending a five-man rush. You've got safety help in the middle, but you're in one-on-one and don't know whether that guy kind of just got a good release off the ball. Looked like they were running four verticals with a shallow underneath it. But I would have to go back and look at it, what his technique was. And then in those man-to-man situations, we want to see those opportunities come up so we can really evaluate where our guys are at from a coverage standpoint. Now, Flo (Brian Flores) has a thousand tools at his disposal to activate when September 10th rolls around to not only apply pressure as we know but to provide some confusion and disguise and things like that. But really want to see our guys play. And as close as you can get in those critical downs, third down there, third-and-8 and a high red, a chance to really get off the field and hold them to three. They get that touchdown and then the broken play touchdown when we had a free runner off that right edge, guys made some plays on the football when it was in the air and we didn't. That's going to happen sometimes when you're trying to get those evals of your guys.
Q. On the Addison catch on the sidelines, did you have a good enough view of that to take up a challenge?
COACH O'CONNELL: I did not personally. We're all working through our reps of the preseason. It was not something that I could see directly, and then didn't really think that there was enough of an opinion upstairs or from anybody on the sideline. But Ben Leber let me know that it was a catch. He couldn't wait to tell me that. So in season, I'll try to make sure I personally get a better look at it and would always love to get a challenge right there because it was a heck of a play. If he, in fact, did get his feet in, that's what he's been doing all training camp. So would have been great for his first career catch. Doesn't take away the route or the execution, but I'm sure I would have loved to get a chance to throw that flag right there.
QB Nick Mullens
(On the game in general…) "Football is back, and that makes a lot of people happy, including our team. There was some good and some bad tonight. Overall, it was important to just operate the offense, make good decisions, distribute the football."
(On the success of longer drives early in the game…) "Right. It was good. Any time you can run the ball, that leads to a productive offense, so I thought the running backs, the O line and the receivers did a great job of getting push up front. When you can complement the run and the pass together, that usually creates success. Now it's just a matter of trying to find ways to sustain that success every drive."
(On connecting with multiple receivers…) "Yeah, that's something I take pride in. We have a really good group all across the board, all the guys. Like you said, we spread it around. Brandon Powell made plays, Jalen Raegor, Jordan Addison. I told him I owe him something. I don't know what I owe him, but I would have liked to make that throw and let him catch and run and he would have had his first rookie highlight, I guess. But I left that throw short. Yeah, that was great. Complementary offense across the board is what we're always shooting for."
(On almost connecting with Jordan Addison on the sideline…) "The defender was tight, I started to leave the ball outside. I'll have to look at it on film. I think it was a little wide. I'd like to make it easier on him, keep him inbounds. I was hoping he was in. You're just kind of waiting for a call, waiting to see. They moved the ball back, so I guess they thought it was incomplete. Even though it was out of bounds, it shows his ability to break right and left. His cuts are very established. That's something we can trust. He's proven through camp he's a friendly target."
(On his read process on his touchdown throw with a couple of options available…) "I'm thinking, you have the flat, you see the corner's body language, so you've got low or you've got high, and basically you're just playing off that. Muse did a great job of making a play on the ball. He's had a great camp, and he keeps showing up. He has a great attitude and he works really hard, and he can do a lot of things well. To get that touchdown catch was huge for both of us, for the offense and the team. Especially when you have long drives. Long drives with no touchdowns? It's not productive. So any time you can finish a drive like that, it's very important. Now we just have to continue to strive to do that consistently."
(On what he gained from making the start tonight…) "Yeah. It's fun, first of all, just being able to command an offense and step in the huddle with the guys. You know you practice for however long we've been practicing in camp and finally take the field, feel that energy. You feel it in the huddle. It's awesome. It's a blessing just to put the uniform on again with your teammates. You work so hard to prepare, so you just leave it all out there on the field, and I think we did a good job of that tonight. But it's all about just keep getting better. We have a big week coming up. How can you just do it over and over and over. That's what makes a true pro and a productive offense collectively."
(On the second half when he's watching Jaren Hall…) "First of all, it kind of makes me go back and think about my first snap, my first preseason. It's like, 'Oh, yeah.' So it's cool to watch. Obviously you try to help where you can. Just little nuggets here and there. Jaren's done a great job since he's been here, just learning, studying and producing. So we're here to help Jaren. Our whole room works together. It's fun. We'll continue to keep working and continue to take advantage of opportunities."
QB Jaren Hall
(On first preseason game in NFL) "First action in the NFL with the guys out there. From the jump I thought we did some really good things. It's funny because we had a good third down conversion right away. We had good momentum in that first drive and then from there just kind of learn (as we go). Lot of things to clean up obviously, but that just comes with time for a lot of the young guys who were in there, myself included in that, so just good to be here."
(On what he feels like he has to clean up after the game) "I just think the overall operation. Me getting the play in faster and getting us to the line with more urgency. A couple times we got pretty close to the play clock there and had to get on quick with a lot of our other snaps, so those are things I can control and do better and will do better the more time I have."
(On if going faster helps with setting up protection) "Especially in this league I'm learning so quickly the importance of that. Making sure you have your terms the right way and have your back ready to go. It's super important to get everybody out that you can in your schemes and making sure you are picking up all the pressures that come."
Check out some of the best action shots from Preseason Week 1 vs. the Minnesota Vikings at Lumen Field on August 10, 2023. Game action photos are presented by Washington's Lottery. This album will be updated throughout the game.