Featuring postgame quotes from the following: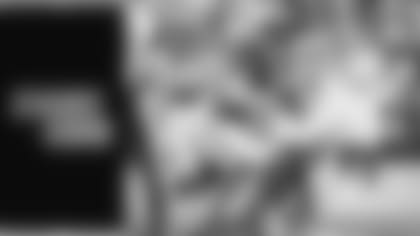 Re-live Each Game With The Seahawks Rewind Podcast
Re-live every Seahawks game this season with game highlights, player and coach postgame interviews, and a whole lot more. Available on Spotify, Apple Podcasts, and wherever else you get your podcasts.
PETE CARROLL: Good, successful night. Coming out here again to Lumen, playing really good, hard football. Really pleased with the overall feeling of the game from start to finish. We got our ones a little bit of work. Selective ones played on both sides of the ball. Got enough to just get them out there. That's really what we wanted to get done tonight. Starts with Geno getting some snaps, the O-line, all that. That approach seemed to work out all day. It's a long night for the twos once they get going. Hats off to those guys. That's two big games those guys have played back to back, done a nice job, all the way through to the finish, which was cool. Both Geno and Drew were five for six, popped the ball around pretty good, looked in command, had no problems at any time really. I wished Geno, we could have connected on the slant we threw, but other than that it was a really clean night for those guys. I thought Holton was a freaking blast watching him play. This kid is a fun football player. He's tough, he's scrappy. He comes up with the throw. Threw a great fade ball that we didn't handle right. He knows how to finish games. That was really fun watching him play. Tyjon looked good tonight. I thought he had a nice game. The younger guys did some cool things. Tyreke Smith had a really nice game on his side, on the defensive side. Eight tackles, big sack at the end. Both last two weeks to finish on the defense with chasing the quarterback, getting him knocked down, getting the big sack to win the game, I think is just the feeling of how you finish. I was pleased with that just kind of in a general sense. There's a bunch of stuff. I loved the interception that we got from Tre. Huge time. Really looked like they're going, he makes a big steal. We had a little bit of pressure, forced the quarterback out. Really good reaction in a scramble situation for Tre. A real nice play, nice return, all that. Did I miss Tyjon's punt return. It was a huge play. That was a huge play in the game. Really field position shift. Then John with his blocked punt was beautiful. Unfortunately Bobo couldn't put it in the end zone, but it was good to get the safety. It was a huge play. First time I asked John, Have you ever blocked a punt before? He has blocked some in the past. Wasn't new to him. Very adept at getting that done. Really big play in the game.
Q. You've talked about how much you value preseason games. Did Tre Brown win a job tonight?
PETE CARROLL: No. Not at this point. I can't say that. I haven't watched the film. I haven't seen anything. He did a nice job, though. Cool open-field tackle that he made. The one he missed last week, makes this week. Beautiful improvement. He's a good football player. He's doing pretty well. He's played really well consistently. We're lucky to have him on our side.
Q. He was out there a lot. Did he miss so much time last year he needs the reps?
PETE CARROLL: No, it's depth. More than that. The younger guys, we're nicked up a little bit at the spot. Benjie just made it back the day before the game. He had to play a lot.
PETE CARROLL: Yeah, sounds like he's going to be fine. After the evaluation, got a little bit of a strain in the back of his knee. Hyperextended a little bit. No damage. Think he'll play next week.
Q. Second straight game that your defense gave up less than 3.8 yards per carry against the run. How encouraged are you you're seeing that with the defensive line?
PETE CARROLL: What I really like is I like our overall play, overall leveraging the football, containing the football. The force elements of our game. We made a huge emphasis of this in the offseason. I thought we were sloppy in the past, not accountable. Tonight, you saw us again pounding on those things. I think we're better than we've been in the last few years at this early stage of leveraging the football. The big plays aren't getting out. That's why the numbers are in the threes. It's a really good, early statement because it's been a huge emphasis for us. We'll see if we can do it again next week, keep growing with that.
Q. You were able to get some explosive plays out of the passing game. What did you see out of the passing game?
PETE CARROLL: I was fired up about it. Those guys, they're 10 for 12, the first two quarterbacks. I thought Shane gave them some good chances tonight. Went after them a little bit. Coming up with some big plays in sequence. I really liked the way he called it. We ran the ball for 140 yards. That's the kind of balance that we're looking for. Gives us a chance to be able to do all of the stuff, all of the play passes and movement stuff that we like doing.
Q. Would Drew have played more if...
PETE CARROLL: Yeah. I was going to hopefully see Drew play a ton tonight with Geno getting a little bit of work. Drew was preparing to play. He knew he was going to play a lot of football. I like that whole process. Geno really taught us something. A little side-bar here in that we've learned from him the mentality that it takes to be in that situation where you're backing up, but be on the ready. We would give him credit for doing that for four years straight. Then when he finally got his chance, he kicked butt. Drew was practicing that tonight. He knew he was going to play, so all week long he practiced like he knew he was going to play. So the game comes, and he does in this one because it's all set up. But that's the way he needs to think. That's Geno prep, that's G prep, what we're talking about. That's Geno, how he's done it. He's learned from that. I'm hoping these other guys will gain from the example that Geno gives us. It helps guys prepare better. Offensive linemen in particular. Those guys have to think they're going to play because it can happen one play away. We're learning something. I'm proud. We can give Geno for that. More than that, our guys executing well when they get their opportunities, which is really important.
Q. What has Lock shown you?
PETE CARROLL: I asked him about, Did you feel different this night than last time? He said, Absolutely. Last week was his first time coming out, hadn't played for our fans in the stadium and all that. He was a little nervous about it. He wanted to do well. He could feel the difference tonight. He was calm. He was relaxed. He was ready to go. He had a blast playing. He was having fun out there, running the show. This next week is a really important week again for him to come back and get a lot of play time. We're just trying to get him ready so he's ready to pop if the opportunity comes. We'll be able to get that done.
Q. When he's on, does it show you this guy has started in the league?
PETE CARROLL: I think he's a starter. That's what we're so excited about having him. We thought that when we got him. It just didn't work out. Geno was just too much in command. But I think he's playing like a starter. We think of him as a guy that can go out there and win a football game for us, running our whole entire offense. There's nothing we do that he can't do, doesn't have a command of. That's a fortunate situation. I hope he comes out of this, this yank he got on his knee here, and can play this next week. We will have done everything we can to prepare him when the opportunity comes. We believe in him. You can see, he's a fine athlete. He can move well, smooth, quick, throws the heck out of the football. He's just growing up with us. Real pleased about that.
Q. That's the plan and preference for him to play most of the game next week?
PETE CARROLL: He's going to play a lot, yeah. I want to get as much football under his belt as we can, getting him ready.
Q. With Tyreke Smith, he said he's a little bit rusty after so much time off. Is he back to the player you drafted?
PETE CARROLL: He did well tonight. Now, it's taken him some time in camp. But he had a really impressive week. You could see it coming. The fact that he goes out and does it in the game, it's kind of what you hope happens from the coaching perspective. He did it. He was quick, assertive. He used his calls and stunts and things really well to make plays in the backfield from the backside. He was a really active player in college. We never even saw him last year. We practiced for two days. Never even had a clue. It seems like, yeah, the rust is getting knocked off and he's really ready to contribute and play for us. A good ballplayer. In that rotation with our guys, he has to try to get in that rotation with our guys. I think Boye did a nice job tonight. I don't know what Uchenna got done. Darrell is going to come roaring back here next week. I would bet he's pretty close. It's that competition for those guys. We'll see how it goes.
Q. On outside linebacker depth.
PETE CARROLL: I like it. Yeah, I like these guys. I really like these guys. I don't mind who is in the game. We have four or five guys that are playing. We like them all. If we can keep them fresh and keep them really fast, that's going to be a great asset for us.
Q. You got a little bit of a look at Jarran playing nose tackle. How do you feel about that spot?
PETE CARROLL: We're so fortunate that Jarran came back to us, really are. More than just the playing. He is such a leader for us. He's got a great mentality. He's tough. He's demanding of the young guys. He coaches them up. He's assumed that role that he's kind of the statesman there. He's not that old, but he assumes that kind of posture with them. He's got a great kind of approach to it. He can play three technique, he can play the one technique. We can move him around. Great that he got a sack. I don't remember what down that was. Third down sack I think
it was. He's vying, trying to get on that nickel rush team. Be part of that. We're lucky we have him back.
Q. Do you have the depth you want there at the one spot?
PETE CARROLL: We got to get Mike back. Mike Morris showed some really good stuff at both spots that we're playing him at. His shoulder is pretty good, but we just wanted to protect him one more week. I hope we can get him out back next week. That's a factor. Cam, too. Have not seen enough of Cam. If both those guys get a shot, and Austin is coming back before too long. We're hoping all those guys can be part of that rotation. It should be somewhat formidable. I think it's because of Jarran Reed's play that gives us a chance to rotate guys in. He'll be the steady for us. See what happens.
Q. All those guys are so unproven. Are you good with the depth there?
PETE CARROLL: Yeah. I've seen enough. I haven't seen Austin enough. He had one day on the practice field. Really we haven't seen enough from Cam yet. We know him well enough from all the time we studied him that he should be able to do everything we're asking of him.
PETE CARROLL: Yeah, he's very elusive. He's got a real edge-ability to him. You'll see him in the backfield quite a bit. We'll give him chances to move, try to play to that strength as best we can. He's a creative player. He sees things real well. That's why when we were first looking at him, I saw a trace of what Mike Bennett was like, get in the backfield, slip and shied, all that kind of stuff.
Q. I was talking about Tre Brown. Are you seeing a difference?
PETE CARROLL: Am I seeing a difference? I see Tre as I did before he got hurt. Remember, I was fired up about him. He was looking like a starter then. He played really well, done some great stuff. He just had to leave. So he's come back, he's just shown that he's a consistent football player. He can cover guys. He's explosive. He's tough. I really like the tackle he made tonight.
Q. Seemed like Mafe was doing everything for you. What do you see out of that?
PETE CARROLL: He's doing everything better. A year ago the newness, you didn't know, looked like he didn't have a clue what was going on. He's not like that any more. He's physically really apt for the position. He's fast, long, strong, got a good motor to him. He seems to have good endurance. He's not getting worn down when he's out there playing. To me, it's not any one person, it's the rotation. Uchenna is really the leader of that group because he's the steady guy and all that, the vet. He's going to do right more than the other guys. But it's a good mix. Hopefully we can keep everybody going.
Q. On the starting outside linebacker spots?
PETE CARROLL: We're still just letting it go. There's no reason to call it. Let these guys keep battling. Let the competition play on. Right now if we were playing a game, they'd all play, all be in the rotation. Try to keep them all as fresh as we could. We trust every one of them. A good spot for us.
Q. Looks like Jordyn Brooks got some work in the pregame.
PETE CARROLL: He did, yeah. It's really frustrating for him right now. He's so close to being back out there. This will be a good week for him. He's ready to practice hard and go. This will be maybe that first week we can maybe break him into some team reps and stuff like that. The process of getting him the walk-through has really allowed him to get there. Really, really fired up about him getting back out. It's hard for him watching us play and he's not part of it.
Q. What's left you need to see or do or find out about the rest of preseason?
PETE CARROLL: We got to go on the road. We got to take our show on the road and play really hard from start to finish again. It was a pretty consistent effort tonight, again, carrying over from game one. I'm really pleased about that one. That's something I was hoping for more than anything, we could play good, hard, tough football across the board. We got that done. Now we got to go somewhere else and do it on the road and show our guys it doesn't matter where we play. Try to teach that, stand for that. Doesn't matter who we're playing or where we're playing, but you got to go prove it. Very difficult place to go.
Q. Zach Charbonnet, what have you seen?
PETE CARROLL: Pretty good. Zach has shown us already. We feel like we already know who we got. We think we got a hell of a football player there. There's so much stuff he does well. I wish he would have broke back again. He said the same exact thing. I didn't come back quick enough, come back against the grain on his big run. He's explosive. He's consistent. He's really smart. You can totally count on the guy. He's a heck of a football player. It's just a matter of he's playing. He's going to play.
Q. What's SaRodorick shown you?
PETE CARROLL: Like his style. He has a slasher type of style about him. He's done well.
Q. How did Michael Jackson play?
PETE CARROLL: Unfortunately they catch the fade on him. It's kind of underthrown. He's all over the guy. He got tangled up a little bit. That's why they got the penalty on him. There was a tackle Mike had. He'll hit it better than he did tonight. But I thought he continues to play well. He's an experienced veteran guy for us that we can really count on. It's just kind of like the outside backer spot. We got guys that can play, we like the opportunity to be flexible there if we want to.
Q. With Witherspoon, when he might be back?
PETE CARROLL: I'm going to be surprised if Spoon isn't running a lot this week or next week. We're looking at three weeks, the game week, the opener. We come back for the bye week, then this final preseason game. He'll be doing all the walk-throughs I think this week. That's kind of the staging him to come back the next week. That's what I hope happens. We're close to that.
Q. What is the status of Dee Eskridge?
PETE CARROLL: His knee is getting better. He jogged a little bit. He's getting closer. It's not in terrible shape right now. He's just got to get back out. But it's probably still a couple weeks.
Q. What did Patrick show you to get the start today?
PETE CARROLL: Patrick? Bobby wasn't playing (smiling). And Rhattigan had missed a number of days with his elbow. Did a great job to get back out there tonight and get some play time. Patrick is doing a nice job. He's shown some consistent play. Really anxious to see what it looks like tonight. I didn't get to watch him much. He's building trust because he's doing well. We're starting to like what he brings. Thank you.
DREW LOCK: It's good. It's good. It will be all right. I think it was definitely just a precautionary thing. I still haven't seen the clip. Don't really know what happened. I know immediately when you get hit on your front leg, as a quarterback, after you throw, it's locked out. Kind of scared me for a second. I don't know what happened. 'All right, next play. We'll figure it out on the sidelines.' Yeah, kind of a precautionary deal. Just going to listen to what the team tells me, get ready, get better for next week.
Q. It was on the 'roughing the passer' penalty?
Q. What do you think you've shown these past two games?
DREW LOCK: Definitely a transition from game one to game two. Struggling a little bit early on those first couple drives in the Vikings game. Didn't put points up on the board. Feeling confident going back out there this time. I got some plays under my belt the week before. I'm confident, I'm ready to roll. I wanted to show that tonight to not only the coaches but the team; that I'm going to be ready at all times, whenever that time comes, as a backup, you hope it never comes, you hope the head guy is playing every single snap throughout the year, unless we're beating somebody bad enough to get thrown in there. Just showing that I can show this next
week as well, but that I'm just ready to go. I'm here for this team if that time comes, the guys are confident when I walk out there to go take the huddle, to try to help us win games.
Q. On preparation and being ready when called upon…
DREW LOCK: That's the goal every game week as a backup. Just getting closer and closer to feeling like you're the starter every time you get the opportunity to go out there. I think last year, having 17 opportunities to try to feel that way and be ready to do it, then have it not happen, I've definitely logged a good amount of time of being ready when my number gets called. We kind of tried to emphasize that this week. 'Geno is going to go out and play. Drew, you know you're going to play. Geno is down and you're going in.' That's how we try to talk about it this week with me going in to play. The offense when I was out there, guys blocked their butts off, guys made plays with the ball in their hands, we scored points. That's the number one goal.
Q. How good was it to see the explosives come in the passing game?
DREW LOCK: Yeah, we know what that room's capable of. That room is stacked with really good players right now. To be able to help our run game, get us a couple explosives in the pass game. We knew our run game was going to be explosive. For us being able to add that second piece, big plays, big chunk plays, then come back to the run. It makes us a more well-rounded offense, to say the least.
Q. What did you see on the pass to Jaxon (Smith-Njigba)?
DREW LOCK: The DB tried to kind of undercut it with him running across the field. Most of the time you can kind of line drive that throw to Jax. Had to put a little touch on it, being able to put it over the opposite shoulder. He did a great job of tracking that ball and making that catch. I already talked to him. I saw him at Chipotle today. I tried to get some before the game. I said, 'Jax, do you normally get some before the game?' He was like, 'No.' That's why he got stopped at the one (yard line) because he had Chipotle today, instead of your normal pregame food. That was kind of the joke on the sideline between me and him.
Q. Other than that, what has he shown you?
DREW LOCK: He's been amazing. I think the biggest part about him is his composure. Not once have I felt like he was a rookie when he's out there. He's confident in himself. He knows what he's doing. When the ball is in the air, he's going to make a play on it, go get it, turn something into nothing when he gets the ball in his hands. It's hard to do. That's hard to do in this league, especially as a rookie coming in. With him missing some time in the years previous, for him to come in and step in, make the plays that he's making right now, that's pretty impressive.
Q. Now that you're in your second year in this offense, quite a few snaps, what improvements are you seeing manifest on the field compared to a year ago?
DREW LOCK: I think it comes from being in the same offense for two years now, like you said, just quicker decisions with the ball. Knowing when on a play-action I turn my head around,
knowing whether it's going to be good or bad. Just processing quicker. When you get to that point and kind of feel the way I'm feeling right now, you feel like you can go out there every time and walk down the field. That's the feeling that every quarterback wants to have. Finally, being able to be confident in a system with the guys around me, I know what's going on, it feels really good right now. I'm excited to get back out there again and keep showing it.
Q. You saw a couple highly drafted receivers come in with you in Denver. What impresses you about Jaxon?
DREW LOCK: I definitely have been around some good rookie receivers, that's for sure. I think what all of them entail, is kind of what I mentioned earlier, just the fact that they can come in and be so levelheaded, make the plays when it comes to them. A lot of guys can let the lights and this logo kind of, I don't know, get too big for them sometimes, especially when you're drafted so high. There's expectations on you. Being able to drown out the noise of expectations of being a first-round pick, Ohio State has put out a lot of good receivers right now. To be able to drown that out I think is what is really going to set Jax apart. Doesn't seem like he cares about it. He wants to come out here, get better, learn from DK, Tyler, and make the plays. I think if he keeps that mindset, keeps his head down, keeps working, he's going to be really, really good.
(On how this preseason and training camp has been for him) "It's been great, man. My last game was my first competitive game in two years. Every moment I get on the field is like surreal, and I just thank God for putting me in this position and giving me the guidance and the strength to be here. Thank the team, they've been rallying behind me. It's been a great camp, just working every day, trying to stack days, make sure I get better each day."
(On getting back after such a long layoff) "I was a little anxious, a little nervous, a little butterflies, but once you get back out there and I get that first hit or little bit of contact, it kind of sinks in and feels like I've been doing it. It feels kind of like practice, just doing my job and trying to do it right."
(On whether he felt like things slowed down for him tonight) "I feel like every rep, I go out there, and it just slows down more and more. I felt like, early on in camp, I was kind of a little rusty, and it took some time to knock off the rust. Each day I try to go in there and go in to practice and work on something maybe that I didn't do good the last day. It's been paying off. I'm trying to stack days. Just stack good days and become an impact for the team."
(On what it was like to sit and watch last year) "It was hard, but I didn't really look at it as a negative. I looked at it as a positive to increase my mental, get stronger in my foundation and it gave me a chance to get my body all the way healthy so I could give the team the impact that they needed."
(On whether the issue was hip related) "It was lower leg related."
(On what he thought he proved tonight) "I think I proved toughness. Just going out there and giving my all, at 120 percent every time I step on the field. If I'm out there I'm trying to make an impact any way I can. That's just me. You're never going to see me on the field slacking or not going hard. I try to go as hard as I can. It's a blessing, it's an opportunity to be out here. I try to take it the right way."
(On how far he ran tonight) "I was running a lot. On point I was up on every special team and going in on defense. I was trying to take deep breaths. Try to breathe it out."
(On how much special teams he played at Ohio State) "I really didn't do it at Ohio State, and I took the initiative to really get in the film and get in the books on special teams. I'm trying to give my team the impact in whatever way I can so that when they told me I would playing that, I tried to watch as much film, try to learn as much as I can. Each day I try to stack days, and I'm getting better and better at it."
(On what it was like playing against Jaxon Smith-Njigba in college) "He's a special guy, a special player. He's elusive, he can catch the ball, he can get yards after the catch. He can be a threat if you let him. It's a great thing that he's here. I was so happy when he got drafted. That's my guy. We actually call each other twins because we have the same birthday and the same last name. It's a blessing being out here on the same field with a brother I shared in the locker room before."
(On whether his over-the-shoulder catch today highlights some of his skills) "That is just a little bit of what he can do. He has a lot in his bag. Jaxon is a special player. I've seen it day in and day out when I was on the practice field with him at O State. When he gets his chance, he's going to show y'all what he can do for real."
(On whether they ever celebrated their birthdays together) "I think we were in winter workouts. That was kind of our celebration. We just always kept in contact, kept close. Oh yeah."
(On his interception) "(The) play before I was cramping. I was pointing to my calf like, 'Ooh-wee, I need to get up out of the game,' so I was looking at the sideline like, 'Oh, I'm cramping.' Then they ran a hurry-up offense, and I'm just thinking I got to stick through it. And so, then, I had to find a way to get off the field one way or another. And so they call the play, and I see him moving, cutting inside, tried to push me, but I had fought back. Then I was running with him, basically trying to bait him, hoping he would throw the ball. He looked, and I saw him, and then I saw his hand, and I just kept driving to the man. He just threw it to me. You know, the first thing that steps in, I'm not going to use my hands, I'm going to use my body. So I had somebody ask me, 'Why didn't you use your hands' I was like, 'We'll talk about that later, man; I got to get the first one someway somehow.' So that was pretty much it."
(On how he fights through a cramp during a game) "You just got to get through it. I'll tell you that. It's not like you can't walk, but you feel it. I felt it the play before when went, I had drove, and I was like, 'Ooh-wee like I'm feeling that.' So you know, like I said, they ran hurry-up, so I just had to cut through it."
(On where he fits in on the RCB lineup) "I mean, what I do is I don't worry about that kind of stuff. You know what I'm saying, it's one day at a time. Every day is an interview, so it's not about what you did yesterday; it's about what you do today. So, that's one thing that I take with me. You know, so my main thing is just being consistent and let all that play out itself."
(On being mentored by Bobby Wagner and Jordyn Brooks) "It's great to have two mentors like those guys who have been in the game so long. Especially Bobby (Wagner) because we play the same position. He's giving me the best tips and pointers I can get because he's seen it firsthand, and he's done it. I'm so thankful to have them talking in my ear the whole game."
(On how the defense played in the first quarter) "I think we tackled really well in the first quarter. Guys were flying around running and hitting. That's exactly what we talked about before the game, which is to get guys on the ground. There was an emphasis from the last game because we had some missed tackles. We did a really good job of that."
(On his play thus far) "I've liked my effort. I'd say I'm always running to the ball and hitting guys when I can and that's what I'm here to do. I think I've developed a good understanding of the pass game as well. It's been really helpful to have guys around me that know and love the game. It's been awesome to have them coach me as well."
(On his blocked punt) "We worked the work all week. (Larry) Izzo gave me the green light. If you put it on tape in practice, they'll give you the opportunity in the game. That's what happened."
(On when he knew he was going to block that punt) "I set the move up and was able to get there. It was kind of the heat of the moment. You don't even realize what you're doing when it's happening. I put my hands out, trusted my technique, and that's all she wrote."
(On how much he appreciates the emphasis Seattle puts on special teams) "It was the same way in college, so I'm kind of used to it. Again, the way to stick in this league for the undrafted guys is through the ST (special teams) road. I'm grateful for the opportunity to showcase my talents out there on the field, and when an organization like this puts so much emphasis, I'm just happy to be here."
(On being able to play back to back weeks and prove what he can do) "It's really special. It's almost two years exactly to the day from when I got hurt. It was the second preseason game in 2021. It's very special to be able to play football again. There was a lot of times during those two years where I was being told that it wouldn't happen again. It's just a special moment to be out there."
(On if there were more emotions the past couple weeks stepping on the field) "A little bit. But I think at the end of the day, it was almost the easy part, just getting to play again. The hard part was the rehab where you're by yourself, you're grinding. Getting back out here and playing with the guys, it just feels natural. It's been really fun. We've had camp to build up to this. I think the craziest thing was the very first day I was on the field for camp. That was the real test of, can I do this anymore? But it's just football, so it feels good to be back. I think last week definitely had a little more butterflies, but this week just felt like a normal game."
(On how the team played this week) "I think the effort was great. I think we cleaned up the tackling some. Still have to do some work there. I think the biggest thing was just how we finished. Actually, it was on me, I gave up a bad drive starter on that very last drive and to see us rally up and hold them and get that sack on fourth down, that's what you want to see in these kind of games. It comes down to effort and a lot of teams would fold when you get hit in the mouth a little bit, but we bowed up and that's what you want to see every week."
(On how he felt he played in coverage) "I think I did pretty solid. I don't think I gave up any catches. My only downfall today was I missed a couple tackles. But that's football, that's life. Just have to go back during the week just practicing on tackling and focus on it and get better the next week."
(On how important this last preseason game is against Green Bay) "Just like any other week we've had the last two weeks. It's just as important. Just go out there and stay focused on my assignment, my job and just being available and doing what I need to do to help this team win."
(On how the run defense performed today) "I think overall we made the improvement from last week and that was our goal coming into this game. That's going to be our goal every week from here on out. There's always more things that we can improve on. 3.7 [yards per carry], that's probably something we'll continue to aim for a lower number. But overall, I think we did stop the rush pretty well. We certainly stopped the pass pretty well. I'm happy with how we performed as a defense tonight."
(On the engagement and coaching of the veteran players) "They're able to see things from a different perspective. From a coaching standpoint, which is kind of what the vets give us, they give us a little bit of a mix, from a coaching standpoint and from a vet standpoint because they
know exactly what it would be like if we were lined up against whatever formation. But they're able to see it from that different perspective being on the sidelines. If there's something that we miss or there's something that the offense is doing that we don't see immediately, it's certainly a big help to have guys like Bobby Wagner, Jordyn Brooks, Nick Bellore and all the vets that are on the sidelines helping us. It certainly means a lot for these preseason games."
(On if it's surprising that veteran players are this engaged on the sidelines) "I wouldn't say it's surprising at all. I would say it's just a credit to our organization and how we run things here. They're doing their job. Their job wasn't on the field tonight so they're going to help everybody that is on the field tonight. Ultimately, we're trying to win as an organization, which is what we did again this week. Everybody does their part and we come out victorious."
(On if he expected to play as much as he did) "Yeah, at that point I was really supposed to be done, but I just wanted to continue to play, and had the opportunity to go back out there. We had been setting them up with stuff all game, and then you got guys like this guy right here, Boye Mafe, and guys like Chenna (Uchenna Nwosu), and DT (Darrell Taylor) in your ear and trying to tell you what you're setting up for. And when that moment came, I just took what they gave me and finished."
(On if he campaigned to go back in) "Yeah, I had too. There was little stuff here and there throughout the game that I knew I should have executed on, and didn't that well. Just being able to go out and try and finish strong. That's the biggest thing, it's a next play mentality around here."
(On what he has learned from Boye Mafe) "I've learned a lot. He was in the same position as I was last year, and he's really been the guy I've leaned on the most in that room. You have guys like Chenna (Uchenna Nwosu) and DT, but a guy who's fresh off of it. He knows it all, he's been there, he's done that and it's pretty fresh on his mind. Any tips that he can give me, he helps me out throughout the game a lot and we kind of feed off of each other. He's a great football player, and he'll continue to help me along the way."
(On what he's worked on to improve from last year) "For me, one of the biggest things going into this offseason, was making sure my pass rush improved. Last year only having three sacks was a low number. I definitely wanted to work on that and work on improving that going into this season. It was one of the biggest of focuses for me. Talking with the coaches and talking about the plans was one of the major focuses."
(On if he should've had more sacks last year) "At the end of the day, I hold myself to a high standard. I always want to strive to be the best. One of the things I pride myself on is having that work ethic to make sure I put my best effort out there."
(On knocking the ball out of quarterbacks hands) "Taking one out of his book. Turning the shoulder and making sure you put your hands up. Especially going into this week, we knew they like to throw the ball a lot. Making sure I was in a position to deflect the ball and have my hands ready."
(On Jake Bobo) "All summer he trained at Duke, I trained at ECU (East Carolina) about an hour apart. We'd throw for about three times a week, and I just grew close to him. You pull for all of those undrafted guys. You're part of a little crew when you're all trying to fight for a job and make it. To see guys be successful, it's happy to see. He deserves it. He works super hard and has got a bright future ahead him."
(On why he's been successful in camp and in the first two preseason games) "He's got great ball and body control. He gets open. The number one thing for a receiver, it doesn't matter how fast you are, if you get open, you get open. He continues to get open and is able to make catches in big situations. He's fighting for a job like we all are and he's bringing it every single day."
(On the amount of playtime he's been getting) "At the end of the day, you just have to be yourself. Geno (Smith) and Drew (Lock) are great and are great to learn from. They're probably two of the best mentors I could ask for. I get in there and have to run the offense, but I have to be myself too. They've told me that. At the end of the day, it's just football. Go in there, move the offense, get first downs and points on the board."
Check out some of the best action shots from Preseason Week 2 vs. the Dallas Cowboys at Lumen Field on August 19, 2023. Game action photos are presented by Washington's Lottery. This album will be updated throughout the game.